Growing up in Brooklyn, Eric Keller, BA '75, didn't have a dog, though he desperately wanted one. He had tree frogs, horned toads, fish, iguanas, even a tegu lizard, but nothing with fur because he was too allergic.
Subsequently he squeezed the most dog essence he could get from every canine encounter. It all started with Rusty, neighbor Paulie Goodman's dachshund—a clever, soft-spoken fellow (Rusty, that is). More dogs followed, each revealing to Keller, a professed "dog listener" and keen observer, a certain je ne sais quois and leaving an indelible imprint … and a likely paw print or two.
Fortunately Keller has since outgrown the allergy.
Drawing was another early interest. So it was only a matter of time before Keller, who became a national award-winning designer, would combine his talents as an artist with his boyhood memories and fascination with dogs. The spark was an employee art competition at the Sandy Corporation, a Michigan-based communications company where Keller worked.
As he explains it, "I wanted to enter something personal and handmade. I sifted through a pile of drawings (the result of sitting through innumerable meetings at work) and pulled out several illustrations of dogs with the idea of designing a poster."
Wife Laurie Brown, also an artist, suggested Keller take a different approach by telling or imagining each dog's story, revealing his or her distinct personality, and assembling the best of them in an album. He wisely took her advice.
The result is the droll, delightful, and unabashedly original Dogs I Have Known: An Album of Dog Friends, Colleagues, and Acquaintances.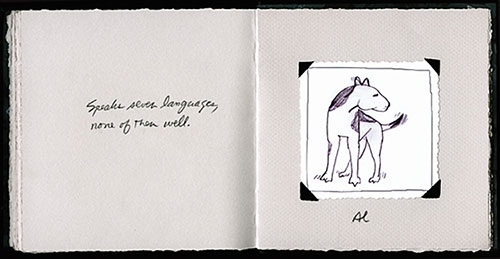 The embossed, leather-bound book fulfilled Brown's desire for something fresh yet recognizable, and the album's tactile appeal goes beyond its sexy black wrapper. Handmade artisan endpapers, hand-torn interior sheets, and tipped-in glossy pages with photo mounts all contribute to the one-of-a-kind look and feel.
Among the featured dogs, there's Luda, the "Princess of Brighton Beach." (Her life changed after she wore that bikini.) There's Monté (Frisbees 24/7) and Al, who "speaks seven languages, none of them well." And one can't forget the irrepressible Donnie C., described as "intense, quick-tempered, and a chronic underachiever."
Winning the competition was secondary to Keller's discovery: People (not just dog lovers and co-workers) responded positively to the album, hinting there might be a wider audience for the canine characters.
"Maybe the appeal comes from seeing the humor in our everyday lives," suggests Keller. "Maybe it's even simpler than that. Dogs are funny. They crack me up."
A website—thedogsihaveknown.com—soon followed with Keller posting new dogs each week. A set of coffee mugs featuring five of the dogs is the latest addition to the site, expanding the Dogs I Have Known theme and laying the groundwork for other possible "dogged" opportunities.
Publishers are starting to sniff around the project, and Keller recently launched a YouTube channel that depicts various dogs taking shape on the drafting table. The animation idea was one that lay dormant for some time as Keller lacked experience with the necessary technology. With the introduction of Videoscribe, a presentation tool, he was soon able to create animated videos quickly and easily.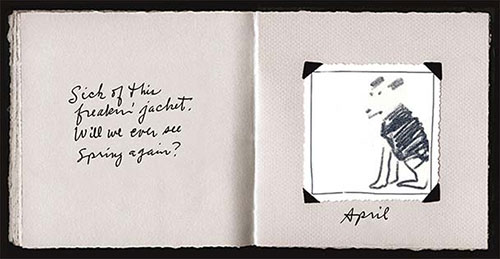 Keller isn't quite ready to give up his freelance design business, which rarely affords opportunities for the creative self-expression unleashed through his dogs. He recently took time off, though, for a second trip to Svalbard, a Norwegian archipelago in the Arctic Ocean, to go dogsledding.
"The energy of the dogs is so appealing," says Keller. "The first time out I encountered Inuk, a Canadian Inuit dog, the gentle protector of Spitsbergen and one of my wheel dogs, on guard for polar bears during a sun-filled night. Her presence and demeanor were nothing short of majestic."
During the trip, Keller's wife, Laurie, stayed at the couple's Ferndale, Mich., home with their two rescue dogs—Levi, an Australian shepherd; and Jake, a rare canine/land shark mix—and two cats, Otto and Lola. Can a feline follow-up be far behind?
Find more books by U-M Alumni at the Michigan Today Alumni Books page.