Since the 1995 publication of his comprehensive book A Song in the Dark: The Birth of the Musical Film, Richard Barrios has been dubbed the rightful authority on what is surely Hollywood's most iconic entertainment genre. Now Barrios has written a sequel of sorts about the subject, provocatively titled Dangerous Rhythm: Why Movie Musicals Matter (Oxford University Press). Not only is it an astute piece of criticism, it's also a good summer read, rich with pointed commentary on musical movies — both good and not-so-good — and their stars.
But first, some backstory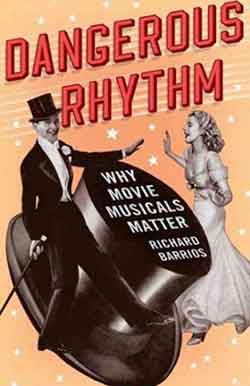 Various types of film music existed before the medium's adoption of sound technology, but the screen musical, per se, experienced a culminating moment in The Jazz Singer (1927) — a mostly silent film – until Al Jolson suddenly burst into song with a vibrant rendition of "Dirty Hands, Dirty Face." The beaming and prescient Jolson ad-libbed, "Wait a minute! You ain't heard nothing yet," and he wasn't kidding. Two especially memorable songs soon followed: "Kol Nidre," sung by Jolson at a high holiday religious service, and "Mammy," the film's sentimental final number.
After the phenomenal success of The Jazz Singer at Warner Bros., other major studios rushed to embrace the movie musical. In early 1929 MGM released the first all-sound musical-revue film Broadway Melody. Sound-pioneering Warner Bros. and its star director Busby Berkeley injected storytelling vitality into its musicals with scripts centered on "backstage" dramas. In 42nd Street and Footlight Parade (both 1933), broken ankles and character conflicts threatened production of a musical show.
In the end, however, the show always went on, and what a show! A Busby Berkeley musical always climaxed with lengthy synchronized numbers that were uniquely cinematic in their kaleidoscopic arrangements and visual appeal. Berkeley's "By A Waterfall" (Footlight Parade) is one of the most beautifully choreographed musical numbers ever to grace the silver screen.
Let's put on a show!
Over at Fox, studio executives discovered singing-dancing talent and bonanza box-office returns in the precocious Shirley Temple, introduced to filmgoers in 1934 in Stand Up and Cheer. MGM scored its initial success in romantic musical operettas starring America's "singing sweethearts," Jeanette MacDonald and Nelson Eddy. Naughty Marietta (1935) is my favorite.
And of course, for talent summa cum laude one need look no further than RKO Pictures to find Fred Astaire and Ginger Rogers. The incomparable song-and-dance duo launched their careers together with two films in 1934 – Flying Down to Rio and The Gay Divorcee.
And that brings me back to Barrios' book Dangerous Rhythm: Why Movie Musicals Matter. "Dangerous rhythm" is a lyric phrase from the song "The Continental," which Rogers sings to Astaire just before they "do" the Continental in The Gay Divorcee.
I can't resist. Here are some excerpts from the Oscar-winning song by Con Conrad and Herb Magidson:
Beautiful music
Dangerous rhythm
It's something daring, the Continental
A way of dancing that's really ultra new
It's very subtle, the Continental
Because it does what you want it to
You'll find while you're dancin'
That there's a rhythm in your heart and soul
A certain rhythm that you can't control
And you will do the Continental all the time
Beautiful music
Dangerous rhythm
The Continental
Watch Astaire and Rogers "doing" the Continental again and you'll sense the relationship of the lyrics to the dancing.
Words and music
Chapter titles in the insightful book are lifted from musical-film song lyrics or song titles. Each chapter is themed to steer the reader through the 1930s and the eight "rocky" decades that follow, as Barrios puts it. The author's intentions are expressed in a preface titled "All That Jazz":
As the (book) subtitle indicates ("Why Movie Musicals Matter") it proceeds from the viewpoint that musicals – when done right – can be pretty damned sublime. But there are no illusions or misty outbursts in these pages. Instead, it is a look, respectful yet clear-eyed, into how it can be, exactly, that musicals can be so wonderful – can matter so inimitably – and then, with ballet deftness, lose touch and turn useless.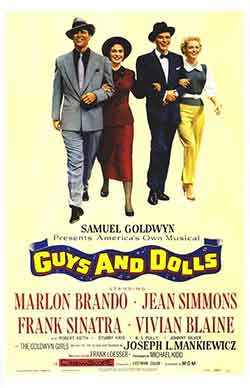 Barrios' balanced commentary, happily, avoids a straight historical chronology. Thematic chapters showcase a broad range of musicals – spread across decades – relevant to the topic at hand. "Where do They Come From and Where do They Go?" is an early chapter on the film adaptation of Broadway musicals. It begins in 1928 with The Desert Song and moves on to include discussion of 1940s', 50s', and 60s' movie musical adaptations, among them One Touch of Venus, Oklahoma!, Guys and Dolls, and My Fair Lady. Barrios relates these and later films to cultural changes and evolving tastes. (There's even a witty take on Madonna and Evita– a film that Barrios notes took 20 years to get onto the screen, adding "perhaps [the film] might have benefitted from more time.")
The later chapter "People" takes up the subject of musical movie performers, going way back to the opera singers who appeared in the one-reel Vitaphone sound shorts in the mid-1920s. After commentary on Al Jolson and the other 1930s' "golden-era" musical stars, Barrios' biographical dissections take on later luminaries: Bing Crosby, Judy Garland, Gene Kelly, and Doris Day.
Inevitably, Lee Marvin and Clint Eastwood, together in the gold rush-era musical Paint Your Wagon (1969), drop into the picture. The author has plenty to say about this picture (which does not appear on his "sublime" list, in case you were wondering). The film mixed "the trendy with the quixotic," Barrios writes, and was met with withering reviews and an indifferent public. Paint Your Wagon fits into the book's recurring sub-theme of how changing times and cultural shifts nearly drove the film musical into obsolescence.
Money matters
Other chapters give indication of Dangerous Rhythm's diversity and its always fascinating historical details. "With Plenty of Money" presents a broad overview of financing: what notable musicals cost, what they gained, what they lost.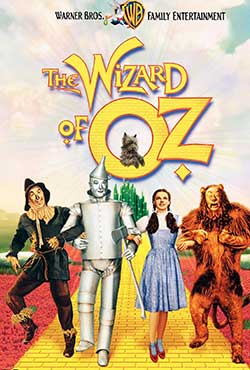 Barrios begins the chapter by noting The Wizard of Oz was one of the 1930s' costliest film musicals and the second biggest money loser at MGM since the studio's founding in 1924. Hard to believe! Elsewhere in the book Barrios writes about the efforts of MGM brass to delete from that fantastic film what may be the most memorable song ever in a movie – "Over the Rainbow." Even harder to believe!
The chapter "Under My Skin" offers a brilliant commentary on the movie musical's entrance into the treatment of race and sexuality, principally blacks, Latinos, and gay men. Some of Barrios' best, most revelatory socio-cultural writing is in this chapter.
And last I'll mention the chapter with a perfect film-lyric title: "Put 'Em in a Box," Barrios' analytical critique of musicals on television, i.e., the "box." The title comes from a song sung by Doris Day in Romance on the High Seas (1948) with lyrics that go "Put 'em in a box, tie 'em with a ribbon, and throw 'em in the deep blue sea."
Another excellent historical sub-topic that moves right into contemporary television times comes in a lengthy analysis of the high school musical show "Glee" and what brought about its decline. Barrios blames the show's "too narrow a window" when it ventured into musical theater and musical film lore for its inspiration.
Dangerous Rhythm's vigorous, pointed analysis of the ups and the downs of the movie musical is spread over 15 chapters and they allow Barrios to address dozens of interrelated themes and subtopics. No question about it, the book is an opinion-infused study, but the opinions come from the pen of an absolute authority who has earned the right to express them. That's why I admired the book greatly and found it engaging from beginning to end.