By the books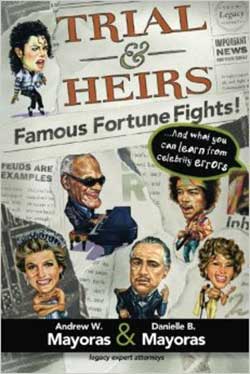 Andrew and Danielle Mayoras are what you'd call "a legal power couple."
They met their first day at the University of Michigan Law School. Just a month into classes, they began dating. Shortly after graduation, they got married. And today they are partners in the Troy, Mich.-based law firm of Barron, Rosenberg, Mayoras, and Mayoras, PC.
They are the "go-to" experts when it comes to problematic financial estates mired in the legal wrangling born of poor estate planning. High-profile and celebrity estates are their specialty. Helping clients avoid common pitfalls is their goal.
"So many people put off doing their estate planning, regardless of what kind of estate they have," says Danielle Mayoras, AB '93/JD '95. "When people go through a family fight over an estate, it's not something [they] get over quickly. The pain and scars last for years and years, even after the litigation is done."
Estate plans – or not — of the rich and famous
Celebrities from Marlon Brando and Robin Williams to Sonny Bono and James Brown have much to teach us about estate planning, says Danielle. And believe it or not, some celebrities don't do any estate planning at all.
"There are many celebrities who don't have a trust, work with a general attorney for their estate planning instead of a specialist, and fail to update documents after a new marriage or birth of a child," she says. "We also frequently see questions of celebrity competence – or lack thereof – and undue influence."
Many of these scenarios inform the Mayorases' book, Trial & Heirs: Famous Fortune Fights!(Wise Circle Books, 2nd ed., 2012) and the follow-up TV special "Trial & Heirs: Protect Your Family Fortune." The duo has appeared together on the ReelzChannel documentary series "Celebrity Legacies," and they travel the lecture circuit together, sharing advice, wisdom, and best practices with live audiences. They also write for Forbes.
"The goal is to use these stories about celebrity estates to teach everyday people — whether they have a multi-million-dollar estate or a more modest estate," says Danielle.
For his part, Andy Mayoras, AB '93/JD '95, has litigated hundreds of cases that he says mimic the Hollywood headlines. Estate battles rip families apart day in and day out, and the firm's mission is to ensure clients' fortunes, big or small, are thoroughly protected.
"Celebrities are just like the rest of us," Andy says. "It's only the dollar figures that differ. We've been contacted by families of pop stars, Hollywood legends, and famous musicians. No amount of wealth can insulate someone from the pain and heartbreak that results from an estate battle or bad estate planning."
A matter of trust
At their law firm, Danielle's area of expertise is counseling clients on estate planning, including wills, trusts, and powers of attorney. Andy is an expert in probate litigation, including trust and estate disputes that range from families of modest wealth to heirs of multi-million-dollar estates.
Estate planning can be a highly emotional process to go through, and it's an area of the law that touches everyone at some point. The Mayorases are there to help navigate through the confusion and misunderstanding.
"I pursued law because I genuinely wanted to help people and I've been blessed to be able to do it through estate planning," Danielle says. "My clients have trusted me with the most personal details of their finances and family secrets. It is extremely rewarding to ensure their desires and wishes for their heirs are handled properly. The gratitude clients have throughout the process is very satisfying for me personally."
Dynamic duo
The Mayorases don't collaborate much at the law firm, but they are close partners in their creative endeavors. Before their book even hit the stands in 2009, a producer invited them to appear on "The Rachael Ray Show." Not long after, Ray Charles Robinson Jr. – the son of music legend Ray Charles – sought them out. His father's estate was mentioned in their book, and Robinson wanted to share the private story behind the public one.
"People tend to trust us," says Danielle. "We don't have any hidden agenda. People feel comfortable sharing some of their secrets with us and talking to us."
And they are careful to protect those secrets when delivering expert insight on shows like "Access Hollywood," "Entertainment Tonight," and "The Insider." On the first episode of "Celebrity Legacies," the couple discussed the estate of actor James Gandolfini, best known to HBO viewers as mobster Tony Soprano. Gandolfini died of a heart attack in 2013 while vacationing in Italy.
"[His] heirs will suffer huge tax consequences as a result of his estate plan," Danielle says. "He made a very common mistake that we see all the time: He created a will before he left on vacation, intending to go back and do more complete estate planning, but he never did.  He procrastinated and his loved ones will pay the price financially."
Family dynamics
Estate planning isn't only about maximizing someone's wealth, but ensuring a person's wishes are carried out and the fighting between his or her heirs is minimized, says Danielle.
"We encourage people to explore revocable living trusts, not just for the tax planning but to try and make sure they have more control over their wishes once they pass away," she says. "You can be very detailed when you do a trust with an experienced estate attorney and can also get very creative."
Maintaining control during one's lifetime is important, especially for a single person with no spouse or children. For example, if a single person is in an accident, who will make the medical decisions and pay the medical bills? If the person dies, who gets his/her assets, financial and otherwise?
"It's not just for what happens when we pass away, it's also for what happens to us during our lifetime," Andy says. "In my litigation practice, I see families torn apart financially and emotionally because of estate fights. Many of my clients tell me they never thought it could happen to [them]."
No matter how difficult, overwhelming, and uncomfortable planning an estate is, the Mayorases emphasize it needs to be done, and done now. There's no telling what could happen tomorrow.
"We want to help people do the proper planning now, so fewer families have to go through a messy trust or estate battle," Andy says.
"Our mission is to help families avoid some of that fighting," adds Danielle, "and these celebrity stories are a great way to do that."


Visit Andy and Danielle Mayoras at www.TrialAndHeirs.com.
(Top image: Andy and Danielle Mayoras on set of their TV special "Trial & Heirs." Image courtesy of the Mayorases.)