Data dump
"You have all manner of garbage floating past you; sometimes mattresses, sometimes dead rats," says Frank Sedlar, MSE '15/BSE '13. "And you never know what you're stepping on."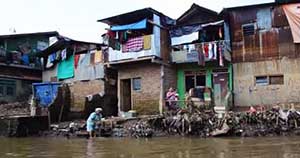 Sedlar is describing the state of the Ciliwung River in Jakarta, Indonesia. Quick and severe flooding is a dire problem there. Excessive trash dumping in the Ciliwung exacerbates the issue, clogging flood canals and reservoirs.
As a civil engineer interested in complex urban systems, Sedlar was drawn to Indonesia's capital city. He knew Jakarta would serve as a compelling case study on the convergence of the world's urban population with the effects of climate change.
"I quickly discovered there was very little data about the amount of garbage in Jakarta, much less where this garbage was coming from," he says. "With the data I'm gathering we can begin targeting clean-up efforts on the communities that are throwing the most garbage into the Ciliwung."
The government has very limited resources to put toward waste management in the poorest communities, Sedlar says. So the data he collects could help lead to installation of dumpsters and regular garbage collection in specific areas.
"I see garbage as a very underappreciated area of research," he says. "Every city has an enormous amount of garbage that everyone generates every single day. I'm interested in the 'back-end' of the garbage question. Where does it come from? Where does it go? And how do we handle it eventually?"
Tracking the trash
In this striking video, Sedlar describes how he developed a system combining time-lapse cameras and computer-vision algorithms (similar to the ones used by cell phone cameras to detect faces) to better understand and hopefully offset flooding in overpopulated megacities like Jakarta.
Sedlar also has been designing and prototyping emergency flood shelters and using drones to map informal, flood-prone settlements.
He recently was named a Fulbright Fellow to Indonesia where he will work with PetaJakarta.org and the DKI Jakarta government to coordinate an Urban Drone Research Program.


See more MconneX videos produced the College of Engineering.