"Enthusiasm by example"

When Buck Dawson roared into Ann Arbor as a freshman in the fall of 1939, there were 13,000 students at Michigan. That made it one of the biggest schools in the U.S., but not so big that a guy with Buck's energies couldn't make himself known to practically everybody he met on the Diag.
In fact, Buck Dawson may have been one of the last of a species that was endangered at Michigan even in his day — the Big Man on Campus, or B.M.O.C. (There were B.W.O.C.s, too, of course, but the acronym never caught on.)
As U-M's enrollment climbed after World War II, then skyrocketed with the coming of the Baby Boomers, there were just too many students for any one of them to be known by practically everybody.
If Buck didn't quite pull that off, he must have come close.
"Don't specialize"
Raised in Easton, Penn., home of the Crayola Crayon, William Forrest Dawson grew up as the natural-born son of a master salesman. His father, Cecil Dawson, was sales director of the Dixie Cup Company and rose to chairman of the board.
The younger Dawson was "Buck" by the time he reached Ann Arbor. Friends attributed the nickname to his prominent teeth. He said he'd earned it as a summertime cowboy at western cattle ranches.
Indeed, he made his first impression on U-M by going to class in cowboy chaps and a five-gallon hat.
By his own count Buck joined 17 student organizations — or maybe it was 19; reports differ — from Phi Gamma Delta to the track team to the Soph Prom committee.
As publicity director for that affair, he led a snake dance through the Union ballroom wearing white moccasins and leading the crowd in a rendition of "Rally Round the Flag, Boys."
"He engenders enthusiasm by example," said one of his roommates.
"Develop every talent"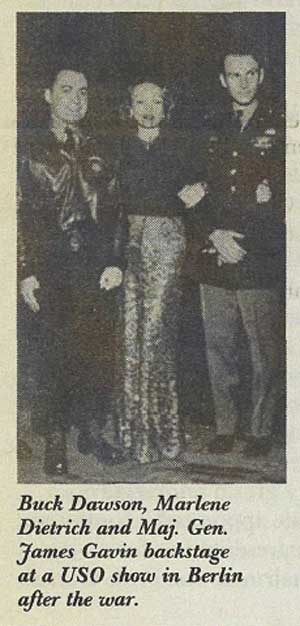 Buck's extracurriculars naturally took time from his studies, and by 1941-42, his junior year, he was flunking out.
If World War II was a global catastrophe, it gave Dawson a good reason to take a break from school.
He wound up in the 82nd Airborne Division. Fighting through Holland, General James Gavin, the division's commander, spotted Dawson's gift for public relations and sent him to France to peddle heroic stories of the 82nd to reporters in Paris.
There Buck wangled an introduction to the movie goddess Marlene Dietrich. He invited her to visit the 82nd Airborne, and after the division survived the Battle of the Bulge, she did — to the astonishment of Buck's comrades.
After the war, Buck went hat in hand to University authorities. His academic record was no selling point. But "fortunately," as he told the journalist Linda Robinson Walker many years later, "there was an unwritten law that if you went away to serve in the Army, you'd get another chance."
"Live a full life"
Hoping for a career as a Hollywood press agent, Buck threw himself into student publications. He covered the Detroit Tigers' spring training season for the Michigan Daily and got himself appointed editor of the Michiganensian.
He said he'd forgo the editor's salary of $300 if he could keep half the profits from ad sales. Then he bulked up the yearbook with enough ads to take home $1,600.
To prove the edition was well bound, he said he would hurl a sample from the top floor of the Michigan Union. The book hit the ground in sound condition, at least in part because Buck, who'd been trained as a paratrooper, fixed it up with a miniature parachute.
In 1948, nine years after first hitting town, Buck was allowed to graduate without a major. That was in keeping with the advice he offered to anyone listening: "Don't specialize. Develop every talent. Live a full life, and don't let anything faze you."
"Don't let anything faze you"
Buck's hope of a Hollywood career fizzled. But his luck turned upward again when he married RoseMary Mann Corson, daughter of the great Michigan swimming coach Matt Mann. Rosemary was an accomplished swimmer and coach in her own right. She and Buck raised four children, and she led Buck into an entire career in the swimming world.
He became the first executive director of the International Swimming Hall of Fame in Fort Lauderdale, Fla., and was credited with raising the profiles of swimming as a sport and of Fort Lauderdale as the "It" destination of untold numbers of collegians heading south for spring break.
He was, according to a colleague, "a tireless, smiling, globetrotting ambassador of swimming."
The joke was that he couldn't swim. But "Buck did more for swimming than any nonswimmer in the world," according to a statement put out by the Hall of Fame when Buck died in 2008 at the age of 87.
Upon his graduation from U-M, the Daily ran a glowing profile. The caption on his photo read "Gaudemus Igitur," the title of an ancient college anthem. The first stanza is translated:
While we're young, let us rejoice,
Singing out in gleeful tones;
After youth's delightful frolic,
And old age (so melancholic!),
Earth will cover our bones.


For more, see Linda Robinson Walker, "The Adventures of Buck Dawson," Michigan Today, Fall 1996.  Other sources included "Passages: Buck Dawson, Mr. Swimming Hall of Fame, Dies at 87," Swimming World, 4/4/2008;  "Dawson Earns Degree After Nine Antic Years," Michigan Daily, 1948; "Buck Dawson, 87, Promoter of Swimming, Is Dead," New York Times, 4/21/2008.