Nichol(s) for your thoughts?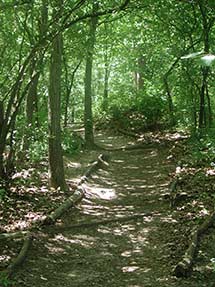 A Michigan Daily article from 1998 floated the possibility that Robert Frost might have written the poem"The Road Not Taken" about his time spent in Ann Arbor's beloved Nichols Arboretum. Frost was, after all, a poet-in-residence at U-M in the 1920s. But with this particular poem being penned back in 1915 in New Hampshire as part of a letter to his friend Edward Thomas, that inspiration appears to be wishful thinking.
"The Road Not Taken" is all about the way we alter our perceptions of past experiences. In the poem, Frost illustrates the way in which we often fret over our decisions. We try to know where our potential choices will lead us and then blindly justify the ones we finally pick. Though Frost claims to have written this as a more playful and mocking poem, it can be read much more deeply, and even strike a nerve with those who put great thought into their decisions–as it did for his friend, Thomas.
But ultimately, Frost uses nature in his poem as a setting for reflection and contemplation about life and humanity. With such great beauty and diversity, Nichols Arboretum stands as our immediate and grand access to nature for our own personal reflection and contemplation.
What are some of your favorite memories of the Arb? Please tell us in the comments section below.