Shop this story
When Stephanie Sladkus, BA '93, was named publisher of StyleWatch magazine in 2011, the longstanding paradigm of "advertising versus editorial" was soooo last season.
Tech-savvy millennials were increasingly at home in an editorial world where "native" or "sponsored" content was more the norm than the exception. And fashion offered the perfect stage on which to combine an editorial vision with an audience's passion for self-expression.
So how best to combine the traditional journalistic tenets of expertise, authenticity, and credibility with the demand for an interconnected community of fashion-forward peers eager to learn, share, and shop in real time?
In September 2015 StyleWatch debuted a lively print-meets-digital model that does just that. Using the smartphone app Blippar, magazine readers can scan "blippable" content on the printed page to purchase an item, ask styling questions of the editors, and view blogs and videos from the experts and other users. Readers also can submit content showcasing their own personal "street style."
In the following Q&A Sladkus explains the StyleWatch approach to creating co-branded content that serves editorial, advertising, and consumer needs in a whole new era of publishing. 
With a robust career in fashion and beauty, Sladkus previously served as advertising director at Teen People. She also held various roles at Condé Nast and Hearst. This latest initiative at StyleWatch appears to be a great fit. Under her leadership in advertising, marketing, and strategic initiatives, the magazine has achieved record profits, and posted three consecutive years of advertising gains.
Deborah Holdship: To me, the magazine is almost a catalog of products and the editorial content comes more through the expanded digital elements, whether you are listening, shopping, asking questions, or learning to style an item. Is that an accurate assessment? And why did you choose to go in that direction?
Stephanie Sladkus:
I agree and disagree. The advertising landscape has evolved tremendously and marketers have so many more ways that they can get their message in front of the right consumer.  Magazines are still a favorite way for women to get trusted content about style, so marketers are looking for new and native ways to insert their messaging.
StyleWatch, while certainly very differentiated from all other fashion and beauty magazines, is a trusted editorial source for women today. Our nontraditional approach speaks to these women in a way that is fun and engaging and which motivates them to shop.
We do have features – new editorial sections, defined stories, and a more organic flow to the magazine. But I agree, our approach is different. StyleWatch allows the reader immediate access to trends. She can "see it today, and wear it tonight." There is no "pre-season" for this reader.  It is about immediate gratification.
The Blippar app is one of the tools to help us achieve this goal. As a "shopping" magazine, it was imperative for us to actually make the pages shoppable. Blippar allows us to do this and is part of a larger strategy to activate our readers at every touchpoint.
DH: By introducing the digital experience, the reader is now much more active than passive — and the experience is more personal too. Trust is critical to the interaction. There's a call to action on virtually every page. So how do you develop that trust in a way that is different than old-school print?
SS: I think "old-school print" is the definition of trust. All our research backs that up – 80 percent of women tell us that while they gain interest in a trend if they see it on an influencer or on the street, "[they] won't try a trend until [they] see it in the pages of a magazine."
Four out of five say they trust editors more than bloggers. We continue to engender that type of devotion from our readers by staying true to our editorial mission — bringing our readers the products and services they want to know about and buy — all at great prices.
The personalization piece, while harder to achieve in print, is a cornerstone of our editorial mission. We showcase our trends on celebrities, which is of course the ideal, but we are dedicated to showing the same trends on real women of every size, shape, color, and style — so that every reader can find themselves in the pages of the magazine and feel that they are part of the conversation.
Blippar enhances the StyleWatch experience – we've researched it and 77 percent of readers feel it makes the magazine more valuable and enjoyable.
DH: The real question is why link print to interactive in the first place — why not just one or the other? What does print offer that you are not willing to give up? Does this hybrid model protect you from the "print is dead" argument?
SS: It's interesting. So many digital-first brands have successfully launched print extensions, so I would emphatically state that good print is not dead. There is always a demand for great content. Print gives us the space to create a gallery of beautiful layouts and show the product in great detail, and that aesthetic will never go out of style.
There is also a "lean back experience" that today's millennial is craving. They consider it a luxury — sitting back and flipping through our magazine is a treat.
The StyleWatch reader expects to be able to find our content everywhere and on every platform, so we continue to deliver it to her on every device. To that end, we launched theoutfit.com in 2015. The Outfit is StyleWatch's companion website, a community of fashion and beauty enthusiasts, their social followings, and our editors creating conversation around what they love and how it inspires them. It's the perfect advertising tool for our partners who want authentic content and influencer credibility because the very premise is to share and learn from peers and people whose style and opinions on style you respect.
DH: What would you say is the magazine's key differentiator in the fashion space? Is it the content, the demographic, or this interactive platform?
SS: It's all of those — StyleWatch is democratic, diverse, and accessible all at once. You won't find that anywhere else. Our editor-in-chief, Lisa Arbetter, strives to stay authentic to the definition of real women — every body size, shape, and ethnicity — in every piece of StyleWatch content. We are the only brand delivering this type of diversity and our demographic of millennial readers loves it. They love it so much that we created The Outfit as a space for them to share in the conversation and create their own content. These are things you only find in StyleWatch.
DH: It seems like fashion is an ideal industry for this type of print/digital melding. Fashion is very visual. You don't need long articles to get the idea. And by shifting the emphasis to street style, it's very inclusive. Talk about the marriage of fashion and this unique hybrid of print-meets-digital.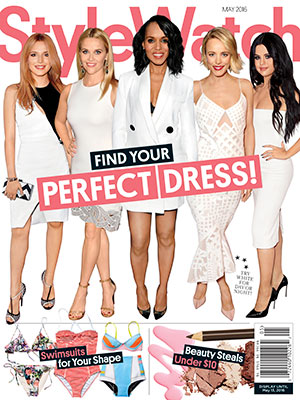 SS: Street style reflects the new world of fashion. Social media has allowed everyone to have a voice and it has really created a new community of the stylish — and they have a place to share their own editorial content on a daily basis. Designers, the fashion industry, and magazines are taking notice.
Fashion is so much more accessible, searchable, and shoppable, and there are so many more ways to share it. StyleWatch is a reflection of this evolution. We provide inspiration to create and develop your own style and a community to share it with.
At the same time, I've read some fashion industry experts are complaining about how social media and digital entertainment have sped up the fashion cycle to such a fever pitch that collections are not allowed to grow organically into the retail space anymore. Here today, gone tomorrow.
DH: What do you think about new media's impact on designers, creativity, and trends?
SS: Consumers are demanding instant gratification. Fueled by social media and the internet, Fashion Week is now accessible to all — and many designers, for the first-time ever, made their product immediately available this year. In fact, there is a movement to make Fashion Week a consumer-facing event in the future. I, for one, am excited to see how designers react to this and look forward to the beautiful things that come from it, in the fashion and technology space.
DH: Which types of content get the most hits? What works best so far?
Content that covers shape and body confidence performs extremely well for StyleWatch — both in print and digital. Women want to wear the trends and when we show them how to confidently pull it off, they respond. StyleWatch is always inclusive and we emphasize diversity — this is a key brand differentiator and advantage — and this has led to us attracting a fiercely loyal readership that relies on us for solid, trusted advice.
DH: What opportunities really work for your "partners" out there? I see you work with Pandora.
SS:
Our partners are always looking for ways to put
StyleWatch's
fashion and style authority to work for their brands. There is
so much
out there and consumers need a trusted source to curate the best of the best. It is ideal to work with like-minded marketers on projects that marry the DNA of both our brands.
Pandora is a great example. They see themselves as "accessible luxury" and being accessible is core to StyleWatch. Accessible pricing and styling, shown on a range of sizes, shapes, and ethnicities, is what we do best.
We recently worked with Pandora on an activation surrounding festival style. We secured Jamie Chung and Louise Roe to style an eight-page look-book surrounding our "Festival Style Set List" and outline the must-have items for the spring festival circuit. This booklet will be used in-store at point-of-purchase and appears in our May issue. We also created a digital campaign, through social media, to promote the line. And we brought Jamie and Louise to Coachella to bring it all to life to experience the festival through the lens of the Pandora brand. This type of 360-degree partnership is highly impactful in driving ROI for our brand partners.
DH: Can you tease any ideas you are thinking about for the future?
SS: We are expanding on our success in building the fashion and beauty influencer conversation we have started. To that end, we are excited to be partnering with theCURVYcon on their second annual conference and shopping event in June. It's a discussion on breaking style barriers and tearing down fashion stereotypes for all women, and there will be a lot of great shopping. What more could you want! You'll see StyleWatch getting increasingly involved in that conversation because we firmly believe it is what fashion needs to be talking about.
DH: You were a varsity cheerleader as a Michigan student. What did you take from that experience that you use in your current life/career?
SS: Being a cheerleader at Michigan was amazing. The two things I learned and that I still utilize today are time management and "people" skills.
Between school work, my sorority, daily practices, workouts, and the games, I had a lot on my plate. I learned right away to prioritize, make lists, and not waste time. This is a skill that comes in handy as I manage being an executive, a mother, and wife and still managing to make time for myself.
As a cheerleader, I also represented Michigan at pep rallies and fundraisers. We often were tasked with speaking to fans, alumni, and administration. The skill of networking and learning to quickly make people feel at ease is useful today.
DH: I'd be curious to hear about the one biggest fashion faux pas you ever made — especially during your time at U-M, 1989-93. As an aside: What do you think about the current obsession with black leggings on college campuses? Seriously, it is the only thing the young women wear.
SS: I used to wear high-waisted, skin-tight jeans with cowboy boots underneath. The jeans were so skinny that I used to have to put the jeans over the boots first and then put it all on at once. The shoulder-pad trend was still going strong. And, I maintained my giant Jersey hair through most of college. So although I was totally on-trend, you might say that the entire four years were a fashion faux pas!
Regarding the black leggings, I'm with you! I always got dressed for class. No sweats for me. I think black leggings are like sweat pants. There is no place for them outside the gym and for lazing around your house. I always tell prospective and new employees to dress for the job you want, not the job you have. So unless you're aiming to be a personal trainer or yoga instructor, leave the leggings at home.
DH: What's an item from the college years you still favor as an alumna? What never goes out of style?
SS: Anything with the Michigan Block M! I am always amazed and pleasantly surprised by how that "M" is a uniting force. There is always an alumna in every crowd so you have an instant connection.