Reality check
Coverage of the run-up to the 2016 U.S. presidential election has prompted passionate debate about the role of the media, especially television, in setting our nation's discourse. Televised debates and political rallies illuminate the best — and worst – aspects of the candidates and the voters, with cameras often looking in on events that have turned angry and violent.
So far in this election cycle, intense political differences seem to be driving the coverage. Many observers feel there's never been anything quite like 2016. Well, that leads me back to 1968 and an iconic film that came out of events surrounding the Democratic National Convention in Chicago.
That film was Haskell Wexler's Medium Cool(1969), one of the most timely and innovative movies to reach American theaters. The film's provocative title held political implications as well as theoretical ones. (See the trailer above.)
Meet Marshall McLuhan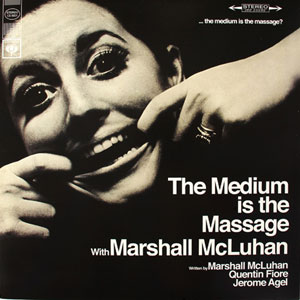 Marshall McLuhan, a Toronto University professor of English and communication theory, had fired up philosophical discussion of media (print, visual, electronic) with his two books Understanding Media: The Extensions of Man (1964) and The Medium is the Massage (1967). McLuhan argued that consumers interact with media through varying levels of participation.
For example, McLuhan classified movies as a "hot" medium, meaning film is easily and readily consumed by audiences. Television, he argued, requires a greater degree of interaction on the viewer's part. Thus McLuhan labeled TV a "cool" medium.
"A 'hot' medium," McLuhan said, "allows less participation than a 'cool' one, [much like] a lecture makes for less participation than a seminar, and a book for less than a dialogue."
Thus unfolded the controversial aphorism "the medium is the message." Everybody interested in the effects of media suddenly felt compelled to discuss McLuhan's theories. They even made their way into Woody Allen's classic rom-com, Annie Hall (1977), a film set in the late 1960s. Alvy (Woody Allen) and Annie (Diane Keaton) are stuck in line waiting to see Marcel Ophul's film The Sorrow and the Pity (1969) when they overhear a man loudly berating Fellini, Samuel Beckett, and a host of other artists.
He ends by citing a McLuhan reference to high-intensity "hot" media. Irritated, Alvy confronts the man and says, "You know nothing about Marshall McLuhan," to which the man replies, "I happen to teach a course at Columbia called TV, Media, and Culture." Alvy then pulls McLuhan into the frame, at which point McLuhan tells the man, "You know nothing of my work …. How you ever got to teach a course in anything is totally amazing." Thus the ever-insecure Alvy is able to move out of the film's fiction for an unforgettable cameo touche.
Haskell Wexler (1922-2015) and Medium Cool
Following service in World War II as a U.S. Merchant Marine, Wexler turned to making urban, industrial, and political documentaries in his hometown of Chicago. He often served as assistant cameraman and eventually evolved into a full-fledged cinematographer. Moving onto the Hollywood scene in the 1960s, he shot Elia Kazan's America, America (1963), Mike Nichols' Who's Afraid of Virginia Woolf? (1966), and Norman Jewison's In the Heat of the Night (1969).
He won the Academy Award for best cinematography for Virginia Woolf.
In summer 1968, the Windy City was steeling itself to manage thousands of protesters who planned to demonstrate against the Vietnam war during the Democratic National Convention at Chicago's International Amphitheatre.
On Aug. 28, an estimated 10,000 demonstrators began to congregate in Grant Park. Mayor Richard Daley summoned more than 20,000 city police and Illinois National Guardsmen to maintain the peace. But soon a bloody riot broke out between protesters and law enforcement, with nightsticks, tear gas, and mace wreaking havoc in the crowd. In many cases, innocent bystanders were targeted.
TV cameras caught the events live, and Wexler was on the scene capturing the real-life drama with his film cameras. Planning to use the documentary footage as a part of the fictional film he was making, Wexler directed actress Verna Bloom to walk through the historic rioting as his cameras rolled.
A walk in the park
The actress was costumed in a vivid yellow dress so her presence would be undeniably conspicuous. Bloom portrayed Eileen, one of the two primary protagonists in Medium Cool, alongside TV newsman John Katselas (Robert Forster). In Wexler's quasi-scripted story for his debut feature, Eileen is a single mother, newly arrived in Chicago with her 13-year-old son, Harold (Harold Blankenship). John is a TV reporter who thrives on sensationalism.
In the film's startling opening scene (showcased in the clip below), John and his soundman Gus (Peter Bonerz) arrive on the scene of a car crash, impassively shooting around the wreckage for the best camera angles. A woman, thrown from the car, moans quietly as the two men frame and capture the best shots. Unfazed, they return to the news van, casually pack their equipment, and, finally, call for an ambulance. This scene quickly informs the viewer as to how the film will play out as a commentary on media ethics.


McLuhan-esque
Subsequent scenes can be seen as thematic components of McLuhan's "coolness" theories about television, its complexities, and its viewer consumption. At a cocktail party following the opening auto wreck, several Chicago journalists debate the differing positions taken by the media in reporting the news. One speaks purely of the dangers of his job in the turbulent and divisive 1960s — the danger to himself and to his expensive equipment. Another says he sees the job as just "recording" what's occurring. TV8 newsman John counters with, "We don't deal with static things. We deal with the things that are happening. We deal with the violence … Who wants to see someone sitting … talking about peace, unless it's loud talk?"
Later in the film John and sound man Gus head to a black neighborhood to catch up with Frank Baker (Sid McCoy) a black Chicago taxi driver who turned in a stash of money he found in his cab. John and Gus had interviewed Baker for the original story and had filmed him at the police station where he was being questioned with suspicion. Believing Baker's good deed to be worthy of a human-interest piece, John arrives at Baker's home for a follow-up interview. But a group of black militants has gathered and a confrontation erupts. Baker refuses John's interview request.
"Putting me on television has made my life totally confusing," Baker tells the reporter.
Other militants join in: "You come here to talk about what you want to talk about. I want to talk about what I want to talk about."
"You come here to shoot something that it took us 300 years to get."
"You are the ones who distort, ridicule, emasculate."
"You are the TV star of the hour — why do you have to wait till someone is killed?"
The film smash cuts to a gun clinic where a woman practices shooting a pistol while John and Gus interview the manager (Peter Boyle) about the dramatic increase in gun purchases in Chicago. The manager attributes the surge in sales to "people who want to protect their homes."
Blending reality and fiction
To add to the merger of fiction and documentary, sometimes difficult to differentiate one from the other, Wexler included in Medium Cool actual footage of an Illinois National Guard unit in practice sessions for handling "civil disturbances" that might occur in the upcoming anti-war demonstrations. The fictional John and Gus are there to "record" the training exercises while Wexler and his co-cinematographer Mike Margulies are filming the event as documentary material.
Wexler employed a cinema verite, hand-held camera strategy for greater candor, and exploited rapid, quick-cut editing of the footage for increased intensity. Newsmen John and Gus are foregrounded in Wexler's documentary capture of the practice exercises, which climax in Medium Cool with one of the mock protesters hurling himself toward John and shouting: "Get the guys with the cameras!" These are the types of scenes in which Wexler's melding of actuality and fiction is both electric and ironic.
The rest of the plot
Although the narrative regarding John, Eileen, and son Harold is clearly based in fiction, the story develops with enough ad-libbed dialogue in naturalistic settings to lend these scenes a documentary feeling. For example, when John learns his station has been secretly passing his footage to the FBI and Chicago police, he rages at his TV boss and is soon fired in a hyper-realistic sequence. Later, Eileen's search for a runaway Harold through Grant Park (in that yellow dress) takes her directly into an actual protestors' march toward the convention center. All the while the protestors are shouting: "The whole world is watching!"
Final thoughts
Medium Cool's extensive use of impact documentary footage as a backdrop for a fictional scenario was original and engrossing. It is a film that, even now, demands the viewer's attention and participation in sorting out its many ideas.
This was anything but a "well-made" film, narratively and structurally. It functioned much in the manner of films created by French new wave directors known for breaking with conventional cinema in both theme and technique. Jump-cut editing, ambiguous use of time and space, inexplicit plot elements, improvisation, and spontaneous
verite
filming were common new wave elements that are part and parcel of
Medium Cool's
signature style.
Liberal use of music is another key element that contributes to the film's powerful impact. In many cases, music actually takes the place of recorded dialogue and ambient sound. Mike Bloomfield, a cousin of Wexler's and considered by some as one of the greatest guitarists of all time, composed and arranged the blues-inspired score. Bloomfield's guitar is a thrilling accompaniment to the action, as evidenced early in the film as a courier delivers a tape of the opening accident sequence to the TV station. The dynamic vibrato of the artist's electric guitar seems to squeal with anticipation about what is to follow on screen. At other times Bloomfield's instrumentation is gentle in its blues arrangements. The score is one for the history books as it complements the innovative and unconventional flow of Wexler's film.
A pure reflexive exercise — a film about film – Medium Cool forces viewers into an ongoing, cognitive interplay between the message and the messenger. That is the source of its pleasures and its challenges, which remain meaningful today.
Stand by
In addition to opening his movie with fictional reporters impassively filming a car wreck, Wexler closes with another car crash. This time, a man in a slow-passing automobile chooses to photograph the carnage rather than stop to assist the victim. This is Wexler's way of pointing directly at the moral ambiguities that often confront members of the media who are consumed with "getting a great story."
As noted by critic Thomas Beard in his essay end-notes for the Criterion Collection's Blu-ray edition of Medium Cool, Haskell Wexler discussed that issue this way:
"When I was in Vietnam with Jane Fonda I was filming a farmer walking through a field when, all of a sudden, he stepped on a land mine. Two Vietnamese guys ran out there to help him, and I ran after them to shoot the scene of them bringing this guy in, his legs all bloody. The whole time I had two overwhelming feelings. One was, 'I got a great shot,' and the other was to put my camera down and help the farmer. In the end, I carried on filming, even though I couldn't see what I was shooting because I was crying so hard. I have thought about that moment many times, about the question of when you have to put the camera down, when to stop observing and get involved."
In 2003 Medium Cool was selected for preservation by the Library of Congress' National Film Registry as a film with lasting "cultural, historical, or aesthetic significance."
Wexler died in his sleep at age 93 last December, one of our country's most respected and honored directors and cinematographers.