Teamwork
Pulitzer Prize-winning documentary photographer David Turnley, BA '77, and Michigan's Head Football Coach Jim Harbaugh, BA '86, make an extraordinary team.
Both have competed and excelled at the top of their professions — one as an acclaimed war photographer, the other as an NFL championship quarterback and coach.
Both are passionate about their work. Both thrive amid chaos. And both love football.
Now, both share credit as co-authors of Enthusiasm Unknown to Mankind (Foster Park, 2016). It is a striking, day-by-day document of Harbaugh's first year as the J. Ira and Nicki Harris Family Head Football Coach at Michigan.
The coffee-table book delivers 306 full-page, black-and-white plates culled from 70,000 shots Turnley took during his 16-month immersion with Harbaugh's staff and players. The coach contributed the title, as well as a 16-page opening treatise about life, leadership, and success. He quotes the Bible, Bo Schembechler, Nelson Mandela, and Ralph Waldo Emerson, among others.
Make no mistake, says publisher Patrick Olson, "This is not a book about football. It's a book about the human experience."
A taste of Enthusiasm…
Click on the arrows at either side of the image to advance the slideshow. Some captions have been edited for space.

What it takes to make champions
At the heart of this creative pairing is an uncompromising love for the Wolverines. In 1973, Turnley spent two weeks as a walk-on player for Michigan before Assistant Coach Dennis Brown told him he'd never see a minute of playing time.
"I grew up playing football and had aspirations of being great," says the associate professor of documentary photography at the Penny W. Stamps School of Art & Design and the Residential College. "And those two weeks meant a lot to me. When you walk into the Michigan locker room as part of the team – I will never forget that for the rest of my life."
Harbaugh also grew up playing football, much of it in the Big House. His father, Jack, was a member of Bo Schembechler's coaching staff from 1973-79. As a Michigan student and team quarterback who played for Schembechler, Harbaugh set multiple records and earned first-team All-America honors. He led the Wolverines to a 21-3-1 record as a full-time starter during his final two seasons, including a pair of victories against rivals Michigan State and Ohio State.
Now Turnley and Harbaugh are back at their alma mater, back on that same field, working together to capture "the making of champions."
In the trenches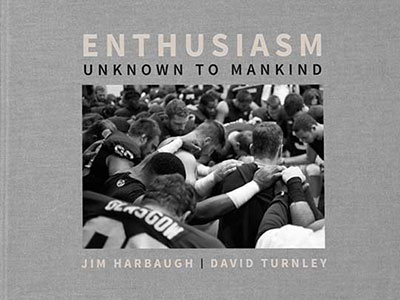 It didn't take Turnley long to find himself absolutely at home with his fellow Wolverines, captivated by the same qualities in Harbaugh that he saw in such iconic subjects as Nelson Mandela, Muhammed Ali, and the Dalai Lama.
"There are a few ingredients that are really important to me," he says. "Dignity, integrity, respect. You feel that all the time when you're around the team and that's really special. That's what I was interested in: being around the kind of excellence that Michigan football has always been about."
While embedded with the team, Turnley had access to meetings, road trips, practices, and games. He captured a wide spectrum of moods on film: a quiet intimacy in the locker room, an exploding vibrancy on the field, and a palpable joy in the poignant images of families, friends, and fans.
In Plate 192, Chase Winovich's father stands on the bleachers, focused on some off-camera action. Despite the stillness, a powerful intensity leaps off the page, Harbaugh says.
"When you're a parent watching your kid out there, it's more emotionally grueling than when you're playing yourself," Harbaugh says. "And you see all of that in that one picture of Chase's dad watching his son."
The player had the image framed and gave it to his father last Christmas. "As soon as he saw it, he just broke down in tears," Winovich says.
One of Harbaugh's favorite images in the book is also one of its most contemplative. Plate 74 is a long, desolate shot of Harbaugh and Assistant Coach Tim Drevno in a bleak moment after a grueling practice. The two men sit on metal bleachers in front of a brick wall, turned away from each other, lost in thought.
"I remember it distinctly like it was yesterday," Harbaugh says. "It was a Monday, early in training camp. I'm sitting there with my head in my hands thinking, 'We're never gonna win a game. We'll be lucky if we win one game.'"
Turnley could sense the despair, even from a distance. "As a photographer, I knew I wanted to make that picture."
Navigating Chaos
Football and photography are inextricably linked for Turnley. As a high school player, he always "felt kind of sad" for the photographers on the sidelines. "I'd think, 'Don't you guys want to play?'"
But once he saw photographs of the Civil Rights Movement and the Vietnam War, he realized how powerful a documentary photographer's voice could be. Ever drawn to the action and wanting to make a difference, Turnley pursued a career as a photojournalist and war photographer. He has traveled to 75 countries, covering genocide in Rwanda; conflict in South Africa and the Middle East; and revolution in Eastern Europe, China, and Russia.
"If you are raised in this society playing football with the kind of aspirations Coach Harbaugh had, but not necessarily the talent he has, you're sort of bred with a requirement to keep composed in the midst of chaos," Turnley says. "And when I made the transition from football player to war photographer it was crazy to me how my entire upbringing playing football put me in the position to be exactly prepared – as one has to be prepared – for chaos in war zones."
The key, in war as in athletics, is to stay out of your own way, he says. The same can be said for documentary photography.
Grace, beauty, and grit
Despite spending so much time together, Turnley and Harbaugh still view some aspects of football through completely different lenses. At a recent press event, the artist expressed his awe at the coach's ability to approach sport in the way a dancer approaches ballet.
"It's extraordinary to see his understanding of the mechanics of movement," Turnley says.
Harbaugh sees it from another angle. "David keeps talking about movement, grace, and the beauty in athletics," he says. "That's never resonated with me, really. Football is hard. It's rough. It's tough. It's not even that enjoyable."
That said, Harbaugh relents a little. "I guess there's a gracefulness to getting your fillings rattled and being driven into the turf," he admits. "David certainly captured that."
No words
The intimacy of the work means one doesn't need to be a football fan or even a Michigan alumnus to appreciate the art behind the athletics. Turnley used "one of the oldest 35mm cameras going," a small Leica M, which helped keep him nimble and unobtrusive.
"He has a real talent for just getting the shot without us knowing he was getting the shot," Harbaugh says.
"I don't cover sports the way sports photographers do, from a place of safety on the sideline, with a long lens that brings you in close where everything is very crisp and literal," says Turnley. "I kind of like the messiness, so I just get in the middle of it to the extent that I can. To Coach's credit, he has a great eye. Whatever is real and honest, he loves."
That could explain their choice for the book's cover shot, Plate 305. It captures the team in a quiet moment in the locker room, clustered together, heads bowed, hands on one another's shoulders. Harbaugh's head is the focal point. It is recognizable, even from behind.
"Maybe the photograph speaks in a way I could never do in words," Turnley says. "It's profoundly special and very touching and something you don't often get to experience in life. It is an image that speaks to the sense of community. You take strong warrior men and see them on their knees with their hands on each other's shoulders – together as a family. It's a touching moment, with Coach at the center."


Foster Park has produced two sizes of the book: a 12-inch-by-9.5-inch version and a 17-inch-by-14-inch version. (A collector's edition with a separate, framable autographed print also is available in the large format.) Books are available now at  fosterpark.net and mden.com and will be in The M Den stores in late August. The Athletic Department's share of the proceeds will go toward the department's fund to build a new weight room for the football program.