"The greatest rock and roll band ever"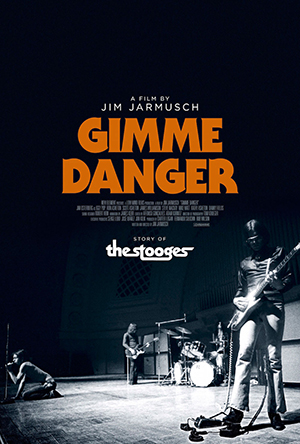 As I watched the closing credits of Gimme Danger, Jim Jarmusch's documentary about Iggy and the Stooges, I was struck by how at home the film felt in Ann Arbor's Michigan Theater, where it screened in early November.
It wasn't just the fact that "Iggy Pop" (James Newell Osterberg Jr.) grew up in Ann Arbor and launched his nihilistic band there in 1967; or the vintage photos of the city that pop up as the film's narrative backstory unfolds — including images of the Michigan and State theaters; or (even closer to home for U-M alums) a short sequence in the Michigan Union ballroom, which served as an early venue for Iggy's band.
Rather, it was because the film I'd just seen — a really entertaining and dynamic one — reminded me of the dozens of experimentally styled films I've watched over the years in the Michigan Theater during the annual Ann Arbor Film Festival. I'm talking about movies that employ highly reactionary approaches to screen expression and exploit the "pure cinema" possibilities of the medium: a perfect approach for treating the Stooges' musical history.
"We bumbled around America, playing raggedly"
Jarmusch's documentary follows the Stooges as they undertake off-and-on tour jaunts beyond their home turf in Ann Arbor. In recounting the group odysseys and "the stuff that happened," Iggy fronts the flow of events, spinning tales from an ornate armchair in a brightly colored living room. He delivers his memories of the Stooges to an unseen, unheard interviewer in randomly placed medium shots. Clothing changes suggest the interviews occurred over a period of time. As he comments, the artist is filmed looking off to the left or right, never directly toward the camera. This unusual interview approach avoids a standard "talking head" construction and effectively personalizes Iggy so that we see him as a spontaneous, thoughtful, and charming storyteller. (Which he is.)
Iggy's extensive solo work is de-emphasized here in order to deliver a unified focus on the band. It is a treat to see Stooges drummer Scott Asheton and his bassist/guitarist brother, Ron Asheton, alive on screen. (Scott died in 2014; Ron died in 2009.) Guitarist James Williamson also has an extensive interview presence in the latter parts of the documentary.
In the opening teaser to Gimme Danger a text title declares Iggy and the Stooges "the greatest rock and roll band ever," and the end result is an unabashedly kindhearted homage to Iggy and the various Stooges' incarnations over a four-decade period.



"A mega clang"
The Stooges' history begins in Ann Arbor with Iggy talking about his teen years living in a house trailer in a caring and "civil relationship" with his parents. His first band, the Iguanas, inspired the artist's longstanding alter ego. The Asheton brothers, also of Ann Arbor, enter the story as part of that band and the documentary begins to trace the evolution of a distinct musical and performance style that eventually would make Iggy and the Stooges legendary.
A recurring theme of the documentary is expressed in Iggy's on-camera comments about a desire to be different, to not give in to the pull of the "corporate music complex," turning out music that he says "smells." In recounting his formative years as a young performer, Iggy recalls having seen older people freely enjoying themselves as they danced in dimly lit bars. This, he said, was inspiring, i.e., to watch people "in their adulthood who had not lost their childhood." Thus, the film makes a case for the spontaneous, freewheeling, sometimes primitive performance antics of Iggy and the Stooges. No one executes the infamous stage dive quite like Iggy. Even common household objects often appeared on stage as "sound" instruments — a vacuum cleaner, empty oil cans.
Covering 1969 through the early '70s, Gimme Danger incorporates a New York trip, a first album, an LA trip, the discovery of double-track recording, and other innovative strategies in an effort to avoid the "studio sound." The festival performance era, drugs, and recovery are also a part of this time frame. Iggy and the Stooges would break up and reunify several times over the years, including a final breakup in 2013 after a last album, Ready to Die, and a 25-city world tour.
"Life is not business"
Director Jarmusch, known for his often austere, sardonic, feature films — Permanent Vacation (1980), Stranger than Paradise (1984) — brings his Iggy and the Stooges documentary to dynamic life with a masterful display of compilation filmmaking strategies. Every imaginable type of found footage is inserted to reinforce, enhance, or satirize Iggy's commentary: archival newsreel and documentary footage, movie and television clips, kinesthetic photos, original animated sequences, and music album collages.
In one hilarious example, Iggy remembers calling Moe Howard of the Three Stooges to request permission to use the "Stooges" as part of the band's name. As the story unfolds, we see a clip of Moe and Shemp desperately entangled by a phone wire in a crowded booth. A clip with Lucille Ball in the road comedy The Long, Long Trailer (1954) appears when Iggy talks about growing up in a house trailer. An original animated trailer image is repeated multiple times. A grainy shot of the Uniroyal tire sign on Interstate 94 is intercut as the Stooges journey to an MC5 concert in Detroit. Abstract time-lapse distortions convey the "vertical vision malfunctions" that Iggy experienced during a drug overdose reaction. Literally dozens of found footage material inserts are applied to Iggy's narration to raise Gimme Danger to the level of an artful and unforgettable experimental film.
Combine this cinematic artistry with Iggy Pop's pointed introspective commentary and one is in the presence of an outstanding biopic. The one line that I took away from this tribute to the unique and important legacy of Iggy and the Stooges was a simple but telling one. In a credo statement the artist says, "Music is life and life is not business."
That just about sums up the thematic thrust of Gimme Danger.