Saying Nice Things About Detroit
Filmmaker and Michigan Daily alum Andy Sacks, AD '69, hopes his first feature-length film, Let's Have Some Church Detroit Style,will help (at least in some small way) to counter the negative publicity that plagues his hometown. It's an upbeat documentary that covers the Hallelujah Singers, a high-energy community choir led by Dr. E. LaQuint Weaver, as the group prepares for the 2014 Rhythm of Gospel Awards in Birmingham, Ala.
Let's Have Some Churchwon the Audience Choice Award during its premier at the Detroit Free Press' second annual film festival in 2015. Several months later, Detroit Public Television broadcast the film to a viewership of 17,000. In summer 2016, the film won a regional Michigan Emmy, and now it is being distributed to PBS stations nationwide.
Alan Glenn: What inspired you to make this movie?
Andy Sacks: It was a car commercial on TV during the 2011 Super Bowl. In that commercial, the rapper Eminem asks the rhetorical question about Detroit in a voiceover: "What does a city that's been to hell and back know about the finer things in life?" I was shocked and surprised and kind of annoyed that the car company was spending so much money to present such an unflattering image of Detroit.
I was born in Detroit. I was raised just a few miles from the city limits, until I was 17 years old, and looked to Detroit as a kind of centerpiece in a lot of the activities I did. After college, I worked for the
Detroit News
as a freelance photographer. I have an affection for and understanding of the city. So it was pretty surprising to me that they would roll this shiny black car out against the dark, desolate, dangerous streets of Detroit, and try to make brownie points — and of course some money — for that.
Now, I'd met Dr. Weaver and the Hallelujah Singers back in the '90s, when I'd taken some pictures of them for stock. Later they asked me to do some shooting for an album cover. Their tremendous spirit and enthusiasm seemed like it would make the perfect antidote to the kind of negative imagery of Detroit that was being presented in the ad.
I also got a lot of inspiration and support from my friends. My photographer and writer buddies from the Michigan Dailyall chipped in funding to get things rolling. Jay Cassidy, Tom Copi, Fred LaBour, Dan Okrent, Roger Rapoport, Larry Robins, and Rolfe Tessem all gave me a kind of financial pat on the back, and sincere encouragement to get her done. In particular, Dan Okrent, who had worked on several Ken Burns projects, told me, "This is a film that needs to be made."
I relied on help from a number of other people affiliated with the U-M community. Patrick Murphy, who'd recently retired from the university video production department, helped me hammer out the concept on a road trip to Chicago and served as associate producer. Michigan Radio's Jennifer White did a number of important interviews with us. Lester Monts helped connect us with Professor Deborah Smith-Pollard of U-M Dearborn, who narrated part of the film on and off screen. Steve Selbst gave us legal help, and Steve Kagan assisted us in post-production.
AG:  Will people who aren't big fans of gospel music be able to appreciate your film?
AS: I think so. People who may worship somewhere else, or not worship at all, will find the film interesting because it opens a door to the spiritual beliefs of that community, and the world of gospel music.
I was not about proselytizing in making this movie. I didn't want to convince people to join a church or to find a new spiritual pathway. But a lot of people who've never spent time in that community find it informative, enlightening, and entertaining. We didn't feel we were on any kind of a mission or crusade to recruit people to this religion. But the film does profess a message that we are all blessed with a certain quality of life no matter where we stand.
Through the six or seven portraits of the people who are highlighted in the film, the audience learns a bit about Detroit. They see that the city is not in rack and ruin. The audience sees that these people, though they live in a city recovering from bankruptcy, find value in their community. They find value in their music and, of course, they find value in practicing their faith.
AG: Tell us about the exciting new arrangement you have with PBS.
AS: I've got to admit that at first, I had no firm game plan for distributing this film. I thought, if we can get it shown in theaters, if we could get it shown in schools, if we could get it shown on television, all that would be great.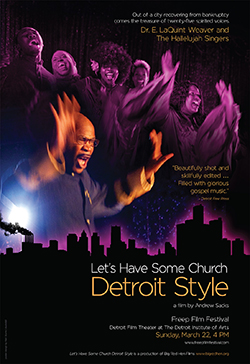 Then as we were finishing up, I started making inquiries into the PBS world. It's a little arcane and in some ways Byzantine. I'd been used to producing visual content, photographs and video, and getting paid by clients. But that equation does not hold true in the world of PBS, at least at the level that I'm working as a novice filmmaker. I had no reputation preceding me. We had to kind of go slowly and carefully to find a distributor. We're now working with the National Education Telecommunications Association, who've fed the film via satellite to 348 PBS stations around the country.
There's a small fee that they charge me for doing that. Then the stations around the country have free access to run the show, whenever and however many times they would like, over the next three years. So what we're seeing right now is in the first couple of weeks after it was uploaded, there's about 40 stations that have it programmed.
It'll be very satisfying to know that thousands of people around the country will be able to see what we've been doing, and the rendition of Detroit that we think is accurate. They're even programming the show in Alaska. It tickles me to think that people up in Anchorage and Juneau, and I don't know, Barrow, will be able to tune in and see this in the next few months. That's kind of a treat.
I'm hoping that this exposure on national television will bring some good fortune to Dr. Weaver and the choir. It's very rewarding to know that the participants, the choir members themselves, who are basically talented amateurs, will be able to go home and turn on the television and see themselves singing.
AG:  Before making films you worked as a still photographer. How did that get started?
AS: I got interested in photography in high school, and I had a few friends, a couple of years ahead of me, who were going to the University of Michigan. At that time, in 1965, photography at Michigan was part of the School of Architecture and Design. I was not really big on drawing or painting, or any of that traditional kind of art curriculum. It was lucky for me that the art school didn't require a portfolio for admission. The only graphic skill you needed back then was that you had to be able to check the box on the application that said Architecture and Design.
So I came to U-M. I didn't join a fraternity or any other kind of student group, but I'd heard about the student newspaper, the Michigan Daily.For me the Dailybecame almost a reason to live. There was a lot of news on campus back then. When I was a freshman, just a couple of months at college, I was assigned one Friday afternoon, not to go cover the homecoming parade because I was the new kid on the block, but instead to go down to Main and Liberty where there was going to be a sit-in at the draft board.
I thought, "Well, a sit-in? What's that? They just sit down." But it turned into quite a big deal. The police came, and the sheriffs came, and the photographers from the television stations and the Detroit newspapers showed up. So that kind of got me into the business of news photography, right off the bat.
AG: After school you went pro?
AS:
I kind of drifted into having a job. Sometimes at the
Daily
we'd get calls from the national media for a picture from this event, or that sit-in. So during college, some of my work did run in
Life
magazine, and TV networks would call just for an odd picture that they could use on their newscast. I had a few phone numbers in my address book when I got out of school, and I pursued those people and let them know that I was still in the area.
After a couple of years, I had kind of cobbled together a career as a freelancer, contributing to United Press International (UPI), the Detroit News,the New York Times,Timemagazine, Newsweek,and Peoplemagazine. Once in a while I'd work for Sports Illustrated,shooting portraits and some B-roll.
AG: Were you working for SI when you had your famous run-in with coach Bo Schembechler?
 AS: That was when I was working for UPI, in 1975. Every week during the football season I'd shoot a picture that they could use as an advance illustration for the upcoming game. The first one I did was a picture of the place kicker trimming his toenails. I shot it looking up at the sole of his bare kicking foot as he was using nail clippers. It got some play, so UPI asked me to do more. The week of the Ohio State game, I called Will Perry, the sports PR director, and asked him if I could come down and take a picture of Bo and some players having a little chat on the practice field.
Will said, "It's a very busy week. I don't think we have time for that." But I had a plan B in mind. My calculation was that you could get a pretty decent image with a 500mm lens shooting from a third-floor apartment balcony across State Street over to the practice field. I think it was probably a Tuesday or Wednesday before the Saturday game with Ohio State. I went to someone's apartment, knocked on the door, and asked if I could come in and take some pictures from the balcony. I told them who I was and what I was doing, and they said it was fine.
I was over there shooting maybe for 10 minutes. Probably stayed a little longer than I needed to, in retrospect. I guess I was obvious enough up there with the tripod and 500mm Nikon mirror lens that a couple of the graduate assistants spotted me. They walked across the street and yelled up that Bo wanted to see me. I thought, "Oh, well, nowhe wants to see me. I couldn't make an appointment before."
So I said, "Well, I don't need to see him." Then I remember they cupped their hands around their mouths and shouted across the street, "He won't come, Bo." (Laughs.)
I thought, "Wow." Ironically, on a day when you'd think he would take every minute he could to practice the team, Bo shut down the practice. He came over with all of the coaching staff, and a bunch of the players, to stand outside the apartment building. As I saw them coming over, I decided maybe I should call the police.
So I did, and pretty soon a squad car arrived. When they saw the number of people, the number of players from the football team — and they're all wearing pads, you know, ready for some kind of physical confrontation — the few policemen that were there called for more backup.
Before you know it there's five police cars in the street. And the whole football team. And Bo is in the apartment. He's livid and telling me that what I was doing was unscrupulous. He thought I was spying for Ohio State.
So the police said to me, "Well, we're taking your cameras, and we're taking your film." I put up a fuss because I didn't think they had the right to do that. Later I understood that it was a deft move on their part. Because they figured there was no way the football team was going to let me walk down that sidewalk to my car with my cameras. Somebody was going to try to grab something. So the police said, "If we walk out of here with your cameras, you can come down to the police station later and get them."
The next day the county prosecutor was asked if I was going to be indicted, and he came up with a law about stealing trade secrets. That was a Michigan state law designed to prevent photographers hanging out around the test tracks of the auto companies in Milford and Chelsea.
AG: Did he go forward with that?
AS: No, nothing really came of it. Without any guarantee of legal backup from UPI, I published nothing. At any rate, the pictures turned out to be just run-of-the-mill practice stuff — no secret plays or anything like that.
So I didn't get much out of it, except that [Detroit radio personality] J.P. McCarthy made me "loser of the day" on his show. Also, later that week I walked into [local watering hole] Mr. Flood's Party, where I had a side job playing piano with a country band, and I got a standing ovation from everybody in the bar.
Plus, I got a funny, odd little war story to tell about the power of football in Ann Arbor.