The power of a pen, 1961
In the middle of the 20th century, the U-M historian Dwight Lowell Dumond was one of the country's leading authorities on slavery, especially the long campaign to rid the U.S. of its "peculiar institution."
Dumond was an Ohioan with a warm and courtly manner but no reluctance to express fierce opinions on national affairs. His research had cast new light into the dark corners of commerce in human beings. Some of his historical findings were even cited in the landmark 1954 school desegregation case, Brown v. Board of Education.
Year by year in the 1950s, Dumond searched southern libraries and musty archives for materials that would inform his masterwork, Antislavery: The Crusade For Freedom in America.
Connections between past and present were all around. As Dumond made his notes on old records of slave sales and the diaries of forgotten abolitionists, modern-day protesters were marching to safeguard the civil rights of African-Americans, and the nation was preparing for the centennial of the Civil War, the conflict that finally had broken slavery's back.
Stain and triumph
Dumond regarded slavery as the great stain on America's story and abolition as a triumph. But he was keenly aware, as he wrote in his preface, that when slavery was gone, "the white population of many sections, clinging tenaciously to the belief in racial inequality, soon reduced . . . freed Negroes . . . to a second-class citizenship, which is and always has been a modified form of slavery from colonial times to the present."
By 1960, he was fine-tuning a thick manuscript of 44 chapters for publication by the University of Michigan Press. Dumond told colleagues the book would lose him every friend he had ever made south of the Mason-Dixon line, even among his fellow historians.
By 1961, with the Civil War centennial underway, editors at U-M Press believed they might have a bestseller in Dumond's Antislavery. To give it a strong start, they prepared a vigorous marketing campaign.
"One of the most important studies"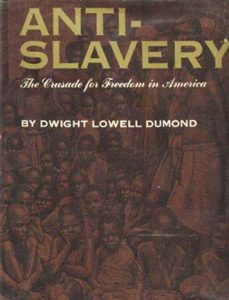 First the publisher sent advance copies to famous writers and historians. Back came testimonials for the dust jacket and advertisements.
Poet and Lincoln biographer Carl Sandburg said the book was "one of the most important studies ever made of the rise and fall of chattel slavery in the United States." Civil War authority Bruce Catton said, "Dumond candidly talks about slavery for what it was — an everlasting moral wrong which crippled American democracy for half a century and which finally had to be erased by means of the costliest war we ever fought." An official of the N.A.A.C.P. wrote a personal note to Dumond saying: "We count you as one of the genuinely solid champions of freedom."
U-M Press prepared a brochure offering a special first edition at a discount. The brochure was illustrated with drawings of enslaved black children and advertisements for slave auctions. Even the envelope was printed with a facsimile of an old auction poster: "Negroes for Sale!"
It's not clear how many copies of the brochure that U-M Press sent out. But they went all over the country. And they were noticed.
Poison ink
Orders for the book flowed in. But so did a tide of poison ink. Dumond and the editors at U-M Press now found out just how raw was the racist outrage of white Americans offended by the civil rights movement.
Their anger was so intense that even a book covering historical events of a century ago seemed a direct affront to their cherished belief in the inequality of blacks and whites.
Ugly messages to the author and publisher came from all over the U.S. — many from the South but plenty from the east and west coasts and Michigan itself. Most were scribbled on the original order forms.
"Has U-M gone 'Commie'?"
Some respondents warned the book would ignite violence:
"Do not sell this book. It is too degrading and will start a civil war."
 "I think it a shame to stir up more hate between the races by publishing such a book."
Many suspected Antislavery was a tool of Soviet propaganda:
"Has the good old U. of M. of bygone days gone all-out 'Commie'?"
"This looks like an attempt to create disorder and confusion. Was this printed and financed by the Communists?"
And some messages consisted of simple, undiluted hatred:
"You should be ashamed to publish this propaganda against one of the finest institutions America ever enjoyed and to which we should return forthwith!"
"I still believe slavery is the only solution for the n——."
Dumond's response
Professor Dumond preserved many of these messages in his personal papers, now stored at U-M's Bentley Historical Library. None of his surviving letters contain his reflections on this encounter with poison penmanship.
But if his detractors had meant to intimidate him, they were disappointed. Before and after his retirement in 1964 (after 33 years of teaching, with some 16,000 students in his grade books) Dumond spoke often — and with no reservations — about the meaning of racial injustice as the nation reflected on the legacy of the Civil War.
Some historians criticized Dumond for taking a moral stance in his writings. They preferred the moral distancing of an "objective" chronicle of the past.
But Dumond rejected that claim, and when he gave public addresses around the country, he did not stop at condemnation of slavery itself.
"No certain peace"
Lincoln's Emancipation Proclamation and the Thirteenth Amendment to the U.S. Constitution had ended slavery as an institution, he said. But "emancipation did not disassemble the psychological basis of slavery. Slavery was something more than the legal bondage of 3.5 million people. It was a firm, almost universal belief among the whites of the rebellious areas, and far too many elsewhere, that the Negroes were biologically inferior to themselves.
"Until every person feels the injuries and cruelty inflicted upon another as keenly as if it were inflicted upon himself, until all men understand that in denying equality to others . . . they are defying not only the Supreme Court but the Supreme Ruler of the Universe. Until we start thinking in terms of human hopes and human happiness, about character and intelligence instead of color, there will be no justice and no certain peace."
Dumond continued to write and speak about American history until his death on May 30, 1976.
Sources include the papers of Dwight Lowell Dumond, Bentley Historical Library; Sidney Fine, "Memorial: Dwight Lowell Dumond," LSA Minutes http://tiny.cc/zcyqjy); and Dwight Lowell Dumond, Antislavery: The Crusade for Freedom in America (1961).
The top image, from the National Maritime Museum, served as the background cover art for Dumond's book. It is captioned "The African slave trade — slaves taken from a dhow captured by H.M.S. 'Undine'"