Time passages
Sometimes it feels like it was just yesterday. Other times, like a century has passed by.
But it was actually 20 years ago that the Michigan Wolverines won the Big Ten championship, the Rose Bowl, and the national championship in one incredible football season that no one who was there will ever forget.
What follows is an oral history by some of those very people.
Chris Howard, running back (8)
The 1997 season was an accumulation of all the ups, downs, trials, and tribulations we went through from 1994-97. Those down years made us stronger. It changed us from young men from different backgrounds and ethnicities who were simply trying to find their way, into hardened veterans who wouldn't be denied. It wasn't a magical season for us — it was our reward for believing in something that was greater than individual achievements. THE TEAM. THE TEAM. THE TEAM.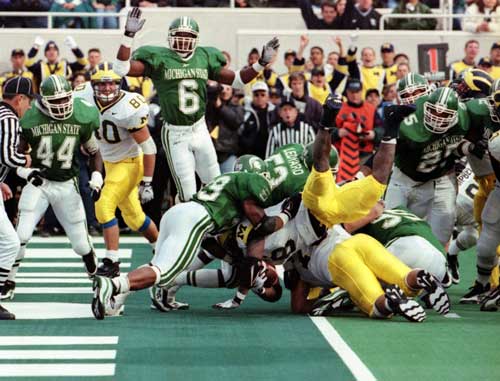 This was the beginning of our tough road-game schedule. We knew Michigan State would love nothing more than to ruin our hot streak. They scored on a trick play and the crowd went crazy. On our possession we marched down the field 90 yards to the goal line. Unlike previous years, short yardage situations were our bread and butter. We thrived in those situations, we looked forward to those situations. You can tell a lot about a team based on their ability to line up in short yardage situations and just bang heads. We got some good push and I dove over the top for the score. After that, the big bad bully got bullied the rest of the game.
Brian Griese, quarterback (14)
Coming into the '93 season, Michigan had won five Big Ten championships in a row and then we went into a stretch for four years when we didn't win it, and we lost four games each of those years. I remember thinking with the five or six of us that were left in our class of '93 that we were we going to be the first class in a long time — I think since the '60s — to come to Michigan and not win a Big Ten championship. So our attitude coming in to that season was a little bit different, and the sense of urgency was a little bit different, not just from those five guys but everybody on the team.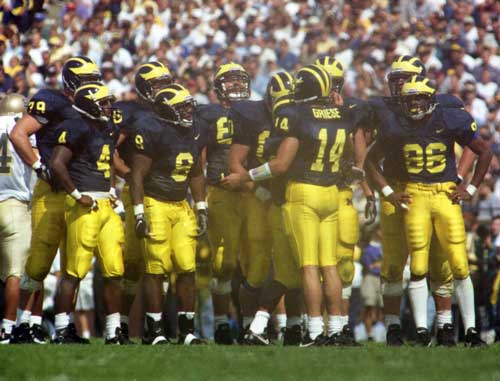 I think that team in particular had an unselfish nature about them. The guys played for each other more than anything else. It really started with Lloyd Carr, how he would talk with us about the value of being a part of something that's bigger than yourself. As a group of individuals we would not have accomplished what we accomplished. For a lot of that season we had the no. 1 defense in the country, while offensively we weren't anywhere near tops, but we were efficient. Sometimes on teams where you have one unit that's spectacular and one that's not spectacular, but efficient, you get inequality. But we never felt that.
Brady Hoke, defensive line coach
I think we opened up at home with Colorado. They were pre-season ranked no. 1, and after that football game, and the way that our kids played as a team, and played together, the enthusiasm they had for each other, the camaraderie, the attitude — you knew they had a chance to be special, to go all the way.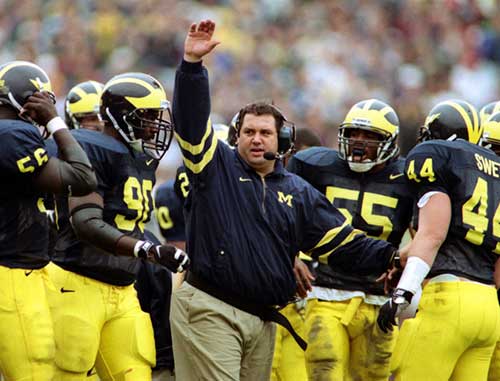 That was a group of special guys, the players and also that staff, and we really had a great leader in Coach Lloyd Carr. Everyone has their own personality and you could see Coach Carr's personality throughout. The way he handled that football team from day one after the '96 season is probably one of the most impressive things I've ever seen, from motivation, to how we practiced — the competition he created within the team to strive to be the best, the mountain top that he talked about, the Mt. Everest stories that he had people come in and talk about. I think everyone on that team really believed in each other, they counted on each other, they were accountable to each other. It was a special group, and I haven't been around very many of them like that.
Lee Bollinger, U-M president emeritus
The Rose Bowl game was one of the most exciting sports events I've ever witnessed. And I have the highest regard for Lloyd Carr, as a coach and as a person. That season cemented my respect for him.
Rebekah Wagenschutz, cheerleader
It is one of the best memories of my life, and certainly a highlight of my years at U-M. It was the spirit of Michigan at its finest. What an incredible honor and opportunity it was to have been able to be part of that championship season!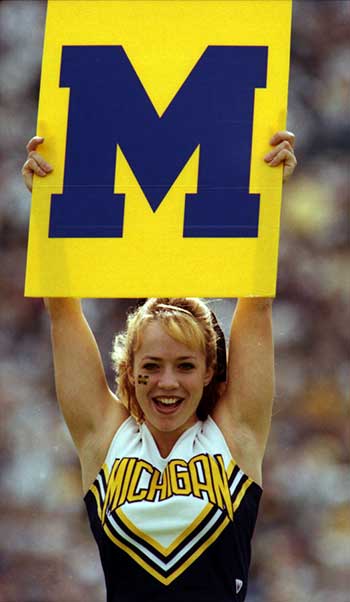 There is nothing quite like it — hearing the roar of the crowd as they spell out MICHIGAN around the stadium. I had the privilege of holding up the M and eliciting the response from thousands of people as they yelled it out and started the cheer. The whole experience was exhilarating! Those were some really great times for Michigan football fans in the fall of 1997!
Jon Jansen, offensive tackle (77)
We were a very close team, not just as teammates but as friends. There was no divisiveness in the locker room. Sometimes you have a couple of outliers but we didn't have that on the '97 team and it was a special group of guys. We all hoped and wished we'd be able to win a Big Ten championship and be there for a national championship, but that year we were just thinking of one game at a time. We didn't play the "what if" game — you know, if we won this many games we'd be in this position — it was just, "Who's up next, let's make sure we're focused on that one and keep moving forward." That's really what Coach Carr said, and what we focused on.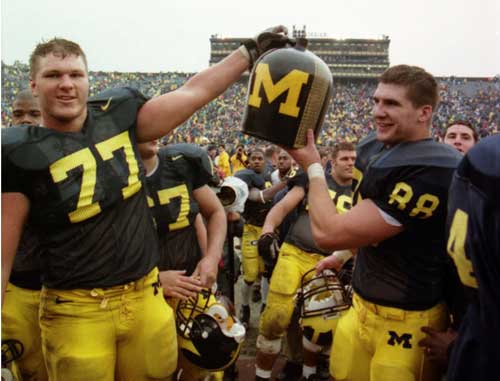 Any time you're playing a trophy game, you want that trophy to stay in Ann Arbor. That was the focus for us in the Minnesota game. We never lost the Brown Jug while I was at Michigan, and to be able to say that you won all your trophy games the whole time you were at the university, that's a feather in the cap.
Ramon Johnson, drum major
The best word I can use to describe the 1997 season is "electric!" An energy ran through the campus like I'd never experienced in all of my years in Ann Arbor. From the dining halls to athletics, the entire campus radiated with the spirit of Michigan. I could feel the excitement from the first day of band week, which only multiplied as the winning season progressed. We were invincible that year, and everyone knew it, even before the season began. From the Michigan Marching Band staff and returning members to the freshmen and fans, everyone gave their all to solidify the great tradition of the Victors and support our Maize and Blue.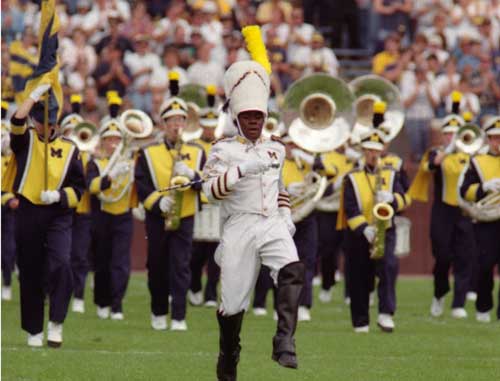 I've never worked as hard as I did in those short glorious weeks, and I'd never been so proud of the band members and that great organization we call the Michigan Marching Band.
Kraig Baker, placekicker (46)
Winning the national championship is something that has stayed a part of me 20 years later. It is not unusual to be in a conversation about Michigan football. Then when they learn I played in the late '90s, their immediate question is often, "Wait, you were a part of 'the Team,' one of the greatest college teams ever?" You really appreciate what we did years later once you realize how hard it is to accomplish perfection.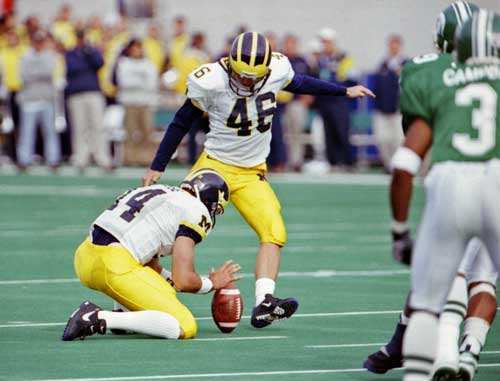 What I remember most about the 1997 team is the unselfishness and how team-focused we were. We knew we needed each other to reach the summit (the national championship). It was a year where defeat never crossed your mind. I have continued that mindset in the business world for the past 20 years.
We thrived on going into opposing stadiums and quieting the crowd. Most get intimidated, but we were the opposite. Each time I made a field goal it quieted the crowd. I loved it! It was a GREAT Michigan win that day in East Lansing and it allowed us to keep "climbing the mountain!"
The 1997 team is a special group of guys who appreciate each other's company and friendship, no matter your race, background, or beliefs. It's truly special and rare!
Rob Swett, inside linebacker (44)
As we pass our 20-year anniversary, these things seem to get more and more sentimental. I think of the great achievement by a group of young men and their leader. I think of the camaraderie and brotherhood that became the basis for lifelong friendships. All of this was the result of overcoming long odds, through sweat, blood, sacrifice, and determination, with a leader who gave us a singular focus and the path to achieve it.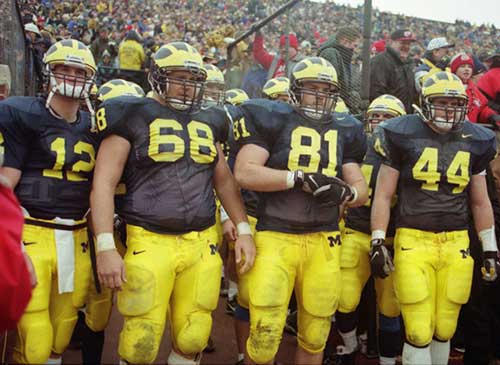 We were full of confidence coming out for the second half of the Ohio State game. We hadn't seen anything from them that we couldn't handle and our offensive and defensive lines were really taking control of the game, which is a huge credit to Zach Adami [68] and Glen Steele [81]. Thirty minutes left to the Rose Bowl and keeping our national championship hopes alive and the crowd was electric as we took the field.
Kevin Sedatole, Director of the Michigan Marching Band
The 1997 season was very special for the football team and the band as well. I'll never forget the roses coming out at the end of the Ohio State game. It was a great feeling. We had a fantastic trip to the Rose Bowl culminating with a great halftime performance of "El Toro Caliente" and "Malaguena." And of course the monumental win that resulted in the national championship.
Jeff "Superfan" Holzhausen
The Superfan uniform came from my love of Star Wars and Batman. It's a little Darth Vader and a little Batman . . .and it's all in bad taste!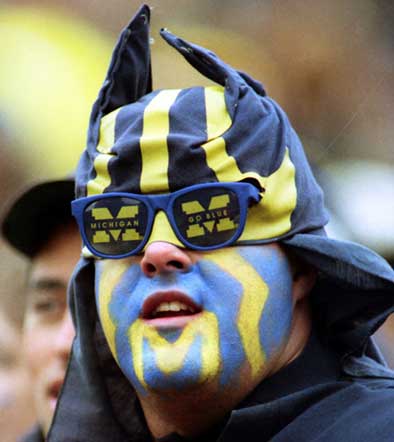 What an amazing year to be in my last year in school and to be the Superfan for that one magical season. Undefeated. Woodson's Heisman campaign. One of the greatest defenses in the history of college football! Great victories in East Lansing with the greatest interception of all time, a blowout during "Judgment Day" in Happy Valley, the magic of beating Ohio State in the Big House with Woodson turning in a game for the ages. A group of us made every game that year and it ended with the mother of all road trips in an RV to Pasadena. These will be memories I cherish my entire life and that I'll be telling my grandchildren! Go Blue!
Eric Warner, offensive guard (63) (with raised fist)
Oh, wow — I remember this. Baylor 1997 — the first game I played in. I think it was in the fourth quarter. I remember going into the game and my entire body was just buzzing with excitement, and then we scored.
Tate Schanski, running back (42) (center of pack, above)
My memory of this picture kind of sums up my experience of Michigan football. Not only on this touchdown of mine, but the sense of accomplishment and joy that the WHOLE TEAM felt on a touchdown or any good play by any fellow teammate, I would argue, was equaled by few (if any other) programs around the country.
There's no "I" in "team" is a motto that's heard everywhere, but very rarely ever truly lived by. We had that on our team. I think this picture illustrates that. You can see the celebration and joy we were experiencing because we just scored.
Erika Johnson, twirler
Being a feature twirler with the Michigan Marching Band and performing in the Big House for 100,000 fans on game days was an unforgettable experience!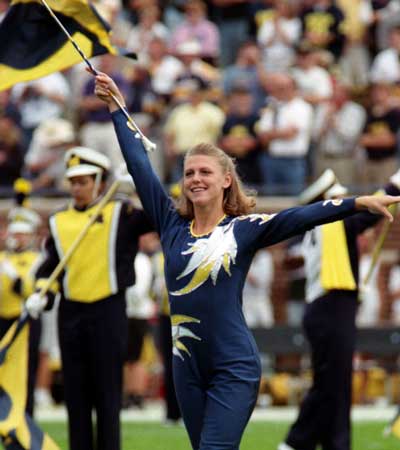 It was hard to contain the excitement when my name was announced during each pregame performance but I had to remain focused to make sure I was in perfect formation with the band and kept the baton in my hand
Chris Howard, running back (8)
This was a game that some might call going in a potential letdown game. We knew we were the better team but like in the past sometimes we wouldn't play our best and everything would sort of collapse.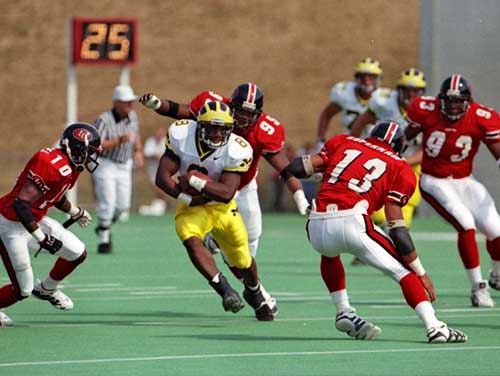 Indiana had a new stadium they were dedicating to John Mellencamp, so emotions were riding high for them. We beat them pretty easily but we lost our co-captain Eric Mayes that day [to a leg injury] — a guy who walked on and became captain of the team his senior year, and for his career to end like that gave us extra motivation to play to our fullest potential.
Brian Griese, quarterback (14)
I think if you asked the players, the turning point of the season was the Iowa game, being down two touchdowns at the half and then coming back to win 28–24. I think that game gave all of us a sense that if we stuck together, we'd find a way to win.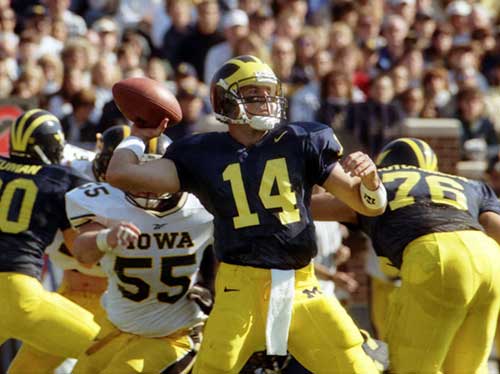 Jon Jansen, offensive tackle (77)
We were down 21–7 going into halftime and the momentum was all on Iowa's side. We came into the locker room and made the determination that we weren't going to let this be the one that slipped through our fingers. We were at home, we were the better team, we had more talent. We ended up beating them 28–24, and that game really turned things around. We'd learned a lot of lessons in '95 and '96 from games that we'd let slip away. We pointed out those lessons at halftime, and said, "Not this year."
Jennifer Goldman, cheerleader
Thinking back to 20 years ago, there is honestly no feeling that compares to standing in that tunnel, with the marching band getting ready to play, and knowing we were about the run out onto the field with over 100,000 cheering fans, all connected to that one special thing that is Michigan football!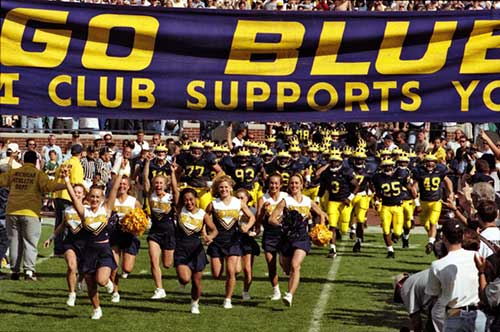 But we couldn't get too caught up in the thrill of the moment until we got far enough past the Go Blue sign because the players were right behind us and pumped up! Born and raised in Los Angeles, where Hollywood is bigger than sports, it was quite the culture shock, and my years as a cheerleader were a very special life experience.
Brian Griese, quarterback (14)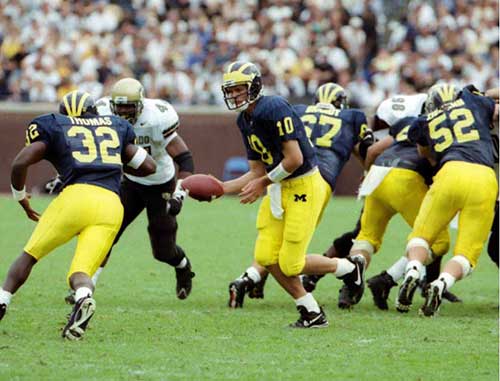 I think most of us knew early on that Tom [Brady, 10] was going to be something. The way he prepared, the seriousness of his approach to the game. He was a competitor, willing to put in the time, and he was driven and focused. I'm not in the least surprised with the success that he's had, and that he continues to approach the game and his job in that manner.
Brady Hoke, defensive line coach
I'd gone out to Tom's high school in the spring of his senior year, visited with the coach and him a little bit. He didn't look like much, but I think the biggest thing with Tom was how he was determined to prove everybody wrong. He didn't get a lot of playing time that year. Brian was the starter, but Tom was competing and he was going to be ready if he was called.
Brian Griese, quarterback (14)
Every year we'd sit down in a room, just the team, and come up with the goals for the season. That we're going to win our rivalry games, we're going to win the Big Ten championship, we're going to have these numbers offensively and defensively — all different things. We did that that year, and after about two hours of back-and-forth, Charles Woodson stood up and said, "How about we just win?"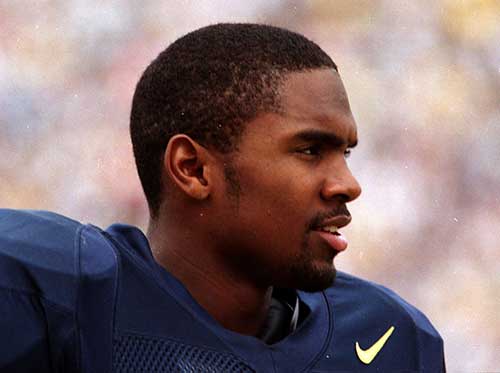 Brady Hoke, defensive line coach
The thing I remember best about Charles was his competitive nature. He was one of the hardest working guys I've ever known. Being a defensive coach, it was something special to me when he became the first defensive player to win the Heisman trophy. We were all in the team room watching the Heisman ceremony on TV, and when his name was announced, everybody went crazy.
Nick Offredi, cheerleader (left)
I hope the Golden Gopher saved some other nuts for the winter, because we smashed his! Okay, maybe you can't print that. It was always a blast to "goalpost" the opposing team's mascot. It usually meant we were up comfortably in the second half and the victory party had already started. I remember the anxiety at the start of each game grew and grew. Being undefeated this late in the season was new territory, so once we got a big enough lead, it was fun to cut loose.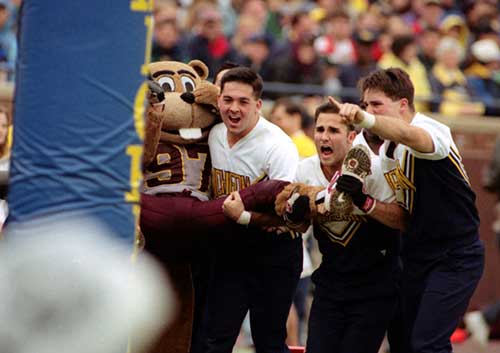 Kraig Baker, placekicker (46)
The Penn State game was my "Aha" moment, when I knew there was something completely different about this team. Most experts did not give us a chance that day, but obviously we didn't do a very good job of listening to them. In the locker room following the win, it was definitely the loudest I have ever heard the "Victors" sung by anyone!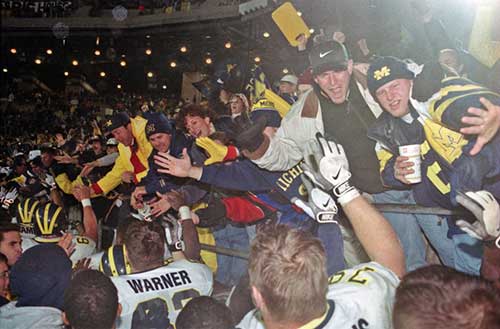 Eric Warner, offensive guard (63)
I think Penn State was the third-to-last game of the year and I remember at the end of the game having this feeling that "this is actually happening" — we were doing very well and that we just had a few more to go. Flying out there they stuck us in two-prop aircraft and I remember the stewardess having to reposition us based on weight, and just feeling very dodgy about the whole affair. But the thrill of the win outweighed the terror of getting there. "Happy Valley" indeed!
Chris Howard, running back (8)
For me, Wisconsin was the game where I felt if we won, we would go all the way. We had just come off a dominating win over Penn State. Coach Carr issued me a personal challenge to be the better running back on the field against Penn State and he did the same thing against Wisconsin. Wisconsin is known for being a physical team, especially at home. It was cold as hell and I wore no sleeves and no tights. The turf was hard, the football was hard, the hits was were hard and I loved every minute of it. We embraced the elements. We out-physical-ed Wisconsin. It was your traditional Big Ten smash-mouth football game. After that win I knew we would go all the way.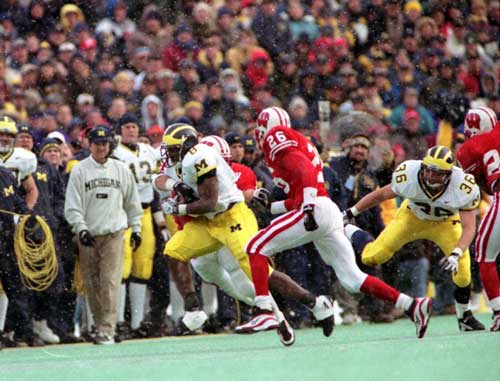 Brady Hoke, defensive line coach (far left)
The one that stands out for me is Ohio State. Any time you beat Ohio it's always something special — the game our guys played, the way Charles Woodson tore up the turf — I think he had two picks and a punt return for a touchdown — and just how the people in that stadium reacted after that football game. They flooded the field, there were guys with roses in their teeth, and everything else. That was definitely a special day, and a special team that did something that in the beginning of the season I don't think anyone thought would happen.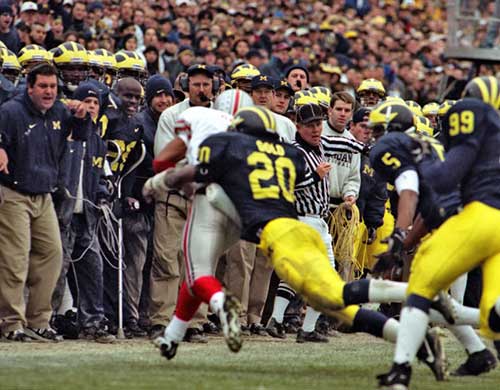 Rob Swett, inside linebacker (44)
We were full of confidence coming out for the second half of the Ohio State game. We hadn't seen anything from them that we couldn't handle and our offensive and defensive lines were really taking control of the game, which is a huge credit to Zach Adami [68] and Glen Steele [81]. Thirty minutes left to the Rose Bowl and keeping our national championship hopes alive and the crowd was electric as we took the field.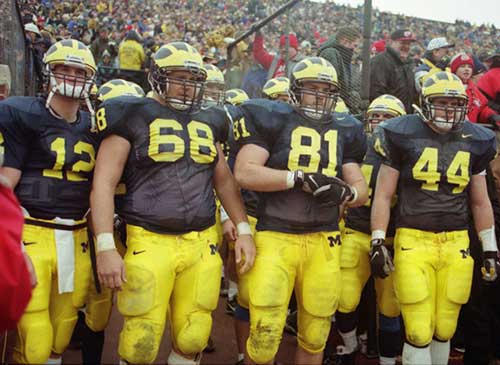 Jon Jansen, offensive tackle (77)
At the end of the game we'd gone up to the locker room like we always did, and we sang the "Victors." Then somebody came in and said that the fans weren't leaving, that they're still out there celebrating. So we went back down and celebrated with them and it was one of the greatest moments of my life. To know that we were finally going to the Rose Bowl —  I'd spent four years trying to get there, and now we'd finally locked it up. We were going to the Rose Bowl! It was unbelievable.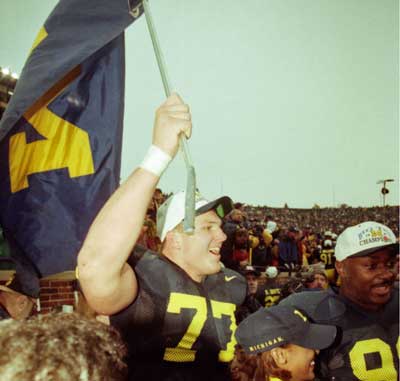 Nick Offredi, cheerleader
It was crazy on the field after the Ohio State win. Euphoric and surreal. People were hugging, taking pictures, passing roses around. I think students invaded President Bollinger's house, too! Not in a bad way, but the whole campus turned into a party until finals started.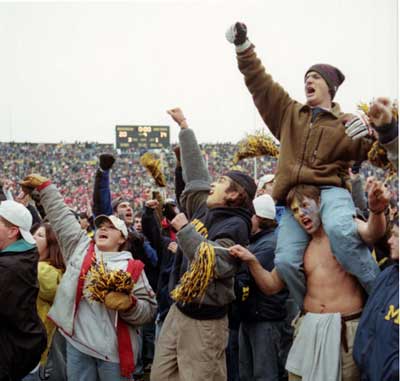 Brian Griese, quarterback (14)
What's unique about the college game that I love so much is that, as a player, the fans are your peers, the people you're in class with the next day. It's different in the NFL, where there's a disconnect between players and fans, economically, socially, so many different ways. But in college, you're all the same, so the connection with the fans — really, they're your friends, they're your schoolmates, classmates. There's nothing like college football fans, and there's nothing like Michigan fans.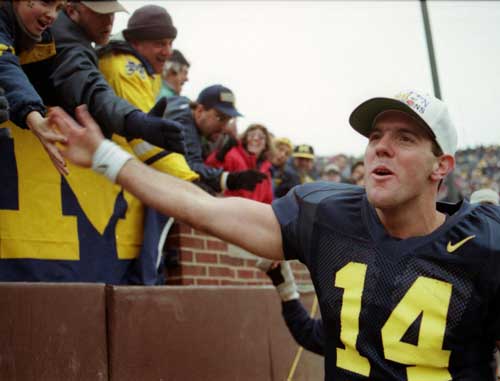 Jon Jansen, offensive tackle (77)
For as far back as I can remember, on January 1 you sat down and you watched the Rose Bowl on TV. That was the standard at the time because there wasn't a college football playoff back then — it was "win your conference," and for winning the Big Ten you got to go to the granddaddy of them all.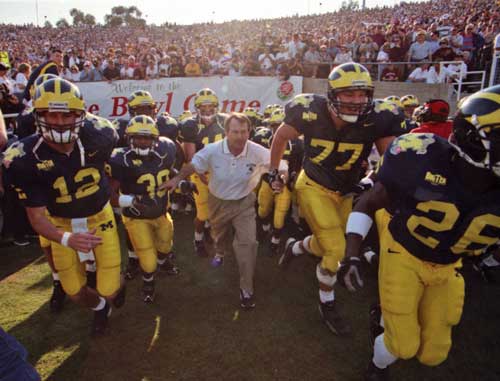 Just standing on the field you could feel such a great sense of history and tradition. Then finally when the game was over and you'd won it, you couldn't believe that it was actually happening, that you were national champions, that you'd won the Rose Bowl, that you'd beaten every team you played that year!
Rob Swett, inside linebacker (44)
If you had asked that young man hugging Coach Carr 20 years ago what he was thinking I'm sure it would have been full of testosterone, bravado, and of course with coach there, a dose of humility (if you can mix those three!). I recall how as we walked off the field trying to catch our breath from singing the "Victors" with the crowd and trying to spot our families in the stands, Coach Carr gathered us together, for the last time as a fifth-year senior, and put it all into words: "Men, you just won the national championship!" I get teary-eyed thinking about it even now.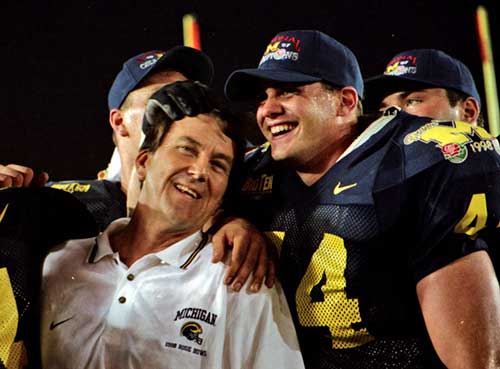 Jon Jansen, offensive tackle (77)
When we got back to Ann Arbor the celebrations seemed to go on for weeks. We had an event at Crisler and an unbelievable crowd showed up just to hear us talk. Then there was a basketball game where we got to walk around the floor with the trophies. There was a big parade down State Street, and it was great to know that all the work was over and sit back, reflect on the season and take it all in at that moment.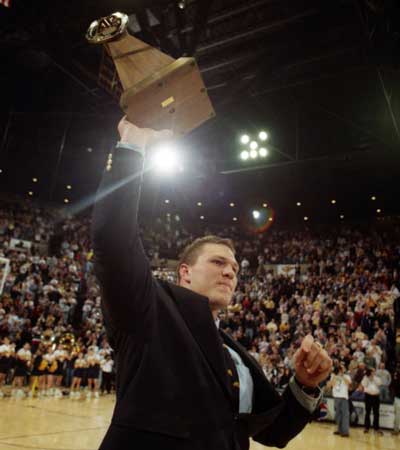 It's something we're still celebrating today. We had a reunion this past April, and 80-plus guys came back for it, to share stories and memories, give their perspective on that season, and everything that's happened since, and how they've used that championship in their lives, to learn lessons and move forward.
Share your memories of the '97 season in the comments section below.
(Photos courtesy of the Michigan History Project.)