There's an app for that
Dodge two woolly mammoth skeletons as they stalk out of U-M's Museum of Natural History.
Make it snow or rain on the iconic Cube behind the Michigan Union.
Or go back in time to October 1960 and join then-Senator John F. Kennedy in front of the Union  as he announces the creation of the Peace Corps.
These are just a few of the groundbreaking features of MGoView, a free app that employs augmented reality, virtual reality, historic film footage, and other features as it offers a virtual tour — or augments a physical tour — of 30 sites on the U-M campus. Each site on the app employs a 360-degree view so you can twirl around the environs when, or as if, you were standing right there. Those who explore in person can use the phone's camera to look around at the location and find icons. If viewing offsite, one can swipe photos to view the sites, surroundings, and special features.
Download the app for iPhone and Android.
(Virtual) reality check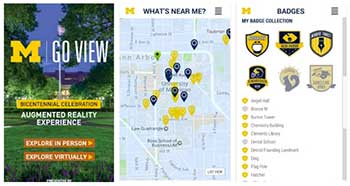 Experts in U-M's School of Information (UMSI) conceptualized MGoView as a way to celebrate Michigan's bicentennial.
As representatives of U-M's "data" school they sought to entertain and inform the University community, while showcasing UMSI's expertise in data science, analytics, social computing, digital archiving, health informatics, and more.
"MGoView is a way to show the best part of U-M's technological prowess, the best of what we've got in a single place," says Evan Hoye, MGoView project manager. "This app combines the best of different fields and areas of work. It's a matter of moving into the future while looking at the past."
MGoView is unique within the virtual reality space, Hoye says. Its augmented reality feature allows people to train their phone on an image, and the phone will place an image on top of the one the camera is creating, so it looks real. Gaming is also part of the app, with badges people can collect as they move up an "achievement staircase." Plus, the app is a treasure trove of historic trivia about U-M.
Learn how the Detroit Observatory earned its name, and celebrate the fact that scientists have discovered 21 asteroids and two comets at the old and newer Observatory buildings.
Discover that the U-M School of Dentistry was one of America's first dentistry schools when it opened in 1875; that it was the first to offer a graduate dental education in 1894; and that its first graduate was a woman, Carrie M. Stewart.
See the downtown Detroit location where the "Catholepistemiad" a.k.a. "the University of Michigania" originated in 1817.
Listen at the Burton Tower to a rendition of "Hail to the Victors" on the tower's 53-bell, 43-ton Baird Carillon – the fourth heaviest carillon in the world.
Visit the Big House to hear the voice of legendary announcer Bob Ufer.
It takes a village
Technical and promotional development for MGoView came via several entities, including U-M's Michigan Creative, Bentley Historical Library, and various schools, colleges, and departments. Outside of U-M, the app was engineered by INDE, a software firm with offices in London, Los Angeles, Hong Kong, and Budapest. INDE has worked with such clients as Smithsonian Institution, Coca-Cola, the BBC, and Universal Studios.
Members of the team who contributed to the app's development include UMSI Director of Marketing and Communication Heather Newman; Elizabeth Yakel, professor and senior associate dean for research and faculty affairs; and Paul Conway, associate professor of information. In addition, then-UMSI graduate students Erica Trani and Scott Kirycki, along with U-M graphic designer Aimee Andrion, contributed their expertise to the project. Hoye's name also comes up, but don't ask him to take a bow. He's too busy trying to make it rain on the Cube (above).