Sweet and savory
Shortly before Greenberg's founders Ari Weinzweig and Paul Saginaw were to open what would surely become an iconic Ann Arbor delicatessen, they got a call from a like-minded entrepreneur in Southeast Michigan. The name Greenberg's was taken, he told them. And he didn't care if they were naming their business in honor of a lovely customer they'd come to know and love at Monahan's Seafood Market in Kerrytown. He also didn't care that they spent a pretty penny on a neon sign they could no longer hang.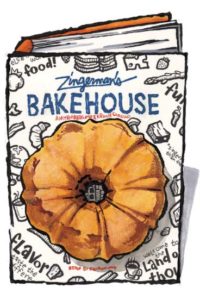 Undaunted, the young partners started brainstorming alternate names. Neither of theirs would work: Weinzweig was "tricky," and people would confuse "Saginaw's" with the city, they thought. They looked for inspiration in the front and back of the phone book. (This was a long time ago, when phone books actually served a purpose, remember?) In the quest to nail a name that had "zing" and also sounded Jewish, the duo claimed Zingerman's. And, as the story goes, they hung that neon Greenberg's sign in the store anyway.
As their business matured, the partners grew frustrated with the quality of bread available to them in Ann Arbor and Detroit. They convinced their pal from the local Ann Arbor restaurant scene, a cook named Frank Carollo, BS '76, to run a bakery that could supply them with a superior loaf.
It didn't take long for Carollo and his team to expand beyond their one-customer base and begin supplying bread to outlets other than Zingerman's Delicatessen. Today, Zingerman's Bakehouse employs 140 people in a 24-hour, 365-day operation that produces loaf upon loaf of Jewish rye, challah, and sourdough each day. And who can resist the sourcream coffee cakes, magic brownies, and pecan pies?
Now, after a 25-year run, Carollo and his longtime business partner and Bakehouse co-owner, Amy Emberling, are sharing the recipes behind 65 of their greatest hits. Zingerman's Bakehouse (Chronicle, 2017) is a gorgeous cookbook filled with mouth-watering photos by Antonis Achilleos. In addition to recipes for breads, cakes, pies, and more, the co-authors provide detailed tutorials on preparation and process. They tell stories about their unexpected successes and stunning flops, their business strategy, and their unique management style.
It's such a treat for the Ann Arbor expats and other foodies out there jonesing for a long-lost taste of home.
In this episode of Listen in, Michigan, Carollo explains how he segued from engineer to artisan baker and encourages us to try our own hand at some of his most treasured sweets and treats. But don't expect him to install a help line any time soon. Just follow the directions, he says. And make sure you read the recipe more than once before you start rattling those pots and pans.