Episode 18: Frank Carollo — "Flour power at Zingerman's"
Hi, this is Deborah Holdship editor of Michigan Today.
In this episode of "Listen in, Michigan" my guest is Frank Carollo. He is the co-owner of Zingerman's Bakehouse. The place that made all the delicious bread all your delicious Zingerman's sandwiches. Plus magic brownies and cookies and hummingbird cake and hunka hunka burning love cake and all kinds of delicious stuff. So Frank and his partner Amy Emberling have been working together for many years and it is Zingerman's Bakehouse's 25th anniversary. So to celebrate that anniversary and all the adventures they've been through together, Frank and Amy co-authored a Zingerman's Bakehouse Cookbook. Which is available to you now. It's a beautiful book, lots of instruction, beautiful photographs and great stories about the history of the bakehouse. So without further ado let's go see what's cooking over at Zingerman's Bakehouse. Here's Frank.–
Frank Carollo: For 25 years, if you are outside at about 10:30 in the morning there's a part in the baking process where you open the damper and let the steam out of the oven and at 10:30 you'll smell rye and at 11:30 you'll smell italian bread. And so you could be outside and know what's going on inside. I think the aromas are really amazing. The crumb structure is exciting to a baker. The texture of of what we bake is important. And of course most important at all is the flavor and the lasting flavors you have in your mouth after you take a bite and swallow.
Holdship: Now I understand you went to school to be an engineer. So I'm just curious about how you're engineering training like what when did the light switch go off and you decide I don't want to do engineering or I'm going to be an engineer and a bakery.
Carollo: Well, that's a great question. So I graduated in 1976 with a bachelor's in engineering science and I was accepted to get a masters, the master's program for bioengineering. And so my last term in before getting my undergrad degree, I got a job in a restaurant as a cook. A light went on in my heart where I was making food and getting paid for it and there was an incredible joy in doing that work. And you know I kinda look back growing up in Sicilian and Austrian family where food played a big role and most of my childhood my mind is sitting around a table with 20 relatives in someone's basement. An aunt's basement and we're celebrating something and sharing food. And so, food played a big role and so making food was sort of equal to love in my head and so it unlocked a passion that I didn't really know I had. So I continued in the food business and now it's been going on 42 years.
Holdship: It's kind of a good thing that you didn't know what you didn't know basically.
Carollo: Oh absolutely, had I known. You know we have about a 140 people working. There are five different things that go on in the bakery. We have the bread bakery The pastry kitchen the cake studio. We have now a retail store attached to the bakery and the baking school. And a 140 people and 365 days a year and we go around the clock. So yeah it never never stops.
Holdship: Wow that's amazing.
Carollo: You know we we started making a few dozen loaves of bread a day for one customer, Zingerman's Delicatessen and you know I I had hoped that we would be successful enough that other people might want to buy from us. So I was from the start trying to imagine how making 20 loaves of bread how we could do it if we needed to make 50 or a 100 or 200 and then on and on. And it gives me joy working with my hands is very very joyful.
Holdship: And it's such a kind of an ancient art too. I mean it dates back to like the beginning of time.
Carollo: Yeah it's more than 8 thousand years of the sourdough process for sure. And so the guys, the men and women who stand in front of the oven with the peel on a ten-foot handle that pose has been going on as you said for more than 8 thousand years.
Holdship: You feel connected to humanity. I like it's just this long, it's so cool.
Carollo: Well you can tell a story from the way bread feels like and of course if you shape it properly then you put it on its path to becoming a great loaf of bread and that's a really important part of the process.
Holdship: I love your guys' mission statement says wondering if you would just say it out loud.
Carollo: Well for the bakehouse it's "We are passionately committed to the relentless pursuit of being the best bakery we can imagine." In '92 If you could look back in time the deli was ten years old and Paul and Ari had spent those ten years really traveling around the country and all through Europe looking for great producers of traditionally made and delicious food. And they had a real desire to improve the quality and consistency of the bread because bread was a really important component of having a successful delicatessen. So Ari had sort of made up his mind that he wanted to figure out a way to start a bakery. And he heard about Michael London, a baker from upstate New York. Prior to tasting his breads we had never never ever tasted bread that all by itself had flavor that was so satisfying that we didn't feel like we needed to do something to it. Prior to that you spread butter on toast or peanut butter or dip it in olive oil or pasta sauce but really never just eat the bread by itself. And these breads we tasted you know they were visually unlike anything we had seen before really beautiful and then the flavor blew us away. And so that made us want to pursue him as the consultant to help us get started.
Holdship: Good call. One of your tenants or one of the things that you say always to workers is "remember this is someone's loaf."
Carollo: Yeah.
Holdship: I love the names like the different items. Hummingbird cake and hunka hunka burning love cake, which used to have another name?
Carollo: Used to be called the voodoo love cake. Before that, it was chocolate cake. And then you know I I'm trying to think it was probably the mid-nineties and we realize that we use ingredients that are superior to other bakeries but they make a chocolate cake. So we just thought we needed to put fun our names as well and also distinguish them from all the other baked goods that are out there. And so for many things we started trying to put fun names on there. My mother who grew up in Austria many of the Hungarian items it was the Austro-Hungarian monarchy for many centuries. And so I had poppy seed strudel that we called it as a little kid. I've eaten that for nearly 60 years and now we make it in our store. It makes me very very happy.
Holdship: Let's talk about this book because it's so pretty. It's like a coffee table book but it's a cookbook. So who should buy this, who did you write this book for?
Carollo: We've spent the last 11 years teaching people to bake at home. And this has a collection of 65 of sort of most of our greatest hits if not all of them and then some special recipes that Amy and I wanted to add that we think are important to us and our community. But there are many many recipes that if you've never baked bread or a pastry before are very very accessible. And then there are a handful of recipes that might have four or five different stages to it and take a little time and a little work and a little planning but I think anyone can execute them in their home kitchen.
Many of the qualities that you need to be a successful engineer systems, organization, process, and manufacturing, now just in time delivery all those things are things that I did naturally from the beginning and if you manage to organize it and find the way to make it the same every day rather than every day doing things differently you can deliver a good experience all the time for people. And in baking I learned from a guy who's kind of a genius and I learned to do it in a scientific way. And that's what the process that we teach in the book about reading the recipe more than once, assembling, make sure before you start you have all the ingredients, weigh everything out, not measure but actually get a little digital scale and weigh all the ingredients into separate containers and have them all in front of you and then begin. We try to give you a process where you can avoid those unfortunate things and sometimes you have to put your cell phone down once you get started kneading and don't let yourself get distracted. The thing to me about baking is there's fermentation going on and if I can talk about bread baking for awhile, so you'll be active for the kneading process that might take ten minutes from start to finish and then the dough needs to sit and the little microorganisms have to go to work. And there's sometimes as long as it can be overnight it can be 12 hours or it could be an hour and some of the more simple basic breads. And that gives you a chance to rest reflect I find it, I just find it a really wonderful work to do.
Holdship: It seems really nice you know. Now the book also contains a couple, some little stories about some of your attempts at greatness or ideas you had that didn't necessarily work out. So talk about some of your most famous flops or debacles. I saw there was one about Detroit street topping that didn't go so well.
Carollo: Well that's just it's hilarious that a combination of phenol sesame and poppy seeds that we sprinkle on top of breads and I thought we would sell hundreds and we just came through the holiday and our busiest day of the entire year we might have made two dozen rather than hundreds and hundreds and hundreds. So after 25 years it just it's delicious. I've got no doubt it as delicious as it was 25 years ago and in fact were buying better seeds. So it's more delicious but it's still is an idea that sounds like a great one to me but.
Holdship: We can't all be winners right? How about a surprise big winner? Was there something you thought oh no one's going to buy this and then it's like super popular.
Carollo: Over the past few years. There is a love of anything baked with something other than wheat. So tinkle brought is a German recipe. Tinkle means spelt in German so it's spelt bread and people just love it and there's mash potato and it and a little bit of rye. And the mash potato makes the crumb really tender and moist and it's crispy on the outside rolled in sunflower seeds. So people really love it. Since probably the last six months were making a bread called Country Mish which has become my new favorite and it's got some flour that's grown up in Traverse City along with some buck wheat and rye and a little bit of spelt. So it's super delicious and baked really really really dark and it comes in big four pound loaves. So I just love love that.
Holdship: I read an interesting tip about pie crust that surprised me. You suggest to go darker than you're comfortable with.
Carollo: I guess the simplest analogy is if you take a bite of raw onion it tastes very different than if you brown an onion in a pan and that browning brings out, it's a caramelization process. In baked goods, it's a similar it's not caramelization, but it has the same effect that when you bake something dark there is a sort of a magnification of the flavor. It makes it more intense. 150 years ago baking was done in most homes on nearly a daily basis. So it was a life skill and this book, don't be afraid of it. Trust, read the process follow the process read the recipes, be prepared and and have some fun. And even if what you bake doesn't look like the photograph, baking I think gives you a tremendous sense of personal satisfaction for making something in your own kitchen for your friends and family. And then whether it looks beautiful or not almost every time it's going to taste incredible. So, you'll get great joy from doing.
Holdship: Well after that little chat with Frank I've decided I'm no longer watching my carbs. Or actually, I'm going to watch my carbs… go in my mouth and down my throat covered in all kinds of interesting seeds from Zingerman's Bakehouse. Alright, thank you so much for listening. Get me to the Bakehouse. Go grab a crust of delicious and beautifully colored bread in crumb and then getting your kitchen and make some of your own. Alright, take it easy till next time. Enjoy Zingerman's and Go Blue.
Sweet and savory
Shortly before Greenberg's founders Ari Weinzweig and Paul Saginaw were to open what would surely become an iconic Ann Arbor delicatessen, they got a call from a like-minded entrepreneur in Southeast Michigan. The name Greenberg's was taken, he told them. And he didn't care if they were naming their business in honor of a lovely customer they'd come to know and love at Monahan's Seafood Market in Kerrytown. He also didn't care that they spent a pretty penny on a neon sign they could no longer hang.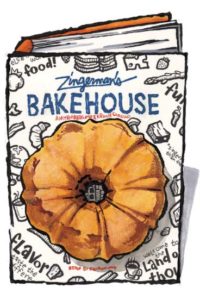 Undaunted, the young partners started brainstorming alternate names. Neither of theirs would work: Weinzweig was "tricky," and people would confuse "Saginaw's" with the city, they thought. They looked for inspiration in the front and back of the phone book. (This was a long time ago, when phone books actually served a purpose, remember?) In the quest to nail a name that had "zing" and also sounded Jewish, the duo claimed Zingerman's. And, as the story goes, they hung that neon Greenberg's sign in the store anyway.
As their business matured, the partners grew frustrated with the quality of bread available to them in Ann Arbor and Detroit. They convinced their pal from the local Ann Arbor restaurant scene, a cook named Frank Carollo, BS '76, to run a bakery that could supply them with a superior loaf.
It didn't take long for Carollo and his team to expand beyond their one-customer base and begin supplying bread to outlets other than Zingerman's Delicatessen. Today, Zingerman's Bakehouse employs 140 people in a 24-hour, 365-day operation that produces loaf upon loaf of Jewish rye, challah, and sourdough each day. And who can resist the sourcream coffee cakes, magic brownies, and pecan pies?
Now, after a 25-year run, Carollo and his longtime business partner and Bakehouse co-owner, Amy Emberling, are sharing the recipes behind 65 of their greatest hits. Zingerman's Bakehouse (Chronicle, 2017) is a gorgeous cookbook filled with mouth-watering photos by Antonis Achilleos. In addition to recipes for breads, cakes, pies, and more, the co-authors provide detailed tutorials on preparation and process. They tell stories about their unexpected successes and stunning flops, their business strategy, and their unique management style.
It's such a treat for the Ann Arbor expats and other foodies out there jonesing for a long-lost taste of home.
In this episode of Listen in, Michigan, Carollo explains how he segued from engineer to artisan baker and encourages us to try our own hand at some of his most treasured sweets and treats. But don't expect him to install a help line any time soon. Just follow the directions, he says. And make sure you read the recipe more than once before you start rattling those pots and pans.