Hogwarts rising
Over a span of 10 years in the 1920s and '30s, the people of Ann Arbor watched as the greatest building project in the city's history transformed the south side of campus.
Sagging old boarding houses along South University gave way to majestic stone towers, porticos, vaulted arches, bulky buttresses, and stained-glass windows fit for a medieval cathedral. If construction had happened more recently, fans of the Harry Potter series might have imagined the boy wizard's academy, Hogwarts, had been transported to Michigan.
In reality, it was the new home of the University's Law School, and it was the gift of a single man, William Wilson Cook, a law graduate of 1882 and an LSA grad of 1880. He was one of the wealthiest lawyers in America.
For years, sitting in his office in Manhattan, Cook managed the building project down to the smallest details. The extraordinary gift represented the culmination of a career devoted to the law. Everything he believed in, he incorporated into the planning of this tribute to his alma mater.
Yet Cook never saw the Law Quadrangle being built, and he died before it was done. Nor did he ever see the Martha Cook Building, named for his mother, the first of his gifts to the University. He refused every invitation to come and inspect the construction sites. He visited his home town of Hillsdale, Mich., just 70 miles away, but not Ann Arbor.
Why not? Why did he never see the realization of his vision and generosity?
A lucrative law career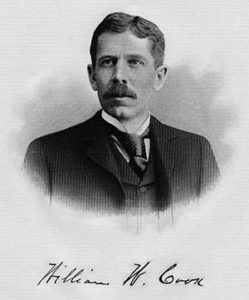 According to Margaret Leary, director emerita of the Law Library and author of Giving It All Away: The Story of William W. Cook & His Michigan Law Quadrangle, there were several reasons for Cook to stay away from Ann Arbor.
In the early years of his philanthropy — the 1910s, when Cook gave the money for the Martha Cook Building — Leary believes he was simply too busy to leave New York.
As a young man, he had gone to work for John W. Mackay, a tycoon twice over — first in Nevada's silver mines, then in transoceanic telegraph cables. As general counsel for Mackay's growing empire, Cook so thoroughly mastered the law of corporations, then a new specialty, that he wrote a massive treatise on the field when he was only five years out of law school.
By the 1910s, Cook was busier than ever with the Mackay Companies' sprawling affairs. Divorced and childless, he led an active private life divided between his townhouse in Manhattan, a country estate in neighboring Westchester County, and a hunting and fishing club in rural Pennsylvania. There was little time left for jaunts to Ann Arbor.
To save the nation
Then, in 1920, Cook became ill. The diagnosis was tuberculosis, and his doctor advised him to restrict his travel.
He pivoted from his law practice to two new pursuits. One was a book, a dense tome titled American Institutions and Their Preservation. It was shot through with Cook's acerbic views on the state of the nation and the allegedly toxic impacts of essentially every ethnic group but his own tribe of white Anglo-Saxon Protestants.
The other project was to endow and plan a magnificent new facility for the Law School at Michigan.
In Cook's mind, the two projects — the book and the Law Quadrangle — were related. He believed the profession of law was the nation's bulwark, the key institution that would save America from the corrosive forces of concentrated wealth, organized labor, and "millions of impossible people from southern and eastern Europe." So he intended to build up Michigan as the nation's greatest law school, where the brightest minds would be trained for the good fight ahead.
But almost from the start, Cook's relations with leaders at Michigan were complicated and troubled. That was another reason, according to Margaret Leary, why he may have dreaded a visit.
The donor and the dean
Cook got along well with U-M President Harry Burns Hutchins, a former dean of the Law School who initiated talks with Cook about a major gift. But Hutchins soon retired. The University's relationship with the donor in New York fell mostly to Henry Moore Bates, the dean of the Law School.
This was a disastrous match.
Cook was domineering, suspicious, and headstrong, and much the same could be said of Bates. (After one meeting with the dean, Regent James Murfin told the new president, Marion Burton, "Much as I deplore my own disposition, which goodness knows is bad enough, I thank heavens I do not possess his.") Before long, Cook and Bates loathed each other.
In long letters, Cook would chastise Bates for dithering and bad judgment. He told Bates his professors in the Law School made him think of "the lawyers in my native town when I was a boy. They would hibernate most of the year and sit around and put their feet on the table and tell stories and smoke bad seegars [sic]… What I am trying to do is to wake you people up." (Many years later, Cook's niece, Florentine Cook Heath, said: "Most of the disturbing letters he wrote with a twinkle in his eye, but the twinkle didn't show in Ann Arbor.")
Fearful of losing Cook's money, Bates put up with the scolding. But privately he steamed about "Mr. Cook's little pleasantries…his digs…the abject humility which he seems to like in others…All of his arguments could be easily demolished; but where a man is proposing to give 20 or more millions…all you can do…is to lie down and be rolled over, as gracefully as possible…"
Cook was determined to go slow with funding and construction, taking one building at a time, starting with dormitories. But Bates kept needling him to pledge more money for the buildings he wanted most — a law library and a building for faculty and classrooms.
Finally Cook told a go-between: "I want no further correspondence with Bates." And if he couldn't exchange letters with the man, no doubt he could bear even less the thought of listening to Bates make his pitches in person.
When President Burton died suddenly and was replaced by Clarence Little, Cook conceived a dislike for the new president that nearly matched his distaste for Dean Bates — yet another reason to keep clear of his home state.
"A wonderful ornament"
Time and again, friends in Michigan urged Cook to come and see the construction underway. But he always said no. (A rumor went around that he once snuck back for a surreptitious look, but Leary said there's no proof of it.)
Turning down an invitation from ex-President Hutchins, the donor wrote: "I feel my head is clearer at this distance, where a fixed purpose is not disturbed by the swirling eddies of University life."
In 1924, Regent Walter Sawyer, an old Hillsdale friend and a prominent doctor, wrote to tell Cook of the thrill he had felt upon seeing the Lawyers Club under construction at the corner of State and South University.
"It is a magnificent building," Sawyer wrote, "the most beautiful architecturally that I have ever seen. It is a wonderful ornament to the University…Nothing has ever happened in the history of the University that is so important. I wish you might see it and enjoy it as we do."
Again Cook said no.
"I shall never go"
When Cook visited Hillsdale, he and Sawyer spoke at length about the progress of construction. Sawyer said to his old friend: "Why don't we get in the car and drive over to Ann Arbor for a look?"
Here Cook gave another sort of demurral, a mysterious hint that something besides practical concerns was keeping him away.
"No, doctor," he said, "you cannot persuade me. You want to spoil my dream. I shall never go to Ann Arbor."
The Lawyers Club, the first of the buildings, was completed in 1924. The rest would take nearly 10 more years to complete — the John P. Cook dormitory, named for Cook's father; the Legal Research Building (commonly known as the Law Library); and finally the building that Dean Bates had yearned for most, Hutchins Hall. The Law Quadrangle as a whole was dedicated in 1934.
But Cook had died in 1930.
In Ann Arbor, there was gratitude for all Cook had done. But no one could claim to have really understood him. Shirley Wheeler Smith, the secretary of the University, who had dealt with Cook often at a distance, concluded later that he was "a strange composite of the urbane and the tyrannical, the generous and the suspicious, the dreamer and the dictator."
Sources include Margaret Leary, Giving It All Away: The Story of William W. Cook & His Michigan Law Quadrangle (2011); James Tobin, Michigan Law at 150: An Informal History (2009); and Shirley W. Smith, Harry Burns Hutchins and the University of Michigan (1951).  For Cook's fight over the fate of six stone "gargoyles" in the Law Quad's main archway, see "When Heads Rolled," The Heritage Project.  For the story of Cook's gift of the women's residence hall named for his mother, see "Mr. Cook's Women."