It was a very good year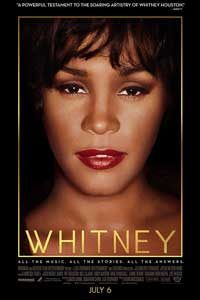 The past 12 months have been generous to documentary film lovers. Unlike features, documentaries for the most part come and go without seasonal targeting. This past July at the height of blockbuster franchise frenzy, a variety of nonfiction motion pictures unspooled in theaters before DVD release.
Topics run the gamut: We've got Holy Hell (life in a Los Angeles-based spiritual cult); Whitney (a biopic of singer Whitney Houston); Far from the Tree (an examination of family); and Generation Wealth (about the global obsession for wealth).
Even if none of these releases made it to your local theaters, it is clear that documentary filmmakers are committed to the genre. In addition, women producers and directors are growing in number.
Let's review some of the best pictures that are available now, and look to a handful of promising titles set to arrive before year's end.
Three Identical Strangers
(Director: Tim Wardle)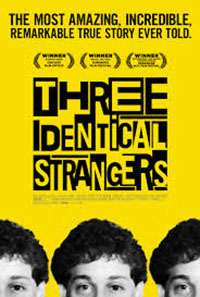 Tim Wardle's study of identical male triplets who were given up for adoption at 6 months by a single mother is one of the most compelling documentaries of recent years. An adoption service placed the boys in three different families — one blue-collar, one middle-class, one affluent. At age 19 — through coincidental circumstances — the brothers reunited. They became instant celebrities, appearing on talk shows and showing off their remarkably similar physical and personal traits — smiles, eyes, gestures, hair-styling, attire, girlfriend preferences. But the feel-good aspect of the brothers' reunion takes a sharp, dark turn when they learn the facts of their adoption. The triplets — Eddy, Robert, and David — were subjects for an undisclosed scientific project intended to study how siblings with identical DNA develop when raised in different families and diverse social cultures. The documentary reveals that in time the brothers struggled with questions of identity, serious depression, and eventually, tragedy.
Three Identical Strangers generated wide conversation about "nature versus nurture" and the ethics of science.
Tea With the Dames
(Director: Roger Michell)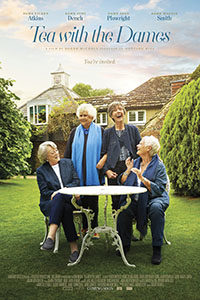 This is a documentary for theatre fanatics. The content: four grand "dames," titles conferred by Elizabeth II, gather to reminisce about their lives and careers. Eileen Atkins, Judy Dench, Joan Plowright, and Maggie Smith are all in their 80s. They are legendary actors of stage and screen. And they've been friends for more than 50 years.
At film's opening, the women are assembling in the garden of Plowright's idyllic country home, which she shared with actor/husband, Laurence Olivier. The talkathon begins outside, then shifts indoors when a pouring rain sends them to the comfy interior. That's it for the mise-en-scene: no set embellishment, save a vase of flowers. Perfect. Just four articulate actors being witty, honest, teasing, cajoling, and at times a bit risqué. Sometimes they can be a bit too introspective about aging, but when that happens, Dame Smith intervenes: "Let's get off that."
The banter embraces past commonalities: early theatre work, self-doubt, stage fright, casting calls, nasty reviews ("those are the ones you remember"), lovers, and family. Conversation is augmented with film and video clips, playbills, theatre posters, and beautiful photographs of the dames in their early acting years.
Tea with the Dames is absolutely charming and perfectly tailored for viewing at home on a small screen.
Won't You Be My Neighbor?
(Director: Morgan Neville)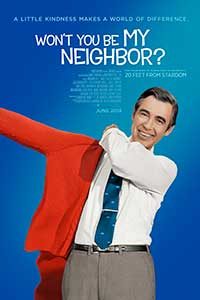 This moving documentary pays tribute to Fred Rogers and his public television children's program "Mr. Rogers' Neighborhood." (1968-2001). Morgan Neville's film begins in 1967 in Pittsburgh with Rogers sitting at his grand piano, relating how and why he felt compelled to create a television program for young children. He wanted to help them through "some of the difficult things in life" and tell them, "No one else in life is like you. You are special."
Fans will recall the opening of each show, when Rogers walked through a door, as though he'd just been outside, singing "It's a beautiful day in the neighborhood, a beautiful day for a neighbor. Would you be mine? Could you be mine?"
Donning a fatherly cardigan sweater, he would sit on a child's chair and begin a discussion with kids on the set. A recurring element of the documentary's video clips and interviews reveals Rogers' decision to include discussions with children about the issues of the day: Vietnam, the Challenger disaster, Robert Kennedy's assassination, and more. He used hand puppets, cartoons, and songs to convey the idea to youngsters that "there's nothing to be frightened about."
Over the course of the film, Rogers' legacy unfolds: his role in winning passage of the Public Broadcast Act and the Corporation For Public Broadcasting in 1967; the spiritual dimensions of his appeals to children's parents (he was an ordained minister); and the lasting impact on adults who had watched "Mr. Rogers' Neighborhood" as children.
I recommend this movie as an ideal option for family viewing over the holidays.
Love, Gilda
(Director: Lisa D'Apolito)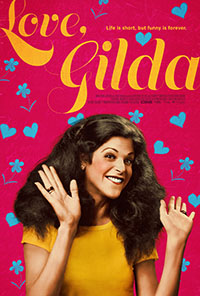 Director D'Apolito addresses Gilda Radner's time at the University of Michigan in her film, Love, Gilda, along with a well-documented account of Radner's affluent childhood in Detroit. Radner was a shy, self-conscious child living with stress and eating disorders that would plague her as she grew into adulthood. Love, Gilda turns to a fascinating dissection of Radner's all-too-short but extraordinary life as a beloved comedian during the first years of NBC's "Saturday Night Live." The director revisits the comedienne's iconic characters with video clips and voiceover narration culled from Radner's diaries. Viewers might recognize the voice of "SNL's" Amy Poehler and other SNL stars, past and present, reading the artist's thoughts. We learn about her challenges as an emerging female voice in what at the time was mainly an all-male comedy "club" as she contrived strategy after strategy to earn her place among the Not Ready For Prime Time Players.
In one segment, Poehler talks about studying vintage Radner videos with Emily Spivey, a decade-long comedy writer on SNL. Spivey is my niece, and now a film television writer/producer in Los Angeles. I emailed Emily and asked for comments about what she thought made Gilda Radner's comic genius unique. Emily wrote:
"I think what I loved most about Gilda and what [Poehler] and I really responded to was the openness and the complete and utter joy of her comedy. There was a silliness and a kindness to it and a positivity. Her characters were all very childlike and in such a perfectly wonderful way. Roseanne Roseannadanna was the first comedy bit I remember memorizing and doing for my friends and family."
Love, Gilda winds down with the artist's love for and marriage to actor Gene Wilder in 1984. Radner would die of ovarian cancer just five years later at age 42. The end effect of D'Apolito's tribute to Radner is that of a life well lived.
Some critics pointed out that the comma in Love, Gilda could have been omitted.
Filmworker
(Director: Tony Zierra)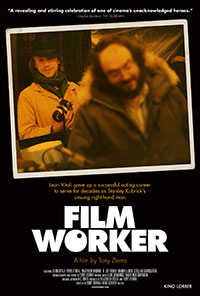 Filmworker, as the title implies, is just that — a documentary account of the working life of Leon Vitali, a British actor who, after appearing as Lord Bullingham in Stanley Kubrick's Barry Lyndon (1976), became an obsessive behind-the-scenes associate of Kubrick for 30 years.
Vitali, aged and looking well-lived-in, narrates Tony Zierra's documentary in full-face camera address. He recounts how during the shooting of Barry Lyndon he became so taken by Kubrick's creative genius — "the most brilliant filmmaker of the 20th century" — that he vowed to work for Kubrick in any capacity that came his way.
The fascinating revelation that courses through Filmworker is the knowledge that in every film Kubrick made after 1976, Vitali has a working role. He was record keeper of production notes, scrapbook creator, location scout, acting coach, assistant casting director, assistant director, sound engineer, and on and on. Vitali's presence in Kubrick's working life became so pervasive that everyone came to know him and appreciate his dedication — not sleeping, neglecting family, skipping meals. Matthew Modine, star of Kubrick's Full Metal Jacket (1987) describes Vitali as Kubrick's indispensable jack-of-all-trades.
Vitali's story serves as an avenue into the production details behind the making of Kubrick's late-career films: Barry Lyndon (1975), The Shining (1980), Full Metal Jacket (1987), and Eyes Wide Shut (1999). Among the extensive film clips are the many retakes of the fake duel in Barry Lyndon; candid footage of the auditions and casting of The Shining's psychic child; and lengthy retakes of the masked sexual ritual in Eyes Wide Shut. (Kubrick died just six days after completing this final film in March 1999.)
Filmworker is a compelling, insightful look at Kubrick and his committed associate. The program notes from the Telluride Film Festival read: "Filmworker celebrates the invisible hands that shape masterpieces, reminding us that behind every great director there is a Leon Vitali."
But wait, there's more!
Some other memorable documentaries of the year: RBG (bio-pic of Supreme Court Justice Ruth Bader Ginsburg); Pope Francis: A Man of His Word (about the current pontiff); Free Solo (a young man climbs solo to the top of a 3,000-foot vertical rock in Yosemite National Park); Dark Money (the ins-and-outs of anonymous political-election gifting); and Fahrenheit 11/9 (Michael Moore's take on the 2016 presidential election).
If you've already viewed the previous documentaries, fear not. There are more to come this month, and I recommend the following pictures.
Be Natural: The Untold Story of Alice Guy-Blache
(Director: Pamela B. Green)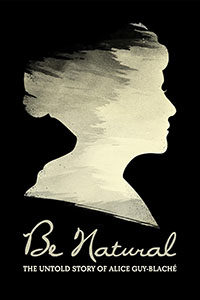 This documentary asserts that Alice Guy-Blache (1873-1968) was the first female director of narrative motion pictures. Her story evolves over two continents. Guy-Blache was born in France and was director and head-of-production at Gaumont Studios in the late 19th century. Then she moved to Flushing, NY, in 1908 when her husband, Herbert, took over as production manager of Gaumont USA. Guy-Blache immediately founded her own studio, Solax, in the Gaumont building and began directing again. In 1912, Solax relocated to Ft. Lee, N.J., and became the largest pre-Hollywood studio in the U.S. Between 1896 and 1920, Guy-Blache directed more than a thousand films, 22 of which were features, but Solax went bankrupt in 1920. Jodie Foster narrates the film, which is scheduled for general release on Dec. 8. After the documentary was screened out of competition at Cannes this year, The Hollywood Reporter's Leslie Felperin described it as "a timely contribution to the international conversation about the challenges facing women filmmakers while also boosting the reputation of someone who really should be better known." (May 13, 2018).
United Skates
(Directors: Dyana Winkler and Tina Brown)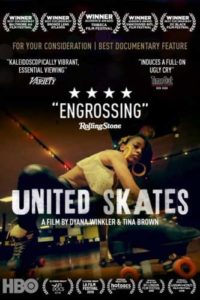 This documentary focuses on the significant role that roller-skating rinks have played in African-American culture. The rinks served as invigorating neutral gathering places for urbanites young and old, but Winkler and Brown also showcase the role that inner-city skating communities played in giving rise to rap and hip-hop. Queen Latifah, Dr. Dre, and Salt-n-Pepa were among the many emerging artists who used the largest rinks for tour stops.
Film festival critics have referred to United Skates as both a lamentation and a celebration. The celebration comes in the joyous display of various roller-skating styles in different parts of the U.S. Lamentation refers to the accelerating demise of the roller rink thanks to aggressive developers. The documentary scored a 100 percent rating on Rotten Tomatoes and received the Audience Award at the 2018 Tribeca Film Festival. The film is scheduled to arrive in movie houses in early December 2018.
Divide and Conquer: The Story of Roger Ailes
(Director: Alexis Bloom)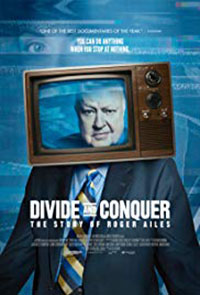 Producer/director Alexis Bloom is best known for her HBO feature documentary Bright Lights: Starring Carrie Fisher and Debbie Reynolds (2016). That lighthearted and intimate daughter-mother biopic went over well with Fisher and Reynolds' legion of fans. Divide and Conquer: The Story of Roger Ailes doesn't seem likely to generate fandom for its subject.
Ailes, known as the creator and "guru"' of Fox News, built his reputation working as a political strategist for presidential candidates Richard Nixon, Ronald Reagan, George H.W. Bush, and New York mayor Rudy Giuliani. Ailes also served as a debate prep adviser for Donald Trump. Ailes developed such notorious campaign master plans as the race-based "Southern Strategy," bending the truth in ads that targeted political opponents. Divide and Conquer develops its portrait of Ailes (1940-2017) up through the sexual-harassment scandal that forced his resignation at Fox News in July 2016. After seeing the documentary at the September Toronto Film Festival, chief Variety film critic Owen Gleiberman, '80, wrote: "The movie, as it should be, is the portrait of a grippingly sinister and Machiavellian personality." (Sept. 29, 2018). The pictures is scheduled for general release Dec. 8, 2018.
Monrovia, Indiana
(Director: Frederick Wiseman)
This is the 44th film from the 88-year-old patriarch of the documentary genre, Frederick Wiseman. His first solo film, Titicut Follies (1968), offered a stark view of daily life for the residents of a mental institution in Massachusetts. His much-acclaimed documentary of last year, Ex Libris – The New York Public Library, was a three-hour-plus journey through the venerable institution, exploring its many functions and values.
Wiseman films have from the outset eschewed voiceover narration as a means of shaping content impact. In Monrovia, Indiana, the director derives content from local organizations and the daily activities of farmers, barbers, and cafe workers at schools, churches, and auctions in the small rural community.
Wiseman's intentions and process follow a consistent credo: "My films are based on unstaged, unmanipulated actions … What you choose to shoot, the way you shoot it, the way you edit it, and the way you structure it — all of these things represent subjective choices you have to make. I'm looking for drama, though I'm not looking for people beating each other up, shooting each other. There's a lot of drama in human experience." (salon.com, June 15, 2008).
A Frederick Wiseman documentary is always a welcome event. The film went into limited release in November 2018 and will come soon to local theaters.
The Last Resort
(Directors: Kareem Tabsch and Dennis Scholl)
I'm fascinated by the prospects of this documentary — a still-photograph look back at Jewish retirees living in Miami Beach in the 1970s. The vintage images represent the combined efforts of two prominent photographers, Andy Sweet and Gary Monroe, whose work came from always-present cameras aimed at people on the streets, at the beach, and by the pool. Selecting from thousands of their Miami Beach photos, co-directors Tabsch and Scholl wanted to make an image-laden film that would revisit the unique culture of a time past. Sweet shot many of his photos on color film stock, not widely used at the time — a plus. The Last Resort's camera subjects, caught in their beach and street outfits, leap off the screen in vivid color. Many of the Jewish retirees were Holocaust survivors.
Co-director Tabsch is co-founder of O Cinema, a collection of Miami theaters that screen indie, art, and foreign films. Co-director Scholl is a property developer and a leading figure in the Miami art community.
The Last Resort is scheduled for a Dec. 21, 2018, release.