An introduction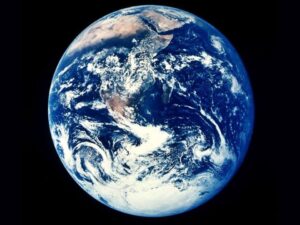 This is the first of a new series of columns on climate change for Michigan Today. I teach several climate change courses at the University of Michigan, and I advise students in climate change.
This column uses the name Climate Blue, which it shares with the student group built around the U-M delegation to the United Nations Conference of the Parties (the "COP"). In 2009, I, along with other faculty members, led an effort to get the University observer status with the United Nations. We sent a delegation to Copenhagen in 2009 and to all of the COP meetings since that time. Avik Basu, professor in the School of Environment and Sustainability (SEAS), and I teach a course preparing students for the experience. Several alumni donors have provided funding to partially cover the students' participation. You can follow Climate Blue on Facebook.
In the beginning
I came to Michigan in 2005 after more than 20 years at NASA. In my first week at Michigan, I attended a University-wide conference on climate change sponsored by the Erb Institute, a partnership between the Ross School of Business and SEAS. After that meeting, three students contacted me and said that U-M needed a course on climate science, climate change, and what climate change would mean to us. Together, we fleshed out a syllabus focused on the intersection of climate change with economics, business, and policy. Since that first class in 2006, the course has evolved to what I call climate and its relation to "everything."
This column follows from that course and the expanded curriculum we've developed.
In the news
In 2007, I asked my students where they got their news. It is a question I ask every year, and the answer has changed over time. In 2007, the answer was blogs. At about the same time, Wunderground.com, a company founded by Michigan alumni, asked me to write a climate change blog. I started writing in a public forum, first, to provide accurate information. The blog evolved and became focused on climate change problem-solving.
My blogs took on the many subjects we addressed in class and that arose in the news. I strive to analyze problems and present them in a strategic context. My target audience has been those who, in their professions, need to integrate knowledge on climate change into their planning, design, policy, and management decisions.
The Wundergroud.com blogs ended in early 2017. I have published in numerous public venues since that time.
Warming up
That the planet is, on average, warming and that there will be substantial consequences of that warming comes from scientific investigation. That investigation sits on a foundation of observations and a set of simple physical laws. That the planet will continue to warm is certain.
The details on the consequences of the warming, however, rely on complex models that are a substantial simplification of the more complex climate system. Those details are highly uncertain.
The outcomes from these models tell us that we have to alter, completely, our energy systems. The response to climate change challenges the status quo of wealth and power structures. Issues of fairness and justice further complicate matters.
There are some consequences of the warming we can describe. We know ice will melt, sea levels will rise, and the weather will change. The weather will change in both predictable and unpredictable ways. With more heat in the environment, we know that extremes will become even more extreme. Climate change is upon us, and it will be fast. We will not stop the change; we must limit the change.
Living with a changing climate needs to become a part of our day-to-day affairs. Our whole notion of legacy and permanence will have to change. The most challenging problems of climate change are not technical or scientific; they are behavioral, psychological, and societal. They push up against a growing population and our innate behavior that societal success requires consumption of energy and acquisition of goods.
In my classes, there is a cycle of depression and optimism. Though climate change will alter the planet in fundamental and profound ways, we have models that deliver a credible, though imperfect, vision of the future. This is unique in the history of humans — knowing what the future will look like. Those who use the knowledge of climate change will be able to adapt and, likely, thrive. As we understand what it takes to live in a changing climate, we will appreciate the imperative to limit and, even, reverse that change.