Good news (relatively speaking)
Observational study finds drug that calms 'cytokine storm' associated with 45-percent lower risk of dying among COVID-19 patients on ventilators
A new study published July 11, 2020, shows 45 percent lower mortality among critically ill COVID-19 patients who received a drug called tocilizumab while on ventilators at Michigan Medicine in the first weeks of the pandemic. The study is based on a look back at data from patients who did and did not receive the drug, so it's important to avoid drawing cause-and-effect conclusions. However, the findings are interesting and could inform care and clinical trials. (Keep reading)
Reopening Michigan with COVID-19 symptom checklist web app and online dashboard
By deploying a COVID-19 symptom checklist web app and an online dashboard, University of Michigan researchers are hoping Michiganders can get back to work as quickly and as safely as possible as the state continues to reopen. Researchers from the School of Public Health, School of Information and College of Engineering created the web application, called MI Symptoms, to gather daily input from people in the state. (Get the app.)
Campus Life
Making a socially distant campus 'feel more like home'
As fall nears, students rise to the 'COVID-19 Campus Challenge' by creating a coronavirus testing protocol for uninsured students, an app to track bus occupancy, and other useful innovations. (Keep reading)
Michigan announces ticket policies for 2020 football season 7/15/20
The University's Athletic Department announced July 15 that if U-M is able to have a 2020 football season, the capacity of Michigan Stadium will be reduced, or games could be held without fans as a result of the COVID-19 pandemic. A final decision on capacity will be made at a later date in consultation with medical experts, University leadership, the Big Ten Conference, and government officials/agencies. "We will follow the direction that all of these agencies and experts continue to provide during this challenging time," said Warde Manuel, Donald R. Shepherd Director of Athletics. (Keep reading)
Coming back to campus
All U-M students will be expected to follow new protocols and commit to shared responsibility — including use of face coverings and limits on social gatherings — to support the health and safety of our campus and community. Students will be provided a starter kit including face coverings and hand sanitizer. (Keep reading)
Health and well-being
Do the math: Mask use, social distancing leads to shorter lockdown, lower death rate
University of Michigan researchers have developed a mathematical model that allows public health officials to determine how various levels of lockdown affect both the economy and the mortality rate of COVID-19. The factors that end lockdowns the quickest, with the smallest loss of life? The use of masks and social distancing in everyday life. Additionally, their model finds that the United States might reach herd immunity about 200 days into the pandemic—compared to a potential 18-month timeline for a vaccine. The Centers for Disease Control and Prevention estimates herd immunity occurs when 60% of people have contracted the disease and recovered, thereby stopping the exponential transmission of the virus. (Keep reading)
Rehabilitation care is needed for many COVID-19 patients
Providers find patients hospitalized from COVID-19 need physical and cognitive rehabilitation care to aid in their recovery from the virus' damaging effects on the body and mind.
(Keep reading)
Building resilience
LSA Associate Dean for Social Sciences Rosario Ceballo discusses the power of resiliency: what it is, how to build it in ourselves and our families, and how it can help our communities weather the COVID-19 crisis. (Keep reading)
Intuitive learning
This spring, as people struggled to navigate decision-making during COVID-19, LSA Professor Luis Zaman designed a tool to help create something not found in stores: intuition for how to navigate the pandemic. (Keep reading)
Research news and features
U-M, state of Michigan surveying coronavirus survivors to inform future response to pandemic
Researchers in the School of Public Health and the Michigan Department of Health and Human Services are reaching out to adults with a confirmed diagnosis of COVID-19 to collect information they hope will inform future response efforts to the coronavirus pandemic in the state. Participants in the Michigan COVID-19 Recovery Surveillance Study will choose between filling out an online survey or being interviewed about their personal experiences with the illness and how the pandemic has affected their lives. "We know that the pandemic is much more than just an illness," said lead investigator Nancy Fleischer, associate professor of epidemiology at the U-M School of Public Health. "We're also asking [if] they have experienced job loss, had problems paying rent, or had a harder time feeding their families. (Keep reading)
Hunger and COVID: Fighting pandemic-related food insecurity in Detroit
As COVID-19  swept across the city of Detroit, it brought with it a wave of food insecurity, particularly among low-income residents and seniors who rely on public transportation and can only afford to buy small amounts of food at a time. Now, a U-M research team has stepped in to help identify solutions. (Keep reading)
Lessons from the 1918 pandemic: A U.S. city's past may hold clues
A medical historian says striking similarities exist between how we reacted a century ago, and how we're responding now. The city of Denver is perhaps the most relevant case study, he says. (Keep reading)
Podcasts and Web Series
Population Healthy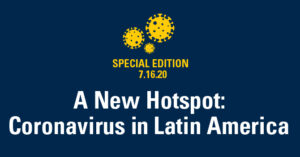 Population Healthy is a weekly podcast that digs into important public health topics that impact our everyday lives. Produced by the University of Michigan School of Public Health, the show brings together experts to discuss population health issues from a variety of perspectives — from the microscopic to the macroeconomic, the social to the environmental—and to explore the factors that affect the health of all of us at a population level.
Thrive with Your Family
Join this nationally recognized panel of experts for candid conversations about parenting, child behavior, mental health, and relationships during the ever-changing environment of our current global pandemic. They tackle the stressors, concerns, and difficulties families are facing. The goal is to foster a sense of hope and understanding and provide tips for maintaining a problem-solving mindset even amidst circumstances that can feel out of our control.
The Michigan Medicine News Break
This daily briefing gives an insider's perspective on cutting-edge research news, practical health information, and inspiring stories of survival and overcoming incredible odds. All News Break content, including health news, best practices and research insights, are for informational purposes only and are not a substitute for professional, personalized medical guidance.
Faculty experts on timely topics
Eviction moratoriums
Eviction moratoriums, both at the federal and state levels, are expiring, as are the benefits of the CARES act that provided emergency funds to millions of unemployed Americans. The federal eviction moratorium that applies to federally subsidized apartments and properties with federally backed mortgages is set to expire July 24, unless Congress passes the proposed Health and Economic Recovery Omnibus Emergency Solutions Act that would extend the moratorium for another 12 months. (Keep reading)
COVID and pregnancy
Although data are limited and much remains unknown about the full extent of the impact of COVID-19 during pregnancy, recent information released by the Centers for Disease Control and Prevention indicate that pregnant women are at greater risk of severe outcomes such as hospitalization and admission to intensive care units, and require mechanical ventilation if they contract the coronavirus, compared to nonpregnant women. However, available data suggest that the risk of death between pregnant and nonpregnant women does not appear to be different. (Keep reading)
Free courses, activities, exhibits offered by U-M
At home during the Coronavirus pandemic? Visit this wide-ranging resource from Michigan News, which features online learning opportunities you can enjoy right now.
In addition, U-M's art and performance organizations and its libraries have many exhibits, performances, speakers, and other enriching resources online. Museums, galleries, and units across campus are currently working to create online content to assist K-12 and college learners. Stay up to date at arts.umich.edu
Through Michigan Online, U-M has several online learning opportunities for those who want to try something new, sharpen an existing skill, or just be enriched. U-M has a portfolio of more than 180 online learning opportunities.
Use Coursera.org/umich to start streaming on-demand video lectures today from top instructors in subjects like business, computer science, data science, language learning, and more.