It seems that more people than ever are craving real food. Many of us are growing it, too, in the city, suburbs and country. Farmers' markets are bustling with an abundance of local, fresh food, and "community supported agriculture" (CSA) is creating a whole new way to obtain fresh food: eaters buy a "share" of a local farm's yield for the year, receiving in return regular boxes overflowing with produce, eggs, meats or flowers.
At the same time, the faltering economy has pushed many of us to become more do-it-ourselves, to become more frugal and self-sufficient. The problem is that for a long time, eating cheaply meant eating highly processed and less healthy food, often from producers far away, while being a "foodie" meant splurging on high quality ingredients that often cost quite a bit. But more and more, we don't have to make this choice.
Despite our own upbringing in the suburbs, my wife and I managed to figure out how to retake control of our food supply. For fifteen years, we've been experimenting on our farmstead, growing and savoring our own food prepared with ingredients we harvest from our small "kitchen gardens" just out the back door of our Inn Serendipity Bed & Breakfast. We now meet more than 70 percent of our food needs ourselves (and a surplus of electricity from the wind and sun).
We've joined the millions of Americans who have learned the satisfactions of picking up a hoe, purchasing some seeds and getting to work in their gardens, of saving money, of growing and eating high-quality food. It's not the survivalist instinct that has kicked in, but a pioneering, self-sufficiency one. There's nothing like growing your own salad, rather than buying it in a bag or plastic box, all chopped up by someone else. We're getting back to a time when we're more producers again—not just consumers.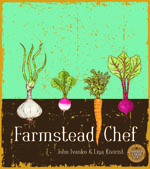 But you don't have to go that far. We now eat "farmsteadtarian," a term we coined in our latest cookbook, "Farmstead Chef," to describe a person who eats as much as possible from their own gardens, community and, when necessary, from carefully selected sources as close to the farmers, ranchers, food artisans, bee-keepers, brewers or growers as possible.
Interested in "stepping to the plate" and reclaiming the kitchen? When it comes to eating, we all have different living situations, tastes and preferences; our choices are varied and personal. But here are a few steps from our own experiences that can get you started on the healthy, do-a-little-bit-more-yourself lifestyle.
Basic tips
Eat lower on the food chain more oftenWe are not strict vegetarians. But we know that dishes prepared with fruits, vegetables and herbs are high in nutrients and lower on inputs and calories. They also cost less. By incorporating more staples like beans, tofu and whole grains, we increase nutritional value at a much lower cost than meats, both to the environment and our bank account. Growing fruits and vegetables requires a lot less land, water, and fossil fuels.
Eat high on quality and use lessJust a bit of high quality flavor goes a long way. An organic, locally-grown option may cost more in comparison to its chemically-produced cousin across the aisle, but you don't need to use as much of it in volume. More and more research has emerged documenting, too, that crops grown organically have higher levels of minerals, nutrients and, most important to any great cook, flavor. We're cheeseheads, with an abundance of award-winning European style cheeses available in our community. Just a little Gruyére, feta, or Swiss cheese goes a long way in our quiche or zucchini feta pancakes.
Stock up the pantryYou may know the not-enough-time-to-cook problem: you get home from work and running around with the kids, and it feels impossible to throw together a quick, easy meal for the family. You end up paying for takeout, or microwaving an instant meal. But one way to make those weekday meals easier, and to save money, time and fossil fuels—not to mention upping nutritional value—is to dine chez you. Keeping an organized, stocked pantry goes a long way in creating a more self-reliant household. Your home and garden are the most convenient convenience store. Plus you get the secure feeling of knowing that in an emergency, you've got a good backup store of food.
Buy in bulk One good way to stock up your pantry is to purchase the basics that you use regularly in bulk from a local food cooperative or food-buying club where people pool their financial resources to buy foods at wholesale prices (United Buying Clubs can help connect you to people in your community). At bulk prices, even organic staples like flour and sugar are often competitive in price to the non-organic kind. Be sure to store items in well-sealed containers. Most families of two to four people can stock up with 50-pound bags twice a year to meet their cooking needs, storing the flour, sugar, rice or other grains, and beans in heavy-duty, food grade plastic bins.
Eat upThe corollary to "buy in bulk": make sure you use it. Frozen zucchini is not red wine, friends. It doesn't get better with time. Every winter we "eat through" our pantry, finishing off grains, rice, canned food and other oddities we accumulated over the year rather than letting it rot or go past its expiration date. We also make sure we savor the garden produce stored from the past summer. This annual process saves us more than a $1,000 a year. According to some studies, the average American household wastes approximately 15 percent of food purchased annually, or 474 pounds, costing them about $590.
Next steps
If you've already tried some of the steps above, here are a few more ways to eat farmsteadtarian:
Affordable organic Those of us with limited fresh food budgets, who can't afford to buy organic everything, can focus on what the Environmental Working Group dubs the "dirty dozen," those fruits or vegetables with the highest in pesticide residues (our list adds a few more that have been added over the years). If you want to go partway organic, here's where to start:


Fruits & vegetables highest in pesticide residues
peaches
blueberries
spinach
apples
bell peppers
celery
nectarines (imported)
strawberries
cherries
kale
lettuce
grapes (imported)
carrots
pears
potatoes

Source (and a tip card available at): foodnews.org.

Savor a "100-foot diet"Grow what you and your family love to eat most, whether in a backyard garden, in window boxes or kitchen pots, or in containers on a rooftop patio. Then taste what fresh means with your 100-foot diet. Rediscover the pleasures of seasonal eating, with strawberries in June and winter squash in the autumn. It's true: absence makes the palate grow fonder; we crave asparagus in May and grow weary of it by the end of June when we've eaten our bumper crops of it.
Start canning and fermenting. You can enjoy your garden abundance year round, even if you don't eat it fresh from the fields. "Putting up" or preserving your harvest by canning, freezing, root-cellaring or various other ways is our way of eating what we grow year round despite a relatively short growing season in our four-season northern climate. While we freeze much of what we grow, sometimes whole and other times processed at the peak of ripeness, like in the form of our beet burgers, you can also create fermented foods, most of which are more nutritious than their raw counterpart. It's not hard to find instructional books and websites to get you started. "This isn't boutique or gourmet food artistry," quips Todd Champagne, who with his wife Jordan, started Happy Girl Kitchen Co., featured in Farmstead Chef. "Vegetable fermentation is food security. It's a very easy way of putting real nutritional foods on our table every day."
Recipe from "Farmstead Chef"

Our Wisconsin Cornucopia Beer and Cheese Soup recipe is a Wisconsin State Fair award-winner for good reason: our selection of the best local, fresh, seasonal, and chemical-free ingredients we could find.

The base of this soup uses two cups of flour to keep it thick and hearty. It's perfect for a winter warm-up, even if you don't live in America's Dairyland. You could say this is the soup equivalent of a Zingerman's Deli sandwich: big, rich and hearty.

Ingredients:

¾ c. butter (1 ½ sticks)
1 c. onions, chopped (about 1 medium)
3 cloves garlic, minced
1 c. broccoli florets, cut into small pieces
1 c. carrots, finely chopped
2 c. flour
2 c. chicken stock
1 bottle (12 oz.) locally made beer
3 t. Worcestershire sauce
4 c. milk
3 T. maple syrup
2 t. dry mustard
½ t. fennel seed
2 t. salt
1/8 t. pepper
4 chicken sausages (one 12 oz. package), cooked and cut into small pieces
5 c. cheddar cheese, shredded

Directions:

In a large saucepan over medium heat, melt butter. Add onions and garlic. Sauté until onions are soft and translucent.
Add broccoli and carrots. Cook about 5 minutes.
Stir in flour, making sure vegetables are coated.
Stir in chicken stock. Bring to a boil over medium heat.
Stir in beer, Worcestershire sauce and milk. Reduce heat to low, simmer 10 minutes and add maple syrup, mustard, fennel, salt, pepper and sausage.
Cook five minutes longer, then slowly add cheese by the handful, stirring constantly until cheese is melted and soup begins to bubble. If it seems too thick, add a bit more water or milk. Salt to taste.

Yield: 12 servings.
Do you have any good tips for better eating? What do you do to find better food at lower prices? Where do you track down local food? Share your thoughts in the comments section.