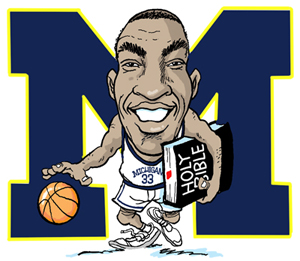 Cazzie Russell. It's a name that evokes powerful memories for any Michigan sports fan from the 1960s. Memories of laurels won and records shattered, of thrilling victories and gut-wrenching defeats. Of three consecutive Big Ten titles and two heartbreaking near misses in the Final Four. Of 7,500 electrified fans packed into the Barn on State Street, stomping and screaming until the old building itself seemed to tremble with excitement.
Cazzie Russell. Not just the name of a person, player, or hero, but of a near-mythic tale of rebirth and transformation—of a sea change in Wolverine athletics, the ripples of which are still being felt today.
Fifty years ago, when Cazzie Lee Russell Jr., Carver High cage sensation from Chicago's South Side, embarked on his freshman term at the University of Michigan, the school's basketball program had sunk to the lowest point in its five-decade history. The team hadn't scored a Big Ten title since 1948. The previous year the Wolverines had won only two conference games; the year before that only one. Attendance was so dismal the coaches joked about having to invite the pigeons.
That picture was about to change. Forever.
Breakaway
Bob Cantrell played in the Wolverine backcourt before and after Russell's arrival. "The first two years were really torture," he told an interviewer in the '70s. "The roof [at Yost Field House] leaked, there were no fans, we lost all the time. It was just unbelievable. We only had about 200 people at one game, I remember. Everything was football. Basketball was the big joke. If you were a basketball player, everybody looked at you like you were a freak. Then, overnight, they knew who you were. All of a sudden, we were the number one team in the country."
Of course Michigan's reversal of fortune wasn't quite that abrupt, and it wasn't all due to Russell. Coach Dave Strack had been building up the team since 1960, and by 1963 the Wolverine lineup overflowed with talent: Cantrell, Bill Buntin, Larry Tregoning, George Pomey, Oliver Darden. But it was Cazzie Russell who emerged as the star. Almost as soon as the lanky, six-foot-five-and-a-half, 210-pound guard stepped out onto the court, records began to fall. In his first game, a 90-76 victory over Ball State at the end of November, Russell led the team with 30 points. By the following March he had acquired 640 more, earning him the school's season scoring record.
Net results
"[Cazzie] was a magnificent shooter, at almost any angle, from almost any distance," wrote Jeff Mortimer of the Ann Arbor News. "He was also a great scorer, which is not always the same as being a shooter." In almost every game he played Russell would sink the most points for the Wolverines, and was often the top scorer of both sides. His school record of 48 points, made during his last home game in 1966, still stands.
But it wasn't just his scoring ability that made Russell a hero to Michigan fans and the darling of the national media. He had that rare, indefinable quality that raises a great player to a still higher level, where the select few breathe the rarefied air of stardom.
"[Cazzie] was supremely confident in his own ability," reflected Strack a few years after his retirement as coach in 1968. "Some players just have the ability to perform in clutch situations and he epitomized that. When he had the ball, something good always happened. I'm not sure that he and [football legend] Tom Harmon weren't Michigan's most charismatic athletes."
Fast break
Award-winning journalist Robin Wright once felt the pull of Russell's magnetic court presence. Born and raised in Ann Arbor, she went regularly with her father to watch the Wolverines tear up the hardwood at Yost. "I remember the names from that great football era, but none of the faces," she says. "Basketball was different. You saw the guys up close. Cazzie had such personality on the court that everybody felt they knew him. He was your brother—not a small thing, given the racially charged atmosphere of the time."
Soon after enrolling at the University, Wright signed on as a sportswriter for the Michigan Daily. She went on to become the paper's first female sports editor. "Cazzie was one of the reasons I went into sports," she explains. "He was a captivating player who clearly got such joy from the game. I can still see his big grin. He made even an undersized girl with no athletic talent interested in sports."
In uniform Russell was exuberant, passionate, uninhibited. In street clothes it was a different story. He was a private person, a loner who didn't make friends easily. He was deeply religious, and sang in the choir at a Baptist church in Ann Arbor. He helped establish a campus chapter of the Fellowship of Christian Athletes, whose mission included the quixotic task of discouraging sportsmen from using profanity. He spoke about the Bible to church and youth groups and made himself available to teammates and almost anyone who wanted to discuss religion. He could count the number of times he had missed Sunday services—in his whole life—on one hand.
Cazzie Russell didn't do anything by halves.
He brought the same dedication to his game, spending much of his free time at Yost, practicing alone. "We used to have to make the court off limits for him," assistant coach Jim Skala once said. "He'd be there at 10 a.m. on the day of the game, and I don't mean taking some loosening-up shots. He was working hard."
"I thought I was committed to basketball," added Wolverine forward Tregoning. "Cazzie showed me a commitment I didn't know anything about."
Courting victory
In the fall of 1963 rumor had it that Michigan's basketball team was looking good, and fans were cautiously optimistic, hoping for at least a winning season. No one was prepared for the way the Wolverines exploded out of the gate, rolling over their first seven opponents and rising to second and third in the UPI and AP polls, respectively—the team's highest rankings ever. Suddenly the University of Michigan was a cage contender, and Ann Arbor was hit with an infectious wave of basketball fever. Tickets to the games, hardly bothered with before, became so scarce that when students couldn't get them legally they would sometimes print their own. Yost Field House was facing serious crowding and safety issues; not surprisingly, long-neglected plans dating back to the 1950s for a bigger, better basketball arena were revived and swiftly approved. No longer would basketball be the neglected stepchild of Michigan athletics.
The University Events Building—later renamed Crisler Arena—wasn't opened until 1967, more than a year after Russell had left Ann Arbor; but to Maize and Blue sports fans it will always be known as "the House that Cazzie Built."
The Wolverines wound up the 1963-64 season at number two in the polls and placed third in the NCAA tournament—an incredible finish for a team that had almost begun to grow mold from having spent so much time in the cellar. The next season they started out at number one and pretty much stayed there for the next 14 weeks, earning a phenomenal .929 win percentage in the Big Ten and outscoring their opponents by nearly 300 points. But disappointment awaited once again in the Final Four, as Michigan fell to seemingly unbeatable UCLA in the championship game.
Russell performed outstandingly well that year, setting yet another school record with 692 points and gathering up a bushel of awards that included All-America first-team honors and the Chicago Tribune's prestigious Silver Basketball. He was now widely considered one of the best young roundballmen in the country, second only to Princeton's Bill Bradley.
One on one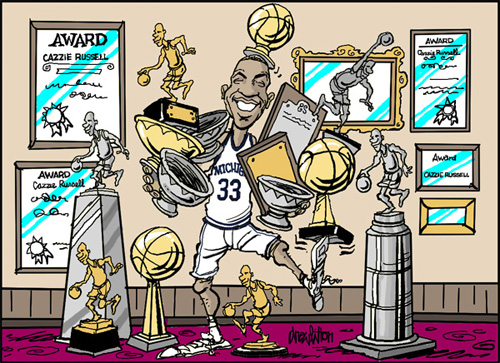 Interestingly, Bradley and Russell, the two top-rated players of the day, faced each other only twice during their college careers. The first time was at the Holiday Festival in New York City on Dec. 31, 1964. The local papers were trumpeting it as the event of the decade—the Duel in the Garden. But even though the rivalry was largely an invention of the media, it fit the two stars like a glove: Bradley, the Rhodes Scholar from a privileged background who never cracked a smile; Russell, the inner-city-kid-made-good who played with his heart on his sleeve.
That night in New York Bradley was on fire, single-handedly bringing Princeton to the brink of triumph and racking up 41 points to Russell's 27. But after Bradley fouled out, the Wolverines reclaimed the court and Russell stole victory from the Tigers by sinking a game-winning 12-foot jumper with two seconds left on the clock.
"Cazzie was an amazing offensive player, just explosive," recalls Bradley, who served for 18 years as U.S. senator from New Jersey and ran for president in 2000. "He could hit three or four shots in a row quicker than anybody I've ever seen."
Bradley also remembers—rather acutely—Russell's uncanny knack for scoring the decisive basket in the game's final moments. "I think it was the result of a deep inner confidence," he offers. "When the money was on the line Cazzie wanted to be the one taking the shot, and he was confident he could hit it."
Hail
In 1965 most of the other top Michigan players graduated, leaving Russell and Oliver Darden to carry on alone. It wasn't enough. That year the Wolverines were eliminated in the NCAA semifinals and barely polled in the top 10. Russell broke a boatload of school scoring records—most of which he had set himself in previous years—and was named Player of the Year by the AP, UPI, and just about everybody else that mattered. He was voted All-America for the third season in a row and earned a commendation from the Michigan state legislature. In April of '66 his number 33 was retired, the first and thus far only basketball number so honored by the University.
All this is remembered very well today, especially among Michigan fans. What isn't so well remembered is that Russell went on to play 12 solid seasons in the NBA. He was the first-round draft pick of New York's Knickerbockers in 1966, and after toying a while with joining the Harlem Globetrotters he signed a three-year contract with New York for a then-whopping $200,000 (about $1.4 million today).
Russell stayed with the Knicks for five seasons (ironically losing his starting position to teammate Bradley after breaking an ankle in '69), and was a key part of the club's celebrated 1970 championship. Still, as a pro he never seemed to shine quite as brightly as he had during those three incredible years at Michigan.
After leaving the NBA in 1978, Russell played a few seasons in the Continental Basketball Association, then spent the next three decades bouncing between coaching positions. Today he serves as pastor at a Baptist church in Savannah, Ga. But every so often Russell returns to Ann Arbor to be feted by his alma mater, and occasionally he can be found in the audience at a Knicks game. In 2011 he traveled to Kansas City for his induction into the College Basketball Hall of Fame. Many thought the honor long overdue.
"Cazzie was a great player who helped his team win championships," declares Bradley. "You can say nothing better about anybody in sports than that he helped the team win the championship."
Art by Drew Litton.
(Video courtesy of U-M's Bentley Historical Library.)