"Ann Arbor was an oasis, this laboratory where it was all happening." — Ken Burns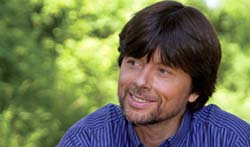 For more than 30 years filmmaker Ken Burns has been creating thoughtful, compelling documentaries that have defined American history for millions of television viewers. Today he ranks easily as the country's preeminent popular historian. It has been said that more Americans get their history from his films than any other source.
The son of an anthropology professor, Burns lived an itinerant childhood until the family settled in Ann Arbor in 1963 when his father joined the faculty at the University of Michigan. While in Ann Arbor he attended Tappan Junior High (now Tappan Middle School) and graduated from Pioneer High in 1971.
Last month Burns brought his most recent film, the critically acclaimed Central Park Five, to the Ann Arbor Film Festival. His next project will be a 10-hour series on the Vietnam War, scheduled for release in 2016. For the film's treatment of the anti-war protest movement Burns is hoping to include coverage of events that took place in Ann Arbor during the '60s.
Recently he took time out from his publicity tour to reminisce about his youth in Tree Town.
Alan Glenn: What was it like growing up in Ann Arbor during the '60s?
Ken Burns: You know what? Everyone always feels that their hometown, the place where they grew up, is the greatest place on earth, and I accept that. There was a sense in Ann Arbor—given the war protests; given the Civil Rights movement that was happening elsewhere but was certainly supported on campus; given the kind of monolithic, huge size of the student body and their seeming singularity toward one purpose against the war in Vietnam; the Yippie sort of sense of anarchic counterculture; and the Blues and Jazz Festival and the Ann Arbor Film Festival, plus the Cinema Guild—that made it, one felt, like paradise. And the art fair—I mean, what other place suddenly gave over all its streets to something that celebrated art?
Incredible stuff was going on. You could be whatever you wanted to be. I can't begin to describe it, the possibilities of the '60s. In retrospect we dismiss them as this age of protest and then indulgence, the "me" generation. It's the name given to the '70s, coming out of what was considered the selfishness of the "tune in, drop out" crowd.
But it's the exact opposite. That music is now the soundtrack of our country today. Our ad campaigns are what we were doing then. It's a pretty amazing transformation, and you felt that Ann Arbor was this oasis, this laboratory where it was all happening. I haven't even begun to talk about Hill Auditorium and who came through there, from bands to speakers like Dick Gregory, from comics like Victor Borge to Tom Lehrer and his humor. I mean, it was just great, just great. I can't imagine a better place to grow up.
AG: It sounds pretty amazing.
KB: Yeah, it was incredible. I worked at the South U. Discount Records, and I remember a day when Jerry Rubin and Abbie Hoffman and John Sinclair walked in. I'd serve John Sinclair all the time because [the White Panthers] had that house on Hill Street. There'd be these guys, speed freaks with their 22-inch Scarlett O'Hara waists and no girth, these bandoliers crisscrossed on their chests. They were trying to look like the infamous photo of Huey Newton and the Black Panthers.
I remember Discount Records anchored one of the stores. There was a corner store. Discount Records was the second one in University Towers, and then on the end was this place called Miller's Dairy, which was a farm that served ice cream. I remember I took Jerry Rubin and Abbie Hoffman over to Miller's Dairy to get them an ice cream cone.
AG: With the arrival of John Sinclair and the White Panthers, the Ann Arbor scene started to get a little grittier. Being a kid, did that scare you?
KB: No, it was exciting. The anarchic spirit was a way of saying no, and we were in the middle of the Vietnam period. People were so angry at a government that had lied to them about it, and were killing Americans and were killing Vietnamese. So we got caught up with that.
You know, in '69 when the city blew up and there were riots, I got personally whacked by the police. Somebody threw a garbage can through the door of Discount Records, and I remember how hurt I was because it meant that to them we represented—because it was a chain owned by CBS—that we represented not part of this fabric of Ann Arbor but some other imposed thing. Whereas they were just hippies trying to get the most music to the most people.
It was a different time, and I think people mistake this for naiveté, of which there was a tremendous amount. Any group of people that can blame the soldiers for the war, and not understand that they're pawns, is naive. It's so interesting, the perspectives we bring today. I'm working on a history of the Vietnam War, and it's having to be a much more neutral thing. You find much to criticize in the behavior of the protestors, but much to admire in terms of their courage, and also much to disagree with because of the sometimes overwhelming naiveté of most of the people involved.
But the commitment of others was so strong. The lack of an ability to listen to the other side is of course a deficit, but the fact that we were able to bring the troops home from a war is a good thing, too.
AG: It seems like Ann Arbor was sort of a cauldron of creativity back then. There were a lot of incredibly talented people here: Bob Seger, Iggy Pop, Commander Cody, Larry Kasdan, Gilda Radner.
KB: Oh, absolutely. There was this band called Bob Sheff and His Really Great Band. They were all white, and they played sort of rhythm and blues, kind of Motown but also Delaney and Bonnie. It was fabulous, and I hung out with them. I was a kid. They let me—you know, they tolerated me. I was a high school kid, and I'd come to every concert I could. I fell in love with the female singers and was friends with the drummer for ages. It was really, really amazing.
They'd always start their second set by doing the theme song to "I Love Lucy," and whatever bar we were in, everyone would suddenly turn. Da-da-da da-da-dum da-da. They'd play it as if they were the studio orchestra playing it, and you'd just turn around and then all the sudden they'd go back and do rock and roll. It was fabulous. Yeah, I mean, everywhere you turned there was something to do.
AG: What about the film culture in Ann Arbor at that time?
KB: It felt alive. You had these two first-run theaters, the State and Michigan. You had the Campus, which was foreign films and revivals and other things. You had the Architecture School and the Cinema Guild. You had the Ann Arbor Film Festival. It was just a sense of the possibility of film everywhere, and I grew up in a family that was of that. So it didn't seem so strange to me that you would go to the Cinema Guild or you'd go to the Campus Theater or you'd go check in first runs. I can remember my brother and I walking back from the Michigan or State Theater after seeing a James Bond film, karate chopping each other all the way back, acting out the film.
That didn't count what was on TV, and in those days there was an afternoon movie and then there was the "Late Show" and the "Late Late Show." Sometimes my dad would let me even stay up for the "Late Late Show" on a school night because it was a good film. You'd have to sit through those godawful commercials—there were no DVRs—and see some phenomenal cinema. I mean, it was in the air. I was given a camera for my birthday in high school, a Super 8 camera. That was what you did. You made a film.
AG: I've read that you made a documentary about a factory.
KB: Well, first of all, we made a couple of films. I have no idea where they are. But we made one dramatic film. I can't remember what it was about, but I remember people getting into long robes and beards. We'd all been in theater, so we had access to makeup and gum and glue and stuff like that. It was very hilarious and fun for teenagers.
But another one had a social conscience. It was looking at pollution and stuff like that, so I was going around to factories and filming exhaust pipes and litter on the ground.
I can remember lying awake dreaming up plots to Raymond Chandler-like movies that I would make, detective films that I would make.
AG: So you caught the filmmaking bug pretty early, then.
KB: When I was 12 I wanted to be a filmmaker. My dad had taken me to a movie, it was Odd Man Out, and he started to cry. He hadn't cried when my mom died the year before, and I had never seen him cry. I instantaneously understood that it was the power of the medium that had given him this permission, and I sort of swore on the spot to myself that I would be a filmmaker.
AG: It seems like you were in a good place to learn the art of film. When you look at the schedules from the Cinema Guild in the '60s—Eisenstein, Kurosawa, Hitchcock, John Ford, Buster Keaton—it reads like a film school education.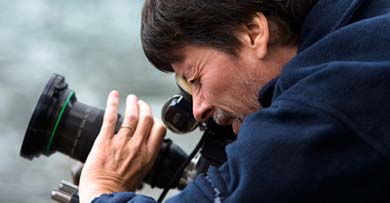 KB: Oh, that's exactly what I thought, and that's a really good way to put it because I think we've always assumed that one was going to get film theory and film history from a course. It is possible, and lots of places teach it, and Michigan now teaches it. But I got it from reading and from watching. A lot of my education happened at the Architecture Auditorium [where the Cinema Guild showed films].
Those Cinema Guild schedules used to be on our refrigerator. I've checked off what I saw with my dad. In '66 I saw Loneliness of the Long Distance Runner, Birth of a Nation, Dracula, and M. Then in '67 I saw Black Orpheus and Ten Days that Shook the World, and On the Waterfront.
In '68 I've got something like 10 films checked: Sunset Boulevard, Seven Samurai, Paths of Glory, Los Olvidados by Luis Bunuel, Birth of a Nation, Intolerance, Third Man, East of Eden, and The Lavender Hill Mob. It was great, and only 50 cents.
And let's not forget the Ann Arbor Film Festival, with the countless experimental shorts and animation shorts that you might watch 20 or 30 of in a day, parking yourself all afternoon there. I remember seeing Stan Brakhage stuff there. I remember seeing weird, amazing stuff, sexual things, and exposure to sexuality that I had never had any other place, except for stealing a Playboy magazine here and there as a kid. But this was much more sophisticated and much more unsettling and questioning. It was a huge education.