by Susan Winesberg and Patrick McCauley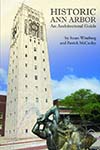 The Ann Arbor Historical Society recently released this guidebook to Ann Arbor's most significant historic buildings and neighborhoods. U-M graduates will be pleased to find more than 40 campus buildings (Hill Auditorium, the Earl V. Moore Building, and the Power Center for Performing Arts, to name a few) among the 350 sites detailed in the book.
Style sections describe those of the 19th and 20th centuries including Mid-Century Modern. Superb examples of this style can be found in many parts of Ann Arbor, from residences to commercial sites. Architects include Albert Kahn, Eero Saarinen, William Muschenheim, and more.