A sign of things to come
That particular meeting of the Political Issues Club had already gotten noisy when Mary Ellen Carter stood up and lobbed a verbal hand grenade in the direction of Deborah Bacon, U-M's dean of women.
It was Monday, March 4, 1958, and the topic was the University's heavy hand in the regulation of student housing.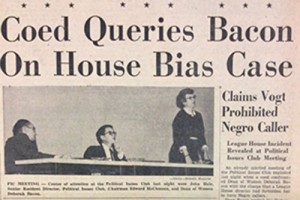 Mary Ellen Carter was a senior, but, like every other female student at U-M, she still had to live in a residence hall, a sorority, or a "League House," one of the University-approved boarding houses for women students.
League houses were privately owned, but they had to follow the University's rules for women, including when to be home at night and when they could have gentleman "callers." The chief enforcer of these rules was the dean of women.
Carter's little bombshell: She had invited a "Negro caller" to her League House, and her landlady had barred him at the door.
"I was forced to live in University housing which did not permit me to have the callers I chose," Carter declared. "I feel I'm entitled to have a Negro caller as well as a white caller."
Dean Bacon stood her ground.
The landlady's rules were her own affair, Bacon said. The University couldn't tell a private property owner whom to let in her house.
Another senior, Robert Yesner, rose to challenge the dean.
The University didn't hesitate to forbid the consumption of alcohol in League Houses, he said. Why couldn't it forbid racial discrimination?
"That may be logical, but it may also be illegal," Bacon shot back. "The University does set up certain standards of behavior for its students. But [the landlady's] home is her property. You're paying her rent."
With that the dean and her student antagonists "became worked up into an unbecoming emotional state," reported the Daily,"and on several occasions the dean threatened to leave the room."         
The shouting over Mary Ellen Carter's "Negro caller" didn't change anything in the short run. But it was a sign of things to come, and before long, Dean Bacon would have no ground left to defend.
Losing ground
When she had taken the position of dean of women in 1950, the reign of "in loco parentis" — the University's rules for students' private lives, especially the lives of women — was seldom challenged. She'd been a psychiatric nurse in New York's Bellevue Hospital and an Army nurse in Normandy during World War II. So wayward students held no terrors for her, and she lost no time in establishing herself as a strong authority. (She also could go toe-to-toe with faculty; she had a PhD in English and doubled at Michigan as an assistant professor.)
Bacon was a strict enforcer of curfews and dress codes — no Bermuda shorts in the library, for example, and only skirts and dresses for dinner in the residence hall cafeterias — and she was tough on "wolves" among the male students. (In a meeting she once was heard to declare: "Tell those men to keep their hands off my women!") When Michigan men launched the nation's first panty raid on a spring night in 1952, it was Dean Bacon who dispersed a crowd of women from the all-female Hill dorms who tried to stage a counter-raid on the men's dorms.
"We take the place of the home and church," she once said, "in a preservative, conservative fashion."
Not-so-silent generation
Bacon's manner rubbed many students the wrong way — women as well as men. The post-Korea cohort of students was called the "Silent Generation," but as the 1950s wore on, they became increasingly outspoken about University regulation of life outside the classroom. The modern movement for black civil rights was underway in the South, and a movement for student rights was starting to stir in its wake. At Michigan, students cast Deborah Bacon as the chief villain and guardian of the old order.
In the fall of 1958, women residents of Stockwell and Mosher-Jordan Halls organized boycotts of their dining halls when Dean Bacon ignored their petitions in protest of substandard food. Then came a steady drumbeat for the University to allow women students to live in apartments. When the University relaxed those rules a bit, students demanded that women be allowed to live wherever they chose. Reports also circulated that Dean Bacon took disciplinary action against white women who dated black men or had black women friends.
By the time Tom Hayden, soon to be a founder of the radical Students for a Democratic Society, became editor of the Dailyin 1960, students were in full-scale revolt against Dean Bacon's reign. Early in 1961, student protesters compiled a list of grievances against her and sent them to the Regents, saying:
"It is difficult if not impossible to draw distinctions between Miss Bacon's roles as individual and as the Dean of Women, or between her personal attitudes and her official policies … Where we debate Miss Bacon's stated rules we are often debating her methods of carrying out these rules; when we challenge her attitude we are often challenging the policies in which that attitude is manifested."
Dethroned
For a time Bacon was defiant. She traced the opposition to "perennial male-resentment," saying: "It is axiomatic that young men deplore the Dean of Women." She said many women students actually welcomed the strict enforcement of curfews. "I'm their shield and buckler," she declared, "a friend in time of trouble." Without "techniques … to control pregnancy at any time and at practically no cost," she said, college women, if they were to succeed as students, needed protection against men that only University authorities could provide.
But the students' grievances had an impact. The Regents turned their petition over to a faculty committee on student affairs. After a long review, the committee recommended a major shake-up in the University's management of student life, including the abolition of the offices of the dean of men and the dean of women. A second faculty committee showed signs that it would concur.
In the end, Dean Bacon jumped before being pushed. She announced her resignation in September 1961. Earlier, when she had crossed swords with President Harlan Hatcher, she had said: "I can't tell the University of Michigan's trolley car where to go, but I can always step off it, can't I?" Now she was stepping off. She continued to teach in the English Department until retiring from the University in 1969.
Not long before she died in 2005 at the age of nearly 100, Bacon spoke at length to a U-M student, Lindsay Helfman, who wrote a senior honors thesis about the dean's tenure.
The students' demands for more freedom circa 1960 "seemed very important at the time," Bacon said, "but actually they were mostly minor.
"What mostly changed was the culture … There was a great cultural change, very hard for everybody."
Sources included Lindsay Helfman, "The Dean's Last Stand: Deborah Bacon and the Student Politics of the Fifties," senior honors thesis in history, 2006; Linda Robinson Walker, "The Last Dean of Women," Michigan Today, Summer 2002; and The Michigan Daily.