Following the Earhart trail
On a rainy Monday in mid-July 1967, 30-year-old schoolteacher Ann Pellegreno, B.Mus. '58, landed her twin-engine Lockheed 10 Electra at Ypsilanti's Willow Run Airport and rolled to a stop in front of the central hangar where a small knot of family, friends, and news reporters waited expectantly. It was the final leg of a five-year odyssey that took the Chicago-born pilot around the world on a 28,000-mile quest to understand and commemorate a woman she had grown to greatly admire, but could never know.
Amelia Earhart disappeared over the Pacific Ocean on July 2, 1937, three-fourths of the way on a pioneering attempt at circling the earth's equator by airplane. Thirty years later, Pellegreno — dubbed "Michigan's flying housewife" by the wire services — was returning home after four weeks piloting the vintage Lockheed along the same route Earhart had traveled, completing the vanished aviatrix's legendary unfinished flight.
After enjoying a brief moment in the international spotlight, Pellegreno decamped to an Iowa farm with her husband, Don, a fellow Wolverine and university professor. She published a book about her adventures, World Flight: The Earhart Trail,in 1971, and over the next 30 years wrote and researched a three-volume history of aviation in her adopted state called Iowa Takes to the Air.
Still flying at nearly 80, Pellegreno has never tired of relating her memories of that long-ago voyage, as she proved recently by telephone from her present home in the gently rolling hills of east Texas.
Alan Glenn: How did you get started in aviation?
Ann Pellegreno: It wasn't really until I met my husband. We were on the Michigan band tour together. I played French horn and he played percussion. On the tour they usually had three buses, and there were two singles buses and a couples bus. We started out on the singles buses but ended up on the couples bus.
Don's brother was a naval aviator and when we visited I helped them build a model airplane, a little biplane with a gas engine. They wanted me to fly it, even though I'd never flown anything. I said okay, so I take off, it goes up and the wind takes it over the top and crashes it. We used it to start the charcoal burning for the dinner.
When we came back Don and I joined a little aeronautical club in Ann Arbor, and that was the beginning of our flying. We've been flying ever since, nearly 60 years. That's what started me on my aviation thing. I still played my horn.
AG: What got you interested in following the Earhart trail?
AP: Don and I had bought a Cessna 140 and we needed someone to anneal it. That guy was Lee Koepke. In 1962, he was annealing our Cessna 140, and he said, 'I'm rebuilding this airplane, it's the same kind Earhart flew around the world,' and I'm saying, 'Huh?' I didn't really know what he was talking about. I had just learned to fly. At that time, I had about 100 hours. I'd flown from Ann Arbor to Rockford, Ill.
Lee said, 'Why don't you think about flying it around the world on the Earhart trail in 1967? That would be the 30th anniversary of her flight.' I said, 'Sure, Lee. OK. All right.' Don said he'd probably never get it done. But he didn't know Lee.
By 1966, I'd been teaching English for six years. I still was, but I'd also gotten my commercial license and my flight instructor and multi-engine licenses in flying, and I was working for Gordon Aviation at Ann Arbor Airport. For Christmas Don gave me Fred Goerner's book about Amelia Earhart, with his theories that she survived. That got me thinking again about Lee's plane. I called him and he said, yes, he'd finished fixing the Lockheed. It was sort of like fate. We both wanted to do it.
AG: It was a tremendous undertaking.
AP: Lee and I said, 'Well, if we don't make it, we'll give it all we have. If we make it, fine. If not, we tried.' The first three months, there were so many ways to say no, and we knew nothing about doing a world flight and we were really innocent.
Finally, in March somebody said, 'Why don't you try Bill Polhemus?' He had a navigation firm in Ann Arbor. So Lee and I went to see him, and in one day he did more than we'd been able to do in three months. That was really the beginning of our flight. Bill was able to get us radio equipment on loan, which we couldn't have afforded. I was teaching school and Lee worked as a mechanic. Not real multi-millionaire jobs.
The plane still needed a lot of work. We had to fly to Wichita and have specially designed gas tanks installed because otherwise, we could only go about a thousand miles. When we got back they started building a radio rack to put the radios in that we'd been loaned. It took a village. I had a little box and I told all of the guys who helped that I'd carry something for them.
Bill was our navigator and Lee the engineer. For co-pilot, we had Colonel Bill Payne of the Air Force, who was a friend of Bill Polhemus. Unlike Amelia we had no autopilot, so all of us at various times took turns flying because we all had licenses.
We were a real team, the five of us — four people and a wonderful airplane.
[Note: In order to follow Earhart's route, Pellegreno and crew first had to fly from Willow Run to Oakland, Calif., where Earhart had started her fateful trip 30 years before. They departed Oakland on June 9 and made refueling stops in Tucson, Forth Worth, New Orleans, and Miami. After that came a series of landings in South America followed by the Atlantic crossing from Natal, Brazil, to Dakar, Senegal, on June 16.]
AG: There were times when you had to deviate from Earhart's exact route.
AP: She'd stopped in Houston to refuel but we went to Forth Worth because the offer of free gas and facilities was too good to pass up. Then we couldn't go across Africa as Earhart did because there had been the Arab-Israeli War that spring, and there were uprisings in the Congo. So we had to go north, which meant deviating from the Earhart trail, but OK, get the job done.
We went up through Portugal and Italy. In Karachi, we were again on the Earhart trail. From there it was down through Bangkok. We met people along the way who'd been there when Earhart had landed. It was very exciting and wonderful to talk to these people. Their father had put gas in the airplane, things like that.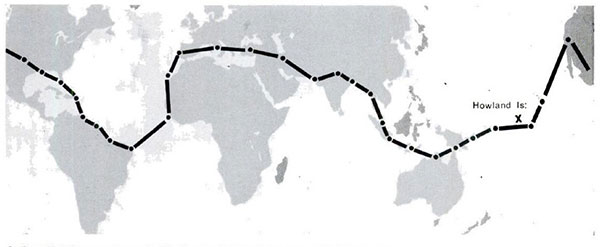 We made it to Lae, Papua New Guinea, by the end of June. From there we flew over the Pacific to Nauru Island, about halfway between Lae and Howland Island, which is a little island Earhart was supposed to land at, and where we think she disappeared.
We touched down at Nauru about dusk. They hand-pumped the fuel into the airplane. The Australians were administering the island then. They all greeted us, along with native Nauruans. It was just wonderful. Like pages out of an old geography book. Then we had dinner and a cold shower.
When we went to take off there were wild pigs on the runway, so some locals drove down the runway and blinked their lights three times at the other end, meaning no pigs. So we hold the brakes, rev the engines full. The airplane is just shaking and ready to go. We move very, very slowly at first. Finally, the tail comes up, finally we get flying speed, and then we're over the water, the flare pots behind us. Over the water at night there's no visible horizon, so right away you're on instruments.
AG: That's an incredibly powerful image. It must seem like it was only yesterday.
AP: Sometimes you wake up in the middle of the night thinking you're in that airplane again. It was noisy. We wore earplugs and headsets or we would've been deaf. They took all the insulation out and everything else they could, to make it lighter, and then by adding the tanks and the gasoline and everything, of course, that made it heavy again at takeoff.
We flew through the night. Destination: Howland Island. It's so small that you can go right to the exact spot and miss it, not knowing which way to turn, right or left. We ran into rain squalls, just like Earhart had, and we couldn't find it.
Finally, there was a break in the clouds and Lee saw the island. He was between Bill and me in that tiny cockpit and he said, 'I think I see it.' I think it was so fitting that Lee saw it first because the whole thing had been his idea from the start.
We flew around the island several times, a tiny bit of a sawed-off mountaintop in the middle of a big blue ocean. Then Bill Payne took over and we came in from the north. I went back to the door and Lee took me in a bear hug so I wouldn't fall out, and he kicked the door open and held it with his foot. I dropped a beautiful wreath of colorful leaves that people at Port Moresby had given us. Hopefully, it landed where another pair of Lockheed 10 wheels should've landed 30 years earlier.
We were there July 2. Imagine — exactly 30 years later! We made it. With everything that happened before and on the trip. We got there 30 years later. Almost to the hour. And then, of course, we couldn't stay long.
We continued on to Canton Island in the Phoenix group and another 460 miles, I think. We'd been up for 24 hours or more, but it was so exciting. We were tired, but we landed the plane, got our fuel, did the obligatory 100 words postpaid by telegram to so many people. Then we kind of collapsed and there was a beautiful breeze.
The next morning we went fishing and learned the boat man had carried Earhart to her plane on Ford Island [in Pearl Harbor during Earhart's first around-the-world attempt in the early months of 1937; the trip on which she was lost was the second attempt]. It was such a small world of people we met, and a wonderful world. I wish we could do it all over. It was just great.
Then we went to Honolulu. We were back in the States, and finally back to Oakland and a big welcome there from everybody. I get a little choked up thinking about it now.
AG: The newspaper stories from back then say that one of your goals was to find out what had happened to Earhart.
AP: I'd read Fred Goerner's book before we started, and during the flight we talked about her. At each stop people would come up and tell us about how they or their parents had met Earhart 30 years ago. After we got back, people would get in touch and tell me things, and I copied all of it down. It's a very, very complex story.
In every book on the Earhart mystery there are kernels of truth, things that have been ferreted out. The file is still officially sealed in Washington, although there are parts that have gotten out, of course. There are a lot of things to be said, but I just say I believe that she did get back.
I'd rather talk about Amelia Earhart's accomplishments, and how she inspired me and continues to inspire. I've helped mentor some people. I've gotten women started in flying. I think that's what you do. If you have the privilege of doing something, you have to pay it forward.
We did feel close to Amelia, especially when all of these people kept coming forward and telling us they met her or that their parents had. It was amazing. I never really recovered from all of that, because it's still with me.
(Top image, from left: pilot Ann Pellegreno, co-pilot Col. William Payne, and engineer Lee Koepke, who also owned and rebuilt the plane. Credit: Ann Arbor News/Ann Arbor District Library.)