A school by any other name…
In January 1954, John Alfred Hannah, the savviest educator in Michigan, made a move long hoped for in East Lansing.
The school that Hannah had been building into an academic and athletic powerhouse had been a university in fact since at least 1930, he declared. It was time to recognize reality by changing a single word in its name.
It had been founded in 1855 as the Agricultural College of the State of Michigan, the first of its kind in the U.S. and the prototype for the vast program of public schools launched by the Morrill Land-Grant College Act in the administration of Abraham Lincoln.
The name was changed to State Agricultural College in 1861, then to Michigan Agricultural College in 1909, then, in 1925, to a name reflecting its expansion from its original focus on farming — Michigan State College of Agriculture and Applied Sciences.
Built on the land-grant vision of practical training for practical work, Michigan State — as it was universally known by the 1950s — now comprised nine colleges and a panoply of distinguished graduate programs. Since World War II, Hannah's massive construction program had bulked up the campus, with a student body rising by the thousands.
So he proposed to the governor and legislature that his school should be awarded its place in the first rank of American higher education with a new name: Michigan State University.
In Ann Arbor, the response was: Not so fast.
Just three words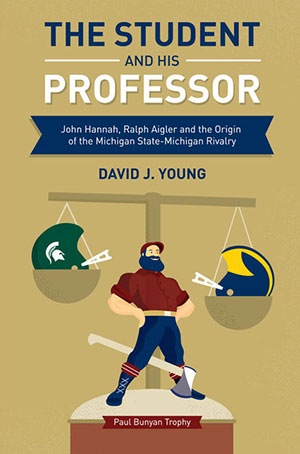 The collision between Hannah's ambition and U-M's pride are detailed in a new book by an East Lansing native, David J. Young, a Notre Dame alumnus who scoured Big Ten archives to write The Student and His Professor: John Hannah, Ralph Aigler, and the Origin of the Michigan State-Michigan Rivalry.
Young shows how U-M's governing regents directed President Harlan Hatcher to wage a campaign against the name change. Prominent alumni were alerted, as were U-M's allies in the state legislature. Professors in the Law School were enlisted to draft legal arguments, including Ralph Aigler, who had spotted Hannah's talents years earlier, when he was briefly a law student at U-M.
"It is the duty of this board to protect the name of the University of Michigan as such," declared Regent Roscoe Bonisteel of Ann Arbor, "because I believe every graduate of this institution has a vested interest in the name 'University of Michigan.'"
"College" or "university" — what difference did it make?
In the U.S., traditionally, a university trains both undergraduate and graduate students in many fields, while a college offers only the undergraduate bachelor's degree. A college is either a free-standing entity (Kalamazoo College, for example) or one arm of a multi-unit university, such as U-M's College of Literature, Science and the Arts. (There are also "schools," a term generally given to post-graduate professional programs, i.e., the Law School, the Medical School.)
By that standard, even Ann Arbor granted that Michigan State had been a university for years. It wasn't the definition that caused brows to wrinkle in Ann Arbor. It was just that particular combination of three words: "Michigan State University."
If that name came into being, wouldn't the rest of the world be thrown into doubt about U-M's standing as theUniversity of Michigan — not exactly the one and only, since, sure, that was technically a university up in East Lansing, but … you know …"the leaders and best"?
A name like "Purdue"
Hatcher and the U-M Regents suggested Michigan State follow the example of Purdue — a fine land-grant institution with "university" in its name, but with nothing that interfered with the name of Indiana University in Bloomington.
The name change would cause "endless confusion," argued U-M's advocates, and it would even be unconstitutional since the state's constitution spoke of a state university in the singular.
Aigler, who had fought State's admission into the Big Ten, said he already had met people who couldn't tell the difference between the two schools. It happened at the 1954 Rose Bowl, where State, making its first appearance in Pasadena, showed its muscle by beating UCLA, 28-20.
"When I was in Los Angeles over the New Year's," he wrote in a private letter, "it interested me to find out how many people thought that the football team playing there … represented the University of Michigan. With the proposed change in name effective, the confusion (and in matters more important than football) would be much more pronounced."
In the face of Ann Arbor's stiff response, President Hannah beat a strategic retreat, then marshaled his forces for a second try in 1955, when Michigan State would celebrate its 100th anniversary.
Who's arrogant?
In the first skirmish over the name in 1954, students at State had been indifferent. But in 1955 — probably with behind-the-scenes encouragement from Hannah — they got into the act, delivering 11,000 signatures to state legislators on a petition 250 feet long.
In Ann Arbor, The Michigan Daily took State's side.
"At the proud University of Pennsylvania they may be snickering a little," the editors wrote. "No one yelled when Penn State College switched to Penn State University."
Meanwhile, U-M alumni showed how their school's reputation for arrogance had arisen.
"Traditionally and historically Michigan State College has none of the aspects of a university," a 1950 grad advised Governor G. Mennen Williams. "The mediocre scholastic caliber of Michigan State College is well known throughout the midwest. This school should be concentrating on ways and means of raising its scholastic standards, rather than changing names."
With tongue apparently in cheek, an Ypsilantian wrote Hatcher to suggest that the name "Wolverine State University" might "satisfy the desire of M.S.C. for university status."
An anonymous reader of The Detroit Newsnoted State's history of name changes and said: "Give them one or two winning football teams and they'll want to change the name again, to 'University of America.'"
Across the state, Michigan State loyalists detected an unseemly selfishness in Michigan's dogged defense of its status.
"I am beginning to feel that the 'confusion' argument is but a bit of subterfuge," a State alumnus wrote Hatcher. "I strongly believe that you, as a gentleman and an educator, must feel, deep down in your heart, that the University of Michigan is acting in a manner far removed from the dignified and altruistic nature one comes to expect from an institution as excellent as the University of Michigan."
A new name
As Hannah renewed his push for the change in 1955, factors were trending in his favor, not least his own good reputation.
While remaining in charge of Michigan State, Hannah was now splitting his time between East Lansing and Washington, D.C., where he was spending his weekdays as assistant U.S. Secretary of Defense for manpower under President Dwight D. Eisenhower — a patriotic feather in East Lansing's cap.
And the down-to-earth Hannah had always been more popular with legislators than the chilly Hatcher. It didn't escape their notice that Hannah drove himself over to the state Capitol in his own pick-up truck, while Hatcher arrived in a chauffeur-driven sedan.
In the state House, U-M went down to a crushing defeat. The vote was 88-14 in favor of the name change.
A tighter vote was expected in the Senate.
Then the state's attorney general, Thomas Kavanaugh, declared that he saw no constitutional problem with changing State's name.
Quit while you're ahead
U-M geared up to sue. But E. Blythe Stason, dean of the Law School, now advised Hatcher to put down the sword. U-M might well win in court, Stason said. But that would only trigger a campaign for a constitutional amendment, and then the voters would have a chance to show which school was more popular.
"In short," Stason told Hatcher, "we are confronted with the situation where we may win the battle but lose the war."
In the Senate, the tally was even higher in Hannah's favor—23 votes for "MSU," only two against. Lieutenant Governor Phil Hart, a U-M law grad and later one of Michigan's great U.S. senators, signed the bill into law with Hannah looking on.
Much later, Hannah gave his view of U-M's role in the fight with a twinkle in his eye.
"Interestingly enough," he remarked, "the University of Michigan's persistent opposition and its administration's political tactics in the legislature made it easier for us …"
In the end, the name change simply ratified something that had already happened. As Hannah put it, "We intended to make Michigan State a distinguished university, worthy of the name. I think we did so, long before its name was officially changed by the state legislature."
Anybody confused about which university is which?


Sources included the papers of Harlan Hatcher at the Bentley Historical Library; David A. Thomas, Michigan State College: John Hannah and the Creation of a World University, 1926-1969 (2008); John Hannah, A Memoir (1980); and David J. Young,The Student and His Professor: John Hannah, Ralph Aigler and the Origin of the Michigan State-Michigan Rivalry (2015). Young's title refers to the relationship between the key antagonists of his story. As a young man, Hannah had been Aigler's student in the Michigan Law School. Hannah stayed only one year, but Aigler predicted a great future for him. The book is available at www.msu-umbig10.com.