Darkness on the edge of town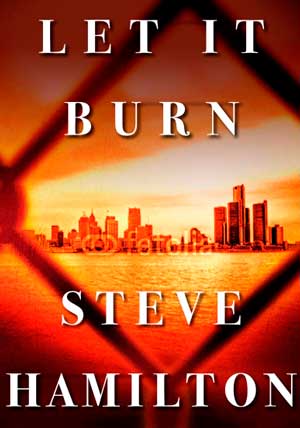 There's an image of Detroit that award-winning crime fiction writer Steve Hamilton, BA '83, will never forget. It's a dark image that forever tarnished his boyhood memories of the city he embraced as his hometown.
"The last time I was there was right before the city's bankruptcy in 2013," Hamilton recounts. "I drove into Detroit, and the first thing I saw was a billboard somebody had put up with a picture of her husband on it. It said, 'Do you know who killed my husband?' and had a phone number. So, it was 'Welcome to Detroit' and then ─ Boom! You could feel when you crossed the city line that the place had gotten even worse. There was such a sense of hopelessness and despair at that time."
But that image and all it conveyed about Detroit's underbelly of crime helped to set the stage for Let It Burn,one of the most popular thrillers in Hamilton's 10-book series about Alex McKnight. The character is a former Detroit cop and one-time Minor League Baseball catcher who lives in Paradise, a remote flyspeck of a town in Michigan's Upper Peninsula. The book's chapters flip back and forth between present and past as McKnight returns to his old haunts in Motown to delve into the case of a young black man, now on parole for a crime he may not have committed. Through flashbacks, Hamilton conveys his sense of nostalgia for the good times and prosperity that once made Detroit a great city where people wantedto live.
"I grew up in Dearborn, just over the border, but like most of us, I identified with Detroit and rooted for the Tigers and the Red Wings," Hamilton says. "My father, Robert, a teacher, worked seasonally at Hudson's downtown as a department-store Santa Claus. I can still remember going shopping there and taking the elevator up to the top floor where Santa was."
A sense of place
Tiger Stadium became an icon of Hamilton's childhood.
"It epitomized the old-fashioned idea of a ballpark being a completely enclosed world of its own," he says. "You'd go into that big gray battleship [at the corner of Michigan and Trumbull], and inside was an immense green world, an oasis in the middle of Detroit."
In recent years, Hamilton has gotten to know former left fielder and slugger Willie Horton.
"He tells stories about what a leaky old wreck that place was, with asbestos and tiny locker rooms," Hamilton says. "It was not a comfortable place to play ball, or watch games, but I never got tired of going there. I loved that place."
Cobo Hall, Coney Island hot dogs, the Bob-Lo Boat, Vernors Ginger Ale, Greenfield Village, and summer vacations "up north," a strange world far-removed from Detroit, also lit up his boyhood like Christmas lights strung along Jefferson Avenue.
In 1979, Hamilton headed to Ann Arbor ─ "an island of counterculture in a blue-collar state" ─ to earn a degree in computer science, not English literature. His mother, Nonna, was the coordinator for the U-M program in Macromolecular Science and Engineering on North Campus for 30 years.
"It was a practical decision to study computer science so I could get a good job, but I knew then I was going to be a writer," Hamilton says.
He took several creative-writing classes, winning a Hopwood Award for a short novel about a football player in Oklahoma.
Hard-boiled and heartbreaking
After graduation, Hamilton hunkered down in New York's Hudson River Valley, working days as a technical writer at IBM for 32 years. His passion for creative writing reawakened in the mid-'90s, and he gravitated to the genre of literature he had grown up reading and loving – crime fiction.
"Crime fiction has a great tradition with some amazing writers," Hamilton says. "Elmore Leonard was the epitome of that tradition and a fellow Detroiter. I got to meet him, and he inspired me to write something of my own. When it came time to set a hard-boiled crime novel in a city, I chose Detroit because it was the only city I had known while growing up, and it still meant something to me as a place."
By 1997, Motown had changed as much as Hamilton had, becoming "probably the most heart-breaking city" in the country.
"When I started writing about Detroit, I'd go back to the city I'd only known in parts, and I'd see other parts for the first time," he says. "As a crime writer, you have this naïve belief that because it's your city, you have immunity from crime and are somehow entitled to be in places where you don't belong. It was a very strange feeling to see all the emptiness, just blocks of vacant houses."
Michigan Central Station ─ once the world's tallest rail station and the Beaux-Arts architectural gem where Hamilton's father arrived and left the city as a commuter ─ had been reduced to a skeletal shell with broken-out windows. In front, peaceful Roosevelt Park had become a killing field for drug dealers. Tiger Stadium was living on borrowed time, nearly ready for the wrecking ball. The crumbling city, though sad to see, ironically became fertile ground for Hamilton's crime novels.
Home boy
For a kid from the 'burbs, who had led a sheltered life and never seen a mugging or murder, there was one big problem: How to create a realistic plot about crime and mayhem? Hamilton turned to Detroit ex-cops for the solution. One group of retirees who met weekly for breakfast at the "Big Chicken" in Levering, Mich., proved a treasure trove.
"I'd sit back and listen to their stories, trying to absorb what it felt like to be riding around downtown Detroit in a squad car," he says. "I came to feel their love for Detroit, as well as their frustration when things started to get worse."
Over time, he wove these scraps and shreds of grim reality into his fictional crime stories.
Today, Hamilton is retired from IBM and writing full-time at his home in Cottekill, N.Y., where he lives with his wife, Julia, and their two children. He's got a string of awards under his belt, including the Michigan Author Award for his outstanding body of work.
Hamilton also has inked his first movie deal with Lionsgate Films for an adaptation of The Second Life of Nick Mason,where he introduces a new protagonist, a thief who grew up in Chicago. That book came out in May 2016 and was a New York Times bestseller.
Hamilton's books are now published in Japan, Germany, and elsewhere, but he starts every book tour back in Michigan.
"There's a special connection with readers from Michigan," Hamilton says. "We all know Detroit and what it's been through. A fellow writer who loves Detroit as much as I do tells me shoots of growth are appearing in the city. That's great to hear. I can't wait to come back and see for myself."


(Top image credit: Franco Vogt.)