Memories are made of this
Gail Offen, BGS '78, knew it was a bold move titling her book Iconic Restaurants of Ann Arbor (Arcadia Publishing, 2016).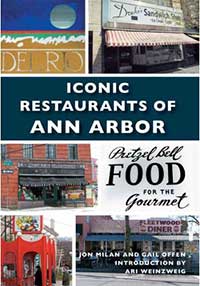 After all, "my iconic may not be your iconic," she says.
That said, few readers — student, professor, traveler, or townie — could dispute the "iconic" status of the establishments Offen and co-author Jon Milan present in their 96-page ode to the tastes of the town they love.
The book is filled with rare photographs, advertisements, menus, and other ephemera culled from numerous sources, most notably the Janice Bluestein-Longone Culinary Archive in U-M's Special Collections Library in the Hatcher Graduate Library.
Listen in, as Offen serves up a menu of memories sure to get you salivating. Sadly, one no longer can savor the limeade at the long-shuttered Drake's, the Sicilian pizza at Thano's Lamplighter, or the Detburger at Del Rio (named for cook Bob Detweiler).
But fear not! You can still dive into the hippie hash at Fleetwood Diner, spoon up some lobster bisque at Le Dog, or grab a coveted bran muffin (yes, you read that correctly) at Afternoon Delight Cafe. In fact, you may even be able to afford the Gandy Dancer now…
Which of Ann Arbor's most beloved diners, dives, pubs, and joints do you still hold dear?
Hear more "Listen In, Michigan" podcasts. Subscribe at iTunes, Tunein, and Stitcher.