Go your own way
It's been nearly 40 years, but Murray Howe's memory is clear. It was freshman year. He was worn out from hockey practice, and he had some important news to tell his parents. He wondered how his father, "Mr. Hockey," himself, would take it: Michigan Coach Dan Farrell had just cut Murray from the team.
"My whole life, all I knew was hockey," says Howe, BS '82/MD '86. He'd spent most of his youth on skates, emulating his father, Detroit Red Wings legend Gordie Howe, and his older brothers, both of whom went on to the pros. When Murray finally told his parents his own hockey career had come to an untimely end, he was surprised by their response.
"They said, 'Thank God we don't have to worry about you anymore.'"
And with that, Murray Howe laid to rest any fears of falling short of family expectations. "All the pressure I felt came from within," he realized. "And I had no doubt my parents loved me for who I was, and they were excited that I was finally going to allow myself to pursue the passions and talents that I had."
Today, Howe is head of Sports Medicine Imaging for Toledo Radiological Associates and Promedica Health Systems Sports Care Program. He also is an associate clinical professor at the University of Toledo Medical Center and he serves on the Michigan Medical School Admissions Committee.
Howe's newest credit is author. He recently released Nine Lessons I Learned from My Father (Viking, 2017). The best seller is his first book. The poignant and personal text evolved from the eulogy Howe delivered at his father's June 2016 memorial service.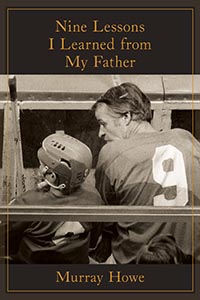 For the son of the sports legend, it was tough not to be cowed by such a daunting task. Gordie Howe's remarkable career is marked by incredible firsts and unbelievable onlys. He played 26 seasons in the National Hockey League (NHL) and six seasons in the World Hockey Assn. (WHA). For 25 years, Howe played for the Detroit Red Wings, and he was a 23-time NHL All-Star.
He retired in 1971, but returned to the pros soon after, signing with the WHA's Houston Aeros, alongside Murray's brothers, Mark and Marty. Even in his mid-40s, Gordie was putting up outstanding numbers. He scored 100 points twice in his six seasons with the WHA. He returned to the NHL for one year and finally retired at age 52 – making him the only player to have competed in the league in five different decades. In 2008, he received the inaugural NHL Lifetime Achievement Award, forever celebrated as one of the sport's finest (and fiercest) players.
Those are some compelling statistics, but anyone with a computer and Internet access can find them. Murray's book introduces the Gordie Howe only a son could know.
"Dad was such a beautiful and unusual man in so many ways," he says. "The book is an intimate tribute to Dad, but it resonates with people because he was such a cool person."
Ask anyone who's ever met Gordie Howe (and they are legion, believe me), and you will hear funny, charming, and inspiring anecdotes that express the tenets of his character: Live honorably. Live generously. Be humble. Be tough. Stay positive.
And much like he did in hockey, Gordie took each of those principles to the next level. After all, he was Gordie Howe. No one knows that better than his youngest child.
People might be surprised to learn this book is not about hockey. It's about a father.
MH: I think it's funny that the book ends up in the sports section because it's not a sports book at all. It's a book about life and relationships and family. It's about being the best version of yourself and raising your kids to be the best people they can be.
The book evolved from the eulogy you wrote for your father's memorial service in 2016. What did you learn in the process?
MH: When I was done, I had an epiphany: Dad was the epitome of love as described in 1 Corinthians 13. He was patient and kind. Not envious or boastful. He wasn't rude or arrogant. He wasn't angry. He didn't keep a record of wrongdoings or hold grudges. He always trusted and always hoped. So, when I ask myself: "Why was it that people loved Dad so much?" I have one answer: It was because he was so loving. And writing the book inspired me to be a better version of myself.
Why do you think he was that way?
MH: It's remarkable that he was so humble, considering what an exceptional athlete he was. But I think it was his mom who taught him never to think too much of yourself — that the successes you have in life are due to the gifts you're given by God and the people around you who helped you.
One of your father's lessons that resonated with me was: "Enjoying life and taking it seriously are not two separate things."
MH: That's right. He might have been working hard at being absolutely the best he could be. But he also was having a blast.
A colleague who worked at Channel 50 years ago said Gordie was always gracious and never intimidating. "He just seemed like such a dad," he said, "like everybody's father."
He would always go up to the little kids, tousle their hair – and if it was a boy, he would call him by a girl's name, not to be mean, but just to get a rise out of him. At the same time, he would take the opportunity to teach the kids something. Could be manners – being courteous in asking for an autograph, or picking up a piece of trash. It's fun that the book allows him to keep on teaching people.
Your book paints a picture of such a loving, supportive family. What advice do you have for children who are not so fortunate?
MH: It comes down to being cognizant of your blessings. I'm in the medical field and I see all the challenging things people go through. I'm fortunate to be reminded on a daily basis: "Wow, I can still see. My brain still functions. I can still walk." It's all about perspective, and I think any person, if they are truly honest, can see their blessings. And when you do, everything else falls in line.
And what lessons can parents learn from your book?
MH: My parents were so good at encouraging each of us kids to follow our dreams. Their joy came from our joy, and it was never about them defining their own importance based on whatever successes we had in life. They knew we would make the biggest impact on the world by doing what we love and doing it well.
Talk about what it was like to care for your father in the last year of his life.
MH: It was a huge privilege because my dad was so capable, so strong, and so independent. He didn't care about material things, and he didn't need a lot of help. So, as he aged, I was so thrilled I could do something for him that would help him. He never let a day go by that he didn't thank me profusely. It was the best year of my life, for sure.
Another advice question: What would you say to people who have elderly parents, nearing the end of their lives?
MH: To truly treasure them and recognize what a gift it is that they are still with you. Use the opportunity to show that you appreciate everything they did for you, and also to absorb the wisdom and love they can still express to you.
You won a Hopwood Award for writing as a U-M freshman. What was the topic?
MH: It almost was a foreshadow to this book. It was called "The Road to Nowhere," and it was about the challenges of trying to be a professional hockey player growing up in this professional-hockey-player family but not being well suited to do so. The message was to embrace your own talents and try not to live up to anybody else's expectations.
I had just gotten cut from the hockey team, and I submitted the essay on a total lark. When I got the letter that I won, it was such a huge surprise. I kept looking at the return address to make sure it was legit. I felt so out of place at the awards; like such a dumb jock surrounded by all these wonderful writers. But it did plant a seed for me to continue with my writing.
A new "legends" museum at Detroit's Little Caesar's Arena will hold a trove of memorabilia related to your father. Is there a piece you find especially significant?
MH:
 There's a jersey that I think is from the All-Star game when he was with the Houston Aeros, which was super cool. To me, that was so inspirational. Here's a man 45, 46 years old and he's dominating the league among these players who are 19, 20. And the fact that he was doing that while playing along with my brothers, Mark and Marty, must have given him such joy. I mean, it was such a Cinderella story. He was leading the league in scoring for most of the season until he broke his ankle. Mark was named Rookie of the Year, Dad was MVP, and the team won the [WHA Avco Cup, 1974]. It was such a great reward for Dad living such a great life. I know when I play hockey with my kids, it's thrilling. I can't imagine winning a cup with them.
Speaking of kids, you had free run of the Olympia stadium as a boy. Fun times?
MH: I knew Olympia like the back of my hand: every little corridor. I knew where to find the extra hockey nets, how to get inside the training room where they stitched people up. I could pretty much walk in and out of that dressing room any time I wanted to. People were thrilled to help me because of who Dad was. They would hand me a puck or an extra stick: "Here, keep this, kid." It was just like living a dream. And I savored it for sure. I still pinch myself that "Mr. Hockey" was my Dad.
In the book, you talk about how generous your father was. The more he gave away, the more came back to him. You seem to be following his example: You shared him with the world when he was alive and you are sharing him again through your book.
MH: And now the world is sharing Dad with me. He's living on the pages of my book and in the stories and emails fans send to me. It allows me to continue to experience him, to be inspired by him. The book has become a living legacy of Dad. It's just a great snowball of love.