Good sport
Business leaders thrive on sports metaphors.
"The ball is in their court," we say when a company weighs a major move. Sometimes the CEO is "down for the count," "under the wire," or "on the bench."
So Sam Walker, BA '92, the Wall Street Journal's leadership columnist, wasn't surprised when his book, The Captain Class (Random House, 2017), appeared on the sports shelves at bookstores.
The leadership manual, after all, is framed by the stories of 17 sports dynasties in 11 different sports. Walker's exhaustive research determined that the only thing these "freak teams" had in common was a captain that possessed seven traits, including "doggedness," "ironclad emotional control," and "playing to the edge of the rules." By digging into some of the most riveting, high-stakes moments in sports history, he assembled a counterintuitive model of leadership that exposes our misperceptions.
As a journalist working for a business-focused newspaper, Walker always had taken an empirical approach to sportswriting, and the book reflects his passion for statistics.
"I'm very data-driven, and sports coverage is highly analytical. Sports fans love numbers," he says. "And so does business."
The right call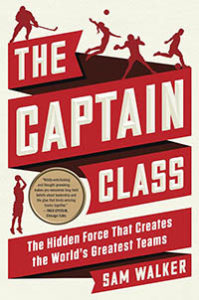 To construct the systematic framework at the heart of the book, Walker spent 11 years mining data, studying these 17 elite teams, and interviewing athletes from two-dozen countries (as well as team executives, coaches, and reporters). The teams that maintained long-term excellence were the ones that intrigued him most. And in every case, he found that the most critical influence was the character of the captain.
"So often, when we anoint people as leaders, they turn into monsters," he says. "But an incredible burden is lifted when you pick the right leader, the one the team knows is committed to the collective goal first, over their own individual accomplishments. And it's not always the best player. The team needs to know that if there's a burning building, this person will run into it. They know that person will perform the leadership functions no one else wants to do. It frees everyone up to contribute as they want to and as they can."
Now that the book is in paperback – and shelved in the business section – Walker is anxious to study his model's implementation in the corporate workplace. It should be interesting, he says, since the core attributes these leaders share challenge many of his long-held assumptions. Here are a few things he learned along the way.
LEADERSHIP IS TANGIBLE. "We're so data-driven and results-oriented that we've kind of ignored the whole leadership piece," Walker says. He consults for an MLB client that has 11 staffers working on analytics, but no systematic leadership plan. "They think leadership is intangible – that it's not something you can predict or measure. I'm trying to help them see it's a tangible thing you can control."
IT'S NOT ABOUT WINNING JUST ONCE OR TWICE. Once a team has proven it's highly capable of winning, the challenge becomes completely different, says Walker. "You know you're good enough, so it's a question of how you maintain that excellence," he says. "That's where leadership emerges."
LEADERSHP IS NOT GROWTH. Walker says analysts often focus on the traits of leaders inside firms that have known nothing but explosive growth, and falsely assume that those leaders are the engines driving it. "I've found that leadership really matters and becomes apparent when you are facing tough headwinds."
THE BEST CAPTAINS ARE KIND OF BORING. Walker cites Ford CEO and U-M alumnus Jim Hackett as a good example. "When someone asked Hackett what he did for fun, he said, 'I go home and play with my dogs.' That was such a 'captain' answer," Walker says. "They don't party, run triathlons, or jet off to Italy just to learn to make tetrazzini."
CAPTAINS ARE NOT ALWAYS SUPERSTARS. Tom Brady is an exception, Walker says. "He stands out because he's a huge talent and a celebrity. But if you look closely, he's not someone who revels in attention. He's pretty introverted and quiet. His most effective leadership work is done behind the scenes."
CAPTAINS NEED NOT BE SILVER-TONGUED. "This was a hard book to write because this is the most reluctant group of interviewees out there. They hated talking about themselves."
CAPTAINS CONTROL THEIR EMOTIONS. "On campuses and elsewhere we hear lots of talk about trigger warnings and safe spaces," Walker says. "There's this idea that on some level there are parts of our emotional lives we're not fully in control of. That is the antithesis of what I found in these leaders. To a person they have an ability to set aside any personal trauma and focus on the task at hand."