Fighting to the finish
Before becoming an All-America halfback at U-M Bob Chappuis, '48, had already been tagged a war hero.
After playing his first season at U-M in 1942, the Toledo-born Chappuis (pronounced CHAPP-ee-us) joined the service to fight in World War II. In 1944, as a gunner on a U.S. Army Air Corps B-25 bomber, his crew was credited with sinking a cruiser in an Italian harbor. A year later, during Chappuis' 21st mission, the two-engine plane carrying his crew was shot down over German-occupied Northern Italy. Local partisans hid him and two fellow crewmen for three months — most of the time, in a home that was a few doors down from a German-Fascist headquarters.
"I woke up one morning and the Germans were screaming and carrying on out on that drill field and I said, My gosh, they've found us," Chappuis recalled decades later.
But they hadn't, and Chappuis was eventually rescued.
"Everybody says we're heroes," he once said. "But what kind of idiot wouldn't jump from a burning plane?"
Chappuis and others of his generation expressed the same humility in From Playing Field to Battlefield. He was one of 50 athletes, along with Tom Landry and Ted Williams, featured in the 2006 book.
"It's a sense of responsibility and service that they all felt, that they had a responsibility to serve, that everybody else that they knew was doing it — and so why should they be any different," said the author, Rob Newell. "That's what is so strikingly different about today, where less than 1 percent of the country are serving in uniform. Back then, everybody did."
A different kind of induction
This year marks the 30th anniversary of Chappuis' 1988 induction into the College Football Hall of Fame.
In 1947, Chappuis became a consensus All-America. He was a star along with backfield teammate "Bump" Elliott, who also returned from military service to become an All-America halfback the same year. (Elliott became a Rose Bowl-winning head coach at Michigan). They were part of an offense known as the "Mad Magicians" for their deceptive moves that sometimes resembled a basketball team. One reporter described it this way: "On one play, seven different players could touch the ball, with so many laterals and passes and fakes, they looked more like the Harlem Globetrotters than a football team – and often fooled the cameraman into following the wrong player."
From there, the fairy tale continues.
In late 1947, Chappuis appeared on the cover of TIME magazine and he and his then-fiancee, Ann Gestie, appeared on the cover of LOOK magazine. Chappuis helped lead the Wolverines to a 10-0 record, including a 49-0 win over USC in the Rose Bowl, where he was named the most valuable player. Michigan finished No. 1 in the national Associated Press Poll for the 1947 season and Chappuis was runner-up in the Heisman Trophy balloting (behind Notre Dame quarterback Johnny Lujack).
Getting on with it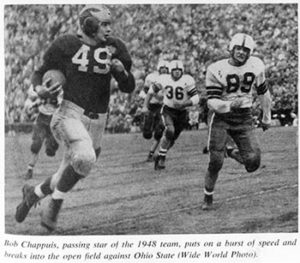 Veterans like Chappuis and Elliott continued to readjust to civilian life — and college ball.
"I think they felt lucky and just happy to be back," said Newell. "They would come home — and Chappuis is a great example — and they just got on with it. It's incredible, but it's because everybody was doing that. They immediately were thankful and appreciative and they were like, 'OK, there's a reason that I survived and I need to get on with it and make something of myself.'"
After graduating from U-M, Chappuis was a first-round pick of the Cleveland Browns of the old All-America Football Conference, a brief rival to the NFL. He played pro football for two seasons, with the Brooklyn Dodgers and the Chicago Hornets, before settling in Fort Wayne, Ind., and becoming a corporate labor relations director.
(In 1966, Chappuis' nephew, Rick Volk, became an All-America defensive back at U-M.)
Chappuis died at 89, in 2012, in Ann Arbor. He had Parkinson's disease and died of complications from a fall.
His life, particularly during wartime and his years at Michigan, were exceptional enough that The New York Times memorialized him in an obituary.
(Top image: Bob Chappuis, '48, with then-fiancee, Ann Gestie, on the cover of LOOK magazine in 1947. Image courtesy of U-M's Bentley Historical Library.)