Play ball
Some athletes need three or even four years in college to become legends.
Bill Freehan, '66,  needed just one.
It was the 1960-61 school year, during a time when great social change was being launched on so many fronts.
John F. Kennedy, in a speech on the steps of the Michigan Union less than four weeks from the presidential election, spoke about a vision that would blossom into the Peace Corps. He also noted the University of Michigan Wolverines' football victory over Duke the previous Saturday, and he then segued quickly into how Michigan and the U.S. could turn out to help him "beat Duke's favorite son and alumnus, Mr. Richard Nixon," in the upcoming vote.
Freehan played in that game against the Blue Devils and showed such promise as a sophomore tight end that George Mans, the team captain and starting tight end that season, was already convinced Freehan possessed NFL talent. He won the Meyer Morton Award given to the football player who shows the greatest development and most promise as a result of the annual spring game. Others who have won that award form a who's who of Michigan football: Gerald Ford, Ron Kramer, Jim Harbaugh, Desmond Howard, and Braylon Edwards.
Wait… football?
Meanwhile, this hulking blend of power, speed, and skill also was a talented baseball player. He hit .585 for the Wolverines in the spring of 1961, breaking the Big Ten record of Purdue's Moose Skowron, and it hasn't been surpassed since. The Major League Baseball amateur draft was four years away from being established, and all the top teams came after Freehan with lavish contract offers. He signed with his hometown Detroit Tigers for a $125,000 bonus that had only been exceeded by two amateur free agents at that time. Tigers scout Louis D'Annunzio said Freehan was the best sandlot catcher he'd ever seen in high school, and one year later they signed the future leader of a championship team.
Before the fall of 1961 was over, Freehan, only 19, was in the majors with Detroit. He got four hits in 10 at-bats for a .400 average in his short-but-sweet debut at a time when New York Yankees slugger Roger Maris was grabbing the headlines en route to breaking Babe Ruth's home run record by belting 61 out of the park.
Freehan was on his way to a wonderful 15-year career that included 11 All-Star berths, five Gold Glove Awards, and a World Series championship in 1968, when he was involved in two of that Fall Classic's most memorable plays, blocking the plate with Lou Brock arriving to tag him out and catching the final out in Game 7 before pitching star Mickey Lolich jumped into his arms at Busch Stadium in St. Louis.
Sweet memories
Pat Freehan, Bill's wife of 54 years, chuckled when those great memories were recalled in a phone conversation. She noted that Bill's father had demanded his son keep the signing bonus in the bank until he graduated from Michigan, which he did.
They met as high school freshmen and have been through so much together, raising three daughters while experiencing a wonderful life in baseball. They met on a Gulf of Mexico beach a few years ago to celebrate their 50th wedding anniversary with their children, sons-in-law, and grandchildren, one of whom now plays catcher for the Wolverines.
It's been picture-perfect, really.
And while the couple's love remains strong, Freehan no longer has the physical strength that was once his gift as an athlete. He began feeling something wasn't quite right about 10 years ago and learned he had Alzheimer's disease. The walks in the woods with the dogs near their home "Up North" in Petoskey, Mich., and the long bike rides to Charlevoix are no longer possible. Freehan still looks strong, Pat says, but his days are now spent in bed.
Alzheimer's is not an inherited family trait, and Pat wasn't sure if concussions suffered in sports had anything to do with it tagging Freehan. It's "a nasty disease" that comes with some heartbreak, she said, but she takes joy in the fact that her background as a registered nurse allows her to care for the man she loves so deeply.
"If I knew how it was going to end," she said, holding back tears, "I would sign up to do it all over again.
"Our life was that good and that special for that long. And that's just how it is. Yes, he needs me now, and I'm here for him, too. That's just how it is."
A natural athlete
Bill and Pat started dating in 1955, when Freehan's father bought a mobile home park and moved the family to St. Petersburg, Fla.
"We met in high school," said Pat. "I was a freshman, 14. We started out in the same school, St. Paul's, but in the middle of our sophomore year, the boys got moved out to a new boys' Catholic school, Bishop Barry High.
"Bill had offers to go everyplace for college, but he wondered what it would be like to go to a big school like Michigan."
Freehan was born in Detroit and raised in Royal Oak before high school, and he chose to return home to be a Wolverine after also looking at Notre Dame, Florida, and Florida State. That Michigan would let him play football and baseball was important, and he chose to accept a football scholarship. He was a high school quarterback, but Pat said he opted to play tight end and defensive end because there appeared to be more opportunity there.
Freehan made quite a first impression.
"Bill and I played together," said Mans. "He was probably the finest natural athlete of his generation to go to Michigan, after Ron Kramer. He was better than the rest of us bums.
"He was a great football player, too, as a sophomore. He could run, catch, do it all. He was a tough competitor. He wouldn't back down from anybody."
Hall of Honor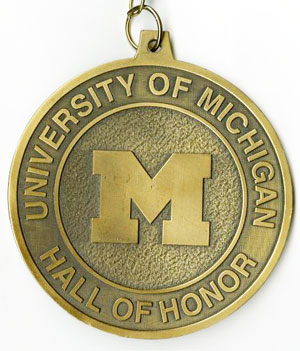 The esteem in which Freehan is held at Michigan was never more evident than in 1978, when he was inducted into the school's first Hall of Honor class with President Ford, Tom Harmon, Cazzie Russell, Bennie Oosterbaan, and Bob Ufer.
"I'm sure that to Bill that was something huge," Pat said.
Freehan played football for Bump Elliott and baseball for Don Lund, and he grew particularly close to Lund, who died in 2013. They won a Big Ten baseball championship together in 1961, and Lund then coached the Wolverines to the NCAA championship in 1962 with Dave Campbell and Fritz Fisher, two players who ended up playing briefly with Freehan as Tigers.
"Bill just adored Don Lund," said Pat, "and Bill was the son Don Lund never had. He had a daughter, Susan, whom I'm still in touch with. She still stays in touch because she knows how her daddy felt about Bill."
Freehan, in a 2009 release issued prior to a book signing for Playing Ball With Legends: The Story and Stories of Don Lund, written by James Robert Irwin, said: "After my father, Don Lund is the most important man in my life. Don was the one who taught us how to win — both on and off the field."
Lund was hired as the Tigers' farm system director in 1963, the year Freehan went to the majors for good, and they were reunited.
The Michigan legacy continues
U-M sophomore Harrison Salter, the youngest of three grandsons from the Freehans' daughter Kelley and husband John, has brought the No. 11 of his beloved "Papa," as the grandkids call Bill, out of retirement and onto the back of his jersey for games.
"It means the world to me to follow in his footsteps," said Salter. "I'll always remember getting recruited by Michigan during my sophomore year at Orchard Lake St. Mary's (in suburban Detroit). I came to a game at Fisher Stadium and saw his name and number on the wall, and that always was a comfort to me. It gave me reassurance that somebody who believed in me was with me here.
"When Coach (Erik) Bakich gave me an opportunity to play here, the first thing I asked him was, 'Can I wear No. 11? Can I take it off the wall?' It was a pretty big demand for a sophomore in high school, but it was all I wanted to do. I want to play for him, and now that he's in this state, all I want to do is make him and my family happy. This University impacted him so much in his life, and I can only hope and pray that it will do the same for me.
"They are big shoes to fill," Salter continued. "But I hope someday they say, 'That kid really does remind me of Bill Freehan.' And that goes baseball-wise and personality-wise. I really strive to be like him, and so it's something really cool. I might be the last person to ever wear No. 11 here. It's an honor I don't take for granted."
Coaching up
Freehan actually wore No. 14 as a player at Michigan but switched to No. 11, his number with the Tigers, upon returning for the 1990 season as the head coach of the Wolverines. Bo Schembechler, both the football coach and athletic director, hired Freehan after highly successful coach Bud Middaugh resigned and the Wolverines were placed on probation for two years after an NCAA investigation revealed players received money from selling football programs.
"Bill was there to rescue his alma mater from a bad situation," said Pat, noting that Freehan set down and enforced strict rules with his players. "He also had scholarships taken away, and it was harder to recruit.
"He was playing under a cloud but cleaning it up. I think what Bill was proudest of was getting the reputation of the program back, and the kids really played well for Bill."
Talent scout
Michigan was 166-167-1 during Freehan's six seasons, but he had righted the ship and deeply impacted his players.
Freehan inherited a young catcher named Mike Matheny and could see a great future in him. He suggested Matheny learn Spanish to someday better communicate with all of his players as he went into managing. Matheny, who graduated from Michigan with a Spanish minor, won four Gold Gloves as a player before turning to managing and leading St. Louis to the 2013 World Series.
Freehan also signed a great young shortstop out of Kalamazoo Central High to a National Letter of Intent in 1992.
"Coach Freehan and me, we had a great relationship," Derek Jeter told me in 2014 for a story on mgoblue.com. "He and (assistant coach) Ace Adams. I wanted to come to the University of Michigan and that was a real possibility."
And then the Yankees, Jeter's favorite pro team because of summers spent in his native New Jersey, made him the No. 6 overall pick in the first round.
"That was the team I always wanted to play for," said Jeter, who had dreamed of being the Yankees shortstop as a young boy. "… I think I made the right decision."
Jeter went onto collect 3,465 hits and five World Series titles with the Yankees. But had Jeter come to Michigan, he might very well have challenged that .585 Big Ten record Freehan set that has stood the test of time.
"Isn't that just unbelievable!" exclaimed Pat. "Hey, .585, who bats like that?"
Teams sought to sign him after that in an era when amateurs were free agents.
Hot property
"Ted Williams came to Bill's house," said Pat, referring to the Boston Red Sox Hall of Famer who had just retired the year before, in 1960. "(Kansas City A's owner) Charlie Finley was at his house. The owner from Houston said, 'I'll give you an oil well and you'll never see a day in the minor leagues.' Bill knew that wasn't normal. But he was inundated with offers.
"He chose the Detroit Tigers and signed for $125,000, but he had to finish college before his dad let him put his hands on that money. We got married in '63 and he went to the University of Michigan-Dearborn to finish his degree in 1966, the year Kelley was born."
Corey Daul, their oldest daughter, was born in 1964 and lives near Chicago with her husband, Steve. They have two daughters. Kelley and John Salter had three boys they raised in Bloomfield Hills, Mich., and each of them went on to play Big Ten baseball. Cathy Ryan, their youngest daughter, has a son and daughter with her husband, Chris, and they live near Washington, D.C.
The Freehans have seven grandchildren who call them "Papa" and "Tootie."
"Bill liked it best when he was just home, the doors were closed, and he had his family there," said Pat. "On the baseball field, he'd be loud and barking orders. He took charge and was the field general. But that was not him in life. He would not raise his voice and wasn't a yeller or screamer. He was always the logical, level voice at family meetings.
"He was very much involved in his family and proud of his girls, and now his grandchildren."
Character study
Salter, asked what he was proudest of in regard to his Papa, said: "What I'm most proud of is that people always talk about what a great baseball player and athlete he was. But then, the majority of the time, people will talk more about his character and selflessness. I've never heard one person say one bad thing about my grandpa, and I've learned through these conversations just how many lives he affected.
"Personally, his biggest impact on me has been his faith in God and his love for his family," he continued. "He's very generous toward us, and not just with money, but with his love and passion for us. He is a generous man in all aspects of life and really made us comfortable and part of a very loving family. He's definitely the rock of the family."
Freehan wore a crucifix on a chain around his neck during his entire playing career. "Our Catholic faith has been a source of great strength and peace through the years of our marriage," Pat said, "and most especially these last several years with people I meet in the grocery store telling me they are praying for us!"
So, there is much more to this legendary athlete than the championship he won and the outstanding awards and statistics he amassed.
The story of William Ashley Freehan might begin with baseball and football. But in the end, it's about faith and love. It's about the important things in life, the ones that last forever.


November was Alzheimer's Awareness Month. This story originally appeared in November 2017 and is reprinted courtesy of mgoblue.com. Minor edits were made to update Salter's current status at Michigan.