Channeling George Mason
George Mason, U-M class of 1913, had a distinguished business career as the long-time CEO at Nash-Kelvinator Corp. He also was the first CEO of American Motors Corp., following the largest merger in American history. In addition, he was a noted conservationist who donated 1,500 acres along the Au Sable River to the Michigan Department of Natural Resources for use as a game preserve.
I first learned about Mason when his granddaughter, Patricia Mason Zupan, gave me a transcript of a "This is Your Life"-type program honoring him at the Detroit City Club in 1958. One of the speakers described how Mason saved an apple from his lunch box when he traveled to Ann Arbor as a freshman and used it to begin a series of trades that led to his acquisition of a jackknife by winter break and a camera by the end of his first year. By junior year, he had traded for what the speaker called a "souped-up motorcycle" and by graduation he had acquired a Stutz Bearcat roadster. The speaker concluded that "it looked like the sky was the limit for a young man who could go from an apple to a Bearcat in four years."
I retired from the Stephen M. Ross School of Business in 2018 but continue to offer a free online negotiation course that I developed with the U-M Center for Academic Innovation. During the first three months of the COVID-19 pandemic, enrollment in the course surged by more than 200,000 new learners.
During retirement I also continue to teach my on-campus negotiation course. Reading about Mason's negotiation skills reminded me of a story about a Canadian who traded a red paperclip up to a house after 14 trades within one year. Dwight on "The Office" was not quite as successful when he started with a red thumbtack and finished after 10 trades with a bag of "miracle legumes" acquired from Jim in exchange for a telescope.
Just try it
With encouragement from a friend at another university who had created an assignment based on the red paperclip story, I developed a similar assignment for my students. In the exercise, I give them Pilot G-2 red pens to use as the starting point for a series of trades. The students are instructed not to tell the other side that the negotiation is part of a class assignment. They must report their results two weeks after receiving the pens, including an analysis of how they used negotiation strategies and tactics from the course. The student with the best result wins the "Red Pen Negotiation Award."
The results from my 2019-20 academic year class, which finished before classes moved online during the pandemic, are typical. The 58 students hailed from 12 states (led, in order, by Michigan, New Jersey, New York, and California) and eight countries. As one might expect from undergraduates, many of their acquisitions centered on sports, as they traded for OSU, MSU, and Notre Dame football tickets, a Curt Schilling signed baseball, and a Champions League soccer ball. Clothing also was a popular acquisition, including trades for a Corona T-shirt, a Patriots hat, a $60 dress, a pair of Golden Goose shoes, and a silver "Birthday Bitch" tiara (if that counts as clothing).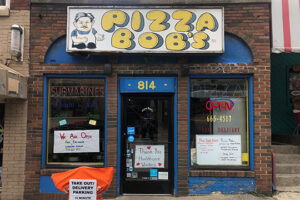 Food trades were especially popular, and the results illustrate the variety in today's undergraduate diet. The apple that Mason brought to U-M as a freshman has been replaced by such delicacies as: A cupcake with sprinkles, coffee, a bowl of gnocchi, gum (many trades), jelly beans, wine, CLIF bars, a grilled chicken quesadilla, White Claw (many trades), pizza, chocolate chip cookies, beer (many trades), a Thai meal, a protein bar, organic trail mix, salt, a bottle of water, a carbonated beverage, a granola bar, Gatorade, a bag of Skinny Pop, a box of macaroni and cheese, pumpkin-oatmeal-cream-pie cookies, sour patch candy, bubble tea, Insomniac cookies, an energy drink, a Caesar wrap, hard cider, Uncle Ben's rice, bananas, leftover Chinese food, and ice cream pops.
There were so many trades for White Claw, which I learned is a hard seltzer, that I decided to try one in the privacy of my home. Not bad.
Key to success
The student reports indicated that they practiced several negotiation strategies that are key to success. (I outline these strategies at a negotiation planning website I developed for the course.) One of the students' key takeaways was the importance of not trying to sell the other side on the features of the pen (described on the package as "super smooth" with a "comfort grip") until they identified the interests and needs of their potential trading partner.
Brandon Feit, class of 2020, won the 2019-20 Red Pen Negotiation Award. His trades illustrate the continuing student interest in food and sports as he
first traded the red pen for 24 chocolate chip cookies (from a student who obtained the cookies at no cost because she had unlimited swipes on her Mosher-Jordan Dining Hall card),
then traded the cookies for a variety pack of White Claw,
then traded the White Claw for a used Nintendo Wii (including a sensor, controller, and Wii Sports),
then traded the Wii for a ticket to the MSU football game (after using GroupMe to generate interest in the Wii),
then sold the MSU ticket for $150 (using Michigan Facebook to find a buyer), and
finally used the $150 to take his girlfriend to the Chop House for a steak and lobster dinner.
Changing appetites
Although he graduated 107 years before Feit, Mason and his classmates shared a similar interest in food and sports. During Mason's senior year, Fielding Yost coached Michigan football to a 55-7 victory over Michigan Agricultural (aka Michigan State) at Ferry Field. The team had a 5-2 record for the year, losing road games to Syracuse and Penn. According to an account in the Detroit Free Press, one player broke a team marathon-eating record during a two-hour lunch. Legend has it he consumed a bowl of tomato soup, a dish of celery, "three thick slices of roast beef with brown gravy," four dishes of potatoes, two dishes of string beans, three bowls of ice cream, two bowls of rice pudding, two glasses of milk, and a pitcher of water.
While Mason would have been puzzled by Feit's use of social media during the negotiation, I imagine he would be pleased with the final result, which was achieved in only two weeks. My only regret is I did not require the winner to share the dinner with the instructor!
(Top image: Stutz Bearcat, Wikipedia)