It's fascinating just how many new and unusual ways one can rediscover a period of film history. For example: post-World War II Italy with its revolutionary new style of social filmmaking and, coincidentally, a slow, but progressive movement toward economic recovery.
Old history always offers new avenues of approach. During a recent trip to NYC, I took a special sojourn to Eataly, the wonderful Italian marketplace on lower Fifth Avenue. While browsing in the book section I came across Pietro Barilla: The Biography of an Extraordinary Entrepreneur (Rizzoli, 2013). A lover of Italian food, I recognized Barilla as the brand name of one of Italy's foremost pasta makers.
I was struck by the fact that the book is filled with archival photos of Barilla family members with prominent Italian film figures. A note in the index reveals the Barilla Company had fully funded a 1953 convention on Italian neorealism in Parma, home to the family's pasta factory. I bought the book and discovered a fascinating socio-cultural biography that tied together business, entrepreneurship, and culture in post-WWII Italy.
Barilla history
Pietro Barilla Jr. was grandson of Pietro Barilla Sr., who founded the Barilla family company in 1877. Pietro Jr. (1913-93) joined the company at age 23 as a sales director. He took over as head of the factory upon the death of his father, Ricardo Barilla, in 1947.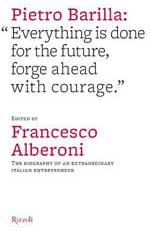 Barilla family friend Francesco Alberoni edited Pietro Jr.'s new biography. Alberoni is a prominent Italian sociology professor who also serves as chairman of Rome's experimental film center. The Barilla siblings asked him to write a biography of their father since he is an expert on the sociology of movements and the relationship between consumption and society. Barilla's personal story is very much about these same ideas.
The unique narrative unfolds through the first-person voice of Barilla himself. Alberoni writes in the introduction: "It occurred to me that perhaps I could make (Pietro) come alive in a biography the way I would have liked to have done in a movie. Instead of film, I would use sheets of paper, and there would be no actor playing his part, just Pietro talking about Pietro … almost all the words published in this book are really his own. I heard them directly from his mouth or from his children and his wife; I heard them in interviews he gave, in the many films he participated in over the years, and in the stories I was told by his closest collaborators and friends."
Parma: A center of Italian culture
Barilla begins by recounting the cultural and intellectual vitality of his hometown Parma in the post-WWII years. Important artists and filmmakers were born or raised in the city: Attilio Bertolucci, an art history teacher, renowned poet, and father of filmmakers Guiseppe and Bernardo Bertolucci; Cesare Zavattini, who would move to Rome and write three great neorealist screenplays for Vittorio De Sica (Bicycle Thieves, 1948; Miracle in Milan, 1950; and Umberto D, 1952); Antonio Marchi, creator of art documentaries and founder of the film journal La critica cinematografica; and Pietro Bianchi, a film critic and journalist. Barilla also mentions prominent literary figures, visual and graphic artists, and business leaders.
Mr. Barilla goes to Hollywood
Interestingly, it was contact with a great film and a trip to Hollywood that changed Barilla's vision of what his pasta company could become: "In 1950 when I was 37 … (I was) invited to go to Hollywood to award the Nastro d'argento Prize to Alida Valli for best actress of the year," he says. "It was an incredible experience. I found myself in the middle of the film world together with the actress who had starred in the most important film of the time—The Third Man—but the most important thing was what I saw in the streets, in the stores. I saw things Italy didn't have yet, things that perhaps it couldn't even imagine: a society based on private consumption, on brands, on competition and advertising. Everything in the pasta sector was prepackaged. I felt discouraged." (The Barilla store in Parma still displayed its pasta in Murano vases; customers bought in bulk from bins below.)
Building bridges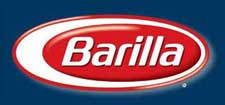 Returning to Parma, Barilla invited artists, critics, graphic designers, and advertising experts to build "a bridge between culture and business," i.e., Barilla pasta. One day while brainstorming in a piazza cafe, film critic Pietrino Bianchi scribbled a phrase on a napkin: "With Barilla pasta, every day is Sunday." In impoverished Italy, where for hardworking people Sunday was the only day for a leisurely meal, the slogan inspired an advertising boom that garnered the Palma d'Oro award as the "most brilliant and effective ad campaign of 1952."
Barilla moved full force to create a brand that would attract all levels of Italian society. The Barilla Company quadrupled its pasta output between 1950-61. "It was liftoff for us and for Italy at large," he said. "We were right in the middle of what people would later call the 'Italian economic miracle.'"
Celebrating Italian film
During the period of increasing success in the 1950s, Barilla developed an avid interest in paintings, sculpture, and film. The trip to Hollywood in 1950 left him "deeply struck by the importance and respect [the Americans] gave to Italian cinema and art." So Barilla funded the 1953 film convention Il Neorealismo Cinemtaografico. He sought to acknowledge and celebrate the revolutionary movement that began at the end of WWII by Roberto Rossellini (Open City, 1945), Vittorio De Sica (Shoeshine, 1946), and Luchino Visconti (La Terra Trema, 1948). These films were portraits of downtrodden Italy, told in a bleak documentary-like style, described by Rossellini as conveying a sense of "this is the way life is." Barilla's friend Cesare Zavattini wrote the most poignant of these neorealist films, De Sica's Bicycle Thieves, in which desperation overtakes moral prudence.
"Caroselli"
Italian director Valerio Zurlini attended the neorealism conference; he would later return to Parma and shoot Girl With A Suitcase (1960), starring Claudia Cardinale. Barilla actively participated in the filmmaking process and studied Zurlini's directing techniques. Their friendship led Barilla to hire Zurlini as a director of his television variety show ("caroselli"), launched in 1958 and featuring the popular Italian singer, Mina. Caroselli were supported by commercial advertising and Barilla used the opportunity to insinuate Barilla pasta into Italian culture. Through his association with Zurlini and other film artists who worked on the TV programs, Barilla developed a keen sense of how visual techniques could be employed to "promote the role of pasta in Italian culture and to give pasta 'value.'" Barilla claims: "Thanks to the (caroselli) starring Mina, pasta went back to being the centerpiece of Italian cuisine."
"Rigatoni!"
When Barilla's caroselli ended in 1977, he turned to commercials, seeking to cast everyone from the famous soccer player Roberto Falcao to film star Alberto Sordi (who in the 1954 film An American in Rome played the role of an American who rejects several American dishes before devouring a large plate of spaghetti. Sordi, however, had taken a vow never to act in commercials.) This was in the mid-'80s and Barilla, who knew nearly everyone in the film community, asked acclaimed director Federico Fellini to write and direct a one-minute commercial for Barilla rigatoni. Fellini presented Barilla with 11 scenarios, many inspired by mythology. They settled on "Alta Societa" ("High Society"), set in a luxurious restaurant. As Academy Award-winning composer Nino Rota's music plays in the background, the maitre d' approaches an elegant couple and rattles off a list of French-sounding entrees invented by Fellini: Potage Soissonaise, Crepe Berry, Marmite Lyonnaise, Bouillon Royale, Soupe Colbert, etc. When the maitre d' finishes the woman orders her meal in a low, sensual voice: "Rigatoni." The nuanced "High Society" TV spot was considered a masterpiece.

The witty, sophisticated commercial film (released in 1985) was, of course, very "Fellini-esque," and struck a significant note about the changing state of film art in Italy. As much as any other director, it was Fellini who had helped lead Italian film away from daily-life realism and toward expression born in the imagination of a creative mind. It was his La Dolce Vita in 1960 that signaled the transition and it was his very personal, reflexive exploration of filmmaking in 8-1/2 (1963) that gave full evidence that verisimilitude wasn't the only way to approach film art in Italy.
The Fellini/Barilla collaboration is just one of the many connections between this pasta entrepreneur and Italian film and culture. Francesco Alberoni's first-person reconstruction of Barilla's life is engaging and lively in and of itself, but it is also one that comes with a rich overview of Italian cultural history. Extensive footnotes offer what amounts to a superbly researched biographical compendium of the important Italian cultural figures who were a part of Barilla's world after he took over the family business. What a delightful and illuminating way to revisit Italy and its past!
Pietro Barilla: The Biography of an Extraordinary Italian Entrepreneur was published by Rizzoli (Milan). Proceeds from sales will go to the Pietro Barilla Children's Hospital in Parma, Italy.