A trip down memory lane
Last month I attended my 50th high school reunion as a proud graduate of Hollywood High. My former classmates and I gathered on a Saturday night, some dressed in suits, some in casual garb, and some in their old HHS jackets, sweaters, and retro '60s attire. Though I was dressed in contemporary clothing, I did wear—under my long-sleeved shirt—my vintage and prized HHS T-shirt that occupies a special place in the bottom of a drawer. This shirt has not seen the light of day for maybe 40 years. I never revealed to anyone I had it on, but it sure felt good to know I could still fit into it.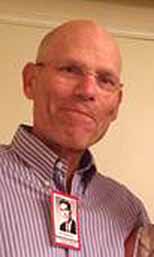 All of the attendees wore little ID tags with our names and senior pictures from 50 years ago (look closely at the image on the left and you'll see some hair in the ID photo on my tag!), but the pictures were so small, and almost everyone wore glasses or contacts. We all had to squint, first to read the names, then to quickly and correctly place the name with the photo.
It was tiring. Fifty years takes its toll.
As I made my way around the room meeting and greeting as many people as I could—my wife has taught me the importance of being a good schmoozer—I was struck by how many of my fellow classmates, both male and female, looked old, sick, tired, flabby, or overweight. Many had to sit down just to chat: "Standing hurts my feet." "I've got poor circulation." "I'm not as young as I used to be." "Dance? I haven't danced in years!"
I can't tell you how many times I heard those laments. Of course, some members of my cohort still seemed vibrant and young at heart. They were ready to twist with Chubby Checker "till we tear the house down" or do the stroll across the floor with the Diamonds just like we did five decades ago.
Differences between the "old" and the "young-old"
As I walked and danced around the dance floor with my former classmates, about 75 percent of whom are now retired, I discovered that those us who are "young-old" share many common traits. We all had jobs and/or hobbies that included being outdoors with the freedom to move and be physically active a good part of the day. We are very social and tend to seek out like-minded people with similar interests. In addition, we are involved in jobs or hobbies where we actually want to practice and improve our performance. Most of us welcome competition, and even a little adversity. We all seem to question and analyze why we are doing what we are doing, and we seek to do things just a little bit differently (and better—we like the idea of "continuous change and improvement"). We are drawn to interests that engage and challenge both our intellect and our physical being. We also like the idea of investing in and upgrading our "tools of the trade," and being able to learn from mentors. Lastly, we all are very passionate about we do, and we are very clear that we intend to remain passionate about it for years to come.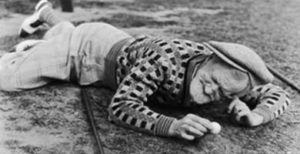 For me, I've just described playing the game of golf.
For others it might be participation in such sports and physical activities as fly-fishing, bowling, dancing, hiking, birdwatching, yoga, walking/jogging/running, surfing, roller skating, ice skating, bocce ball, etc. You get the picture. These are mostly individual sports and activities that anyone can do. They take time, practice, hard work, dedication, and passion. And for those who commit, the results are easy to see in terms of vitality, youthful exuberance, and a real joy for living. But, it's the things you don't see that might surprise you.
"Golf: A game of life and death"
While I've extolled the benefits of physical activity and exercise as being vital for attaining and maintaining healthy longevity, I've not been specific about the expected health gains of particular activities, since most of this is not well researched and thus largely unknown. Not true for golf.
A growing body of literature points to the long-term beneficial health effects of golf. (I suspect the same may be true for the other activities I've described above, but I presently can't back up this assertion with firm data.)
In 2009 a team of researchers from Sweden's Karolinska Institute published a remarkable study regarding the health effects of golf. The research, published in the Scandinavian Journal of Medicine & Science in Sports, was based on data from 300,000 Swedish golfers. Results showed golf has beneficial health effects far beyond what we might think. According to the data, the death rate among golfers is 40 percent lower than the rest of the population, which equates to an increased life expectancy of five years. Golfers have a lower death rate regardless of gender, age, and social-economic group. The lowest death rates were found among golfers with the lowest handicap (i.e., the best golfers). This supports the idea that it is largely the game itself that is good for healthy longevity. Now, it is probably that playing golf also associates with healthy lifestyle practices that result in reduced mortality, such as healthy eating, low prevalence of smoking, and regular medical check-ups. The same can be said of any activities that promote healthy habits. Indeed, several previous epidemiological studies have shown that leisure-time physical activity associates with decreased illness and decreased rates of all-cause death.
More good news from the links
Additional research illuminates even more health benefits enjoyed by golfers.
Lower body weight and fat; at any given age golfers weigh less than their age-matched nongolfers.
Improved muscle strength and tone
Reduced risk of cardiometabolic diseases like high blood pressure, high cholesterol, and high blood sugar
Improved social life; having more friends
Improved stress management
Better balance control; golfers fall less and suffer fewer broken bones.
All of these traits came in handy on the reunion dance floor. (I am not a particularly good dancer, by the way, but I do enjoy moving.) As the party progressed, I noticed most of the "oldest" members of the class left by 11 p.m. while we "younger-olds" danced till we were told to "shut it down." Appropriately, the last song was a slow one, and I closed the evening dancing with my high-school sweetheart, Barbara.
On the way back to the hotel I asked my (very understanding) wife to request an early wake-up call. After all, I didn't want to miss my 8 a.m. tee time.
References:
Broman, G. et al. 2004 Golf: A high-intensity interval activity for elderly men. Aging Clin Exp Res. 16(5):375;
 Farahmand, B.Y., et al. 2003 Mortality amongst participants in Vasaloppet: A classical long-distance ski race in Sweden. J Intern Med: 253:276;
Farahmand, B.Y., et al. 2009 Golf: A game of life and death—reduced mortality in Swedish golf players. Scand J Med Sci Sports: 19:419;
Gao, K.L., et al. 2011 Golfers have better balance control and confidence than healthy controls. Eur J Appl Physiol. 111(11):2805.