As we move toward year's end and into "serious movie" season (maybe "more serious" is a better way of phrasing it), the prospects for some elevated film fare look pretty good.
In theaters now
Nancy Meyers, that master of comedic gender-gap storytelling, now has presented us with The Intern. It's yet another film in which writer-director-producer Meyers makes us laugh out loud at her characters while at the same time exposing the more contradictory nature of male-female relationships. In the case of The Intern, the primary interaction unfolds between a fashion company CEO (Anne Hathaway) and a retired local businessman/widower (Robert DeNiro) whom the executive agrees to take on as a volunteer intern. Young/old, ambitious/laid-back, needy/self-assured are among the character confluences at work in Meyers' delightful film. DeNiro drives the interplay with charming comic aplomb. You've probably sensed that I'm a committed Meyers devotee.
Scott Cooper's Black Mass has Johnny Depp impersonating Boston crime boss Whitey Bulger.  In a drama of contrasts, Benedict Cumberbatch, lately of The Imitation Game, is Whitey's upright and highly successful brother, Billy. Bulger has been the subject of on-screen treatment before, but Black Mass arrived as a gritty, uncompromising crime drama that is downright frightening.



The Martian, which hit screens in early October, is the work of another favorite director, Ridley Scott. It's a sci-fi film based on Andy Weir's 2011 novel. Matt Damon, Jessica Chastain, and Michigan native Jeff Daniels fill the key roles. The plot centers on a survival mission to retrieve an astronaut (Damon) who's been inadvertently left behind on Mars. The Martian is remarkable for its production design and scientific accuracy — familiar traits in a Ridley Scott film. It's also laden with lots of humanity and humor.
Coming attractions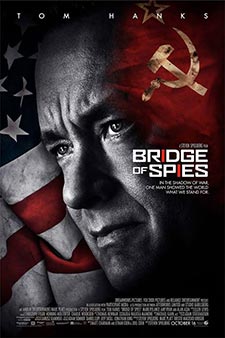 A wide range of history-based dramas dominates the fall schedule. At the top of my list is Steven Spielberg's cold-war thriller Bridge of Spies, in theaters now. It's a film loaded with talent. The script, written by Ethan and Joel Coen, centers on the U2 spy-plane incident of 1960.  Key figures include a Brooklyn Heights insurance lawyer (Tom Hanks), who is chosen to help parlay the release of American pilot Francis Gary Powers. Powers' plane was shot down while flying over the Soviet Union. Also in New York is Soviet intelligence agent Rudolf Abel (Mark Rylance) who becomes another factor in the freeing of Powers. Spielberg is a master of directing historical films drawn from the political past. This should be a good one.
In last month's column on casting I discussed the remarkable screen characters created by Meryl Streep and Helen Mirren in film after film. This fall each has a role in a replay of 20th-century history — Streep in Suffragette (late October) and Mirren in Trumbo (early November).
Suffragette covers the women's right-to-vote movement in Britain in the late-19th and early-20th centuries. Streep as suffragette leader Emmeline Pankhurst is again in a role scripted by Abi Moran who wrote the screenplay for Streep's Oscar-winning take on Margaret Thatcher in The Iron Lady.
Helen Mirren in Trumbo takes on gossip columnist Hedda Hopper who, during the McCarthy-era investigation of supposed communists in Hollywood, joined in the hunt by providing the House UnAmerican Activities Committee (HUAC) with names. Novelist/screenwriter Dalton Trumbo was one target who refused to testify at the HUAC hearings. Trumbo (among a group known as the Hollywood Ten) was banned from work in the film industry and sent to prison for 11 months on a contempt-of-court charge. He wrote subsequent screenplays under various pseudonyms until the blacklisting charge faded away in the 1960s. Alongside Mirren as the feisty Hedda Hopper is Bryan Cranston as Trumbo. Intriguing prospects here.
http://youtu.be/nHr9BOouhh0
Food and dance
Two other anticipatory prospects are films for foodies and dance lovers.
In Burnt (Oct.23) John Wells (August: Osage County) directs Bradley Cooper as an American chef, based in London, seeking to run the greatest restaurant in the world. Quite a switch for Cooper after American Sniper, but in the previews I did notice a lot of "Hells' Kitchen"-like sniping as Cooper channels his inner Gordon Ramsay to achieve Michelin-star status.
The documentary Barista (Nov. 6) provides coffee lovers with a behind-the-scenes look at a national barista championship competition. (I really do want to know what makes a great barista.)
Two films about young dancers also seem appealing: John Swetnam's coming-of-age Breaking Through is a dance drama with social-media implications regarding personal identity and contemporary culture. And the documentary A Ballerina's Tale tracks Misty Copeland's rise to principal dancer in the American Ballet Theater. She is the first African-American woman to achieve that position.
Five don't-miss personal choices
Looking beyond categories and standard fun-film fare, I've chosen five fall motion pictures that I see as distinctively promising:
Room — A Canadian-Irish screen adaptation by Emma Donoghue of her much-heralded novel. This intimate film, directed by Lenny Abrahamson (Garage, Frank), follows a mother and young son forced into captivity in a backyard garden shed. It features outstanding performances by actors working within a confining environment. Room was the Audience Award winner at the recent Toronto International Film Festival. (Opens mid-October.)
Spotlight — Boston journalists investigate sexual abuse and cover-ups within the Catholic Church. The film features a first-rate ensemble: Mark Ruffalo, Michael Keaton, Rachel McAdams, and Liev Schreiber. (Opens early November.)
Carol — A romantic drama about a 20-something NYC store clerk/photographer embroiled in an affair with a married woman. Phyllis Nagy adapted the story for the screen from Patricia Highsmith's 1950's novel, The Price of Salt. Rooney Mara stars with Cate Blanchett. Director Todd Haynes (Far from Heaven) turns out provocatively complex character films in the same way that Highsmith wrote fiction. Carol was a rousing popular and critical success at the Cannes Film Festival. (Opens late November.)
The Danish Girl – Oscar-winning Eddie Redmayne (The Theory of Everything) returns to the screen as Lili Elbe/Einar Wegener, a married man who became one of the first recipients of male-to-female reassignment surgery. Director Tom Hooper, Oscar-winner for The King's Speech, follows the unique relationship between Lili and wife, Gerda (Alicia Vikander). (Opens Nov. 27.)
The Lady in the Van – This is the big-screen version of Alan Bennett's 1999 stage play about a homeless woman who camped out in a dilapidated van for more than a decade on Bennett's property in London's Camden. The film follow's the unusual relationship between Bennett (Alex Jennings) and the van's occupant, Miss Shepherd (Maggie Smith). Bennett, now 81 years old, is considered one of England's greatest living writers, known for his gift for deciphering the humanity within the most commonplace human beings in the most commonplace situations. Nicholas Hytner, the National Film Theatre's former artistic director, was The Lady in the Van's stage director and now brings the drama to the screen. (Opens at the end of the year.)
A documentary must-see
Watch out too for a couple dozen documentary features in theaters this fall. One in particular should appeal to film buffs: Hitchcock/Truffaut. Back in 1962 the two iconic directors met for several days and shared their views on film art. The book published after these conversations, Cinema According to Hitchcock (1966), is parsed in the documentary for its artistic and theoretical ideas, with contemporary American directors joining in the discussion. (Opens in early December.)
Alternatives
Purely fun films scheduled for this fall include the long-awaited Star Wars: The Force Awakens (co-scripted by U-M alum Lawrence Kasdan); Spectre, the newest James Bond action escapade with a bevy of new Bond girls; Creed, a Rocky spin-off about an aspiring boxer who is the son of Rocky's original nemesis, Apollo Creed; and Love the Coopers, yet another wacky family holiday comedy with a comprehensive universe of character relations.
Serious, almost serious, not-at-all serious.Take your pick. Lots to choose from.