Seeking environmental security
In December 2016, I published an editorial titled "Take the Long View on Environmental Issues in the Age of [Donald] Trump."
After the 2020 election, I revisited that editorial, and it stands as a reasonable analysis of what was to come. My greatest failing was that I did not anticipate the scale of the outright attack on science nor the endgame vandalism focused on climate science.
One theme in the editorial was that the disruption associated with President Trump would allow new alliances and initiatives to emerge. That possibility has only been amplified by the disruption of the COVID-19 pandemic.
A natural question is: How do we take advantage of the disruptions to "build back better," as President-elect Joe Biden would say.
When faced with crises, organizations frequently see two schools of thought emerge. The first is to look to the past when things are remembered to have worked, and return to what we used to do.  The second is to look to the past as the reason we are at the crisis point, only to reject that past and take on a wholly new path. In most cases, neither of these options is the correct choice.
It's time to do the hard work of choosing a strategic collection of paths that will advance us toward long-term goals. Some of these paths will branch off of past successes; others will point in completely new directions.
Looking to the past
There are some obvious climate-related decisions to be made. I believe we must return to the Paris Agreement (and the World Health Organization). We will continue the seesaw of executive orders, with Biden reversing some of Trump's executive orders. Trump, as we know, disabled numerous executive orders issue by Barack Obama. These orders are a result of the inability to pass legislation to address carbon dioxide pollution and climate change. They are representative of a dangerous vacillation in our country, whose remedy should be a political priority.
We also need to pursue the agreed-upon pillars of a long-term climate policy. One of those pillars is "setting a price" on carbon. A price on carbon is held as one of the essential mechanisms to incorporate carbon dioxide pollution into our economy and, hence, into our behavior.
Another pillar is to develop an integrated energy policy focused on sustained and accelerating reduction of greenhouse gas emissions. That is, we need to decarbonize our energy supply as a step to decouple economic wellbeing from carbon dioxide emissions. At this point, there is also a need to invest in the technologies to remove carbon dioxide from the atmosphere.
Each of these self-evident tasks is difficult. All have proved intractable for years.
Doing some things differently
When we talk about climate change and what we can do about it, our discussion naturally evolves toward mitigation, that is, the reduction of greenhouse gas emissions to limit warming. However, there is no circumstance in which we are going to stop and reverse warming and its consequences. We must and will adapt.
It's vital that we develop a sustained and integrated approach to adaptation. Over the past 20 years, we have seen fragmented (yet substantive) efforts to address adaptation. The effort varies from government agency to government agency, and it changes over time. Some efforts have been approved but never meaningfully funded. Taking stock of funding and organizing efforts in adaptation would help formalize its importance. Such an activity would embed climate change in government agencies, influencing future policy and regulation.
As a subcategory of adaptation, it is time that we change our approach to climate modeling. To date, our goal with modeling activities has been to inform international assessments and mitigation policy. One anchor has been our participation in the Coupled Model Intercomparison Project (CMIP). Our participation in CMIP has been and will be important; however, we need to balance our investments with modeling capacity to better support adaptation. Models are built for a specific application, and we need to take on the multi-year and decadal simulations that are needed for adaptation. The process of re-purposing current simulations is smothered with inefficiencies and communication pitfalls.
We also need to direct more effort toward the investigation of climate intervention, i.e., geo-engineering. The likelihood of climate intervention is quite high. Indeed, its cost will appear attractive, and its implementation easy when compared to taking on the difficult changes required for mitigation. However, the consequences of placing the habitability of Earth on human-built infrastructure are, perhaps, more likely to be catastrophic than beneficial. We need to study this at a level of scientific robustness that is, presently, difficult to imagine. We need to develop policy, law, treaties, and ethics of climate intervention.
We also should be thinking about the ways we finance the societal disruptions of climate change. We must invest in ways to place people in better positions to anticipate and cope with climate change. It is essential that we address the inequities that stand to further divide our society.
Wholly new paths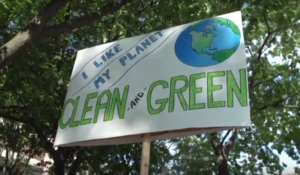 Climate change science offers us a credible vision of the future of our weather, climate, and environment. In that sense, it is the most certain and actionable vision of our future. Though a credible vision, it is bursting with uncertainty. However, those uncertainties are better known than many others we face.
The world has warmed, is warming, and will continue to warm for the coming decades. The consequences of that warming are being felt more and more. The climate is no longer reliable. That is, we can anticipate that what is coming is outside the realm of our experiences.
The COVID-19 pandemic has proved that we are not very good at dealing with relatively simple, predicted, and realized threats. We look for the cure, the vaccine, that solves the crisis and places it in our past.
Some view the cure for climate change as renewable energy. But a shift toward renewables will not allow us to heal or return to our previous health. It does, however, give us a better chance to adapt. A primary goal of the Paris Agreement's "2 degrees or lower" goal is to maintain the ability to adapt. At some time, distant on the scale of human lives, it supports us returning to a reliable, albeit different, climate.
To get there requires honesty and education so that our climate becomes an intrinsic part of our individual behavior and collective practice.
Under the influence
More than 15 years ago, my friend and colleague at the European Center for Medium-range Weather Forecasts,
Tony Hollingsworth
, sent me some documents on "environmental security." They showed there were increasing threats to humans from weather and environmental conditions. The risks of dangerous disruptions were increasing due to population and concentration of people, stress on water and resources, extreme weather, and a rapidly changing climate. Tony imagined me having more influence than I had, and he wanted me to find U.S. support to walk in parallel with a European effort. I shopped it around, and as expected, found little support. In Europe, they did proceed. Now they are more than 10 years ahead of the U.S. on issues of environmental prediction and security.
The past four years have been a setback for America's efforts to address climate change. However, not all has been lost. Innovators will find opportunity amid disruption. This is our moment to move out of our fragmented silos of excellence and prioritize environmental security in our country. It is as central to our success as anything else.