Old school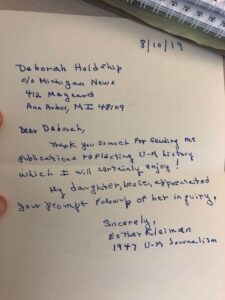 Every now and then I receive a request for a "hard copy" of Michigan Today. Some readers in their golden years have difficulty accessing the computer or reading online. Sadly, I have to report that MT went digital somewhere around 2006.
Sometimes these conversations lead to a sort of pen-pal relationship. One fellow, Jack Gartner, BBA '47/MBA'48, now deceased, used to phone me pretty regularly to chat about his post-World War II memories living at Willow Run, meeting his wife, and rambling around Ann Arbor on a motorcycle. Each call would start with a jovial "Well, hello, Debby!" We did a great story together, featuring my own Dad, a 1949 engineering alum, who also lived at Willow Run. I will always be grateful to Jack for encouraging me to write that piece, and to interview my Pop, who passed away this year at 95. A few years into my ongoing correspondence with Jack, I received an email from his daughter, stating I was on a list of people he'd asked her to notify when he died.
Another favorite alum is the incredible Al Storey, BA '49/MA '50/PhD '53, a longtime faculty member and employee at U-M, who dazzled me with his vitality and athletic prowess, well into his 90s. Every now and then, he'd drop by the Michigan News building, dressed head to toe in U-M-branded clothing, just to say hello. One time, he was preparing to cut trees in his yard with a chainsaw. My story on Al, from several years back, still generates a random email or call from former students, hoping to catch up. I am always happy to forward those requests to Al's son. (Al doesn't do email.)
Most recently, the daughter of a 1947 journalism graduate called to request that I mail her a copy of my latest issue so her mother could enjoy a story about James B. Angell. The printed PDF seemed a little tragic, so I sent some U-M magazines and publications that showcase University history. I hit the jackpot with a special collection produced for the U-M Bicentennial in 2017. My reward was a beautiful handwritten note from the lovely alumna herself. Now that's a good day at work.